In a previous post I wrote back in 2009, I detailed the High Dynamic Range (HDR) technique as one way to photograph a scene with a big range of light from very dark to very light. In the article, I used an HDR image I did of Disney's Animal Kingdom's Expedition EVEREST attraction taken from the bridge to Africa. Since then, Photomatix, the software I use for HDR processing, has gone through two version updates and I have gotten better at identifying the right conditions for taking a set of photos for high dyanmic range.
Last December, I returned to the same location. The Golden Hour was in full swing with the Sun setting and bathing the top of Expedition EVEREST in beautiful warm light. The rest of the scene was in deep shadows with pops of bright sunlight coming through. I tried a few single exposures but either got the mountain blown out or the shadows almost in total blackness. I knew a set of photos for HDR was the answer. I took several sets and found a set of 7 photos from -3EV to +3EV captured the entire range of light. After running the photos through Photomatix and finishing up the processing in a photo editor, this was the result: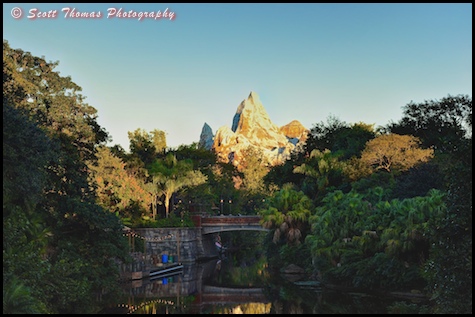 HDR Image of Expedition EVEREST.
Nikon D700/28-300VR, f/16, ISO 1000, EV 0, 98mm focal length, tripod, HDR Image.
I feel this photo is a good representative of what my eyes were seeing. That is how I use HDR. Other photographers might come up with a totally different image. I also made sure I took both Landscape and Portrait versions of the scene in several focal lengths.
HDR Image of Expedition EVEREST.
Nikon D700/28-300VR, f/22, ISO 200, EV 0, 190mm focal length, tripod, HDR Image.
Notice the difference in the second HDR image from the first one. The Sun was much lower in the second photo so the light was highly reduced on the top of Expedition EVEREST and created more subtle and muted colors.
Next time you are faced with a scene you are having trouble exposing for, create a set of photos and give HDR processing a try. HDR software, like Photomatix, can be downloaded for trial periods. Have fun!