One of the most interesting forms of transportation at Walt Disney World is the various kinds of water transports used to move guests from place to place. From the large ferries going between the Ticket & Transportion Center (TTC) and the Magic Kingdom to the smaller transports which take guests to the resorts on the shores of the Seven Seas Lagoon and Bay Lake. The waters of the resort are always alive with moving boats full of guests either coming or going from themeparks and resorts.
The Friendship Boats are my favorites. Designed to ride over shallow waters and maneuver in tight places, the captains can turn them on a dime it seems to dock along side the different pick up locations. I wonder if they would let me take the helm?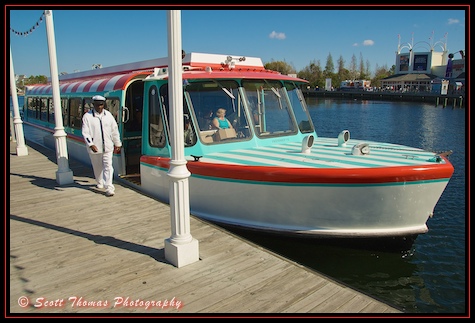 Friendship boat docks at Disney's Boardwalk Resort.
Nikon D70/18-200VR, 1/250s, f/16, ISO 200, EV -0.3, 18mm focal length.
Lisa will be here on Thursday to share her Disney Pic of the Week on Water Transportation.