Next year, pirate parties won't be the only themed events on all four Disney Cruise Line ships. The fleet recently announced that it will increase its holiday offerings in 2014: Halloween on the High Seas will expand to all four ships and Christmas activities will once again be available for six weeks.
"If you look at the trends, people are engaging more in holidays," Jennifer Haile, manager of Disney Cruise Line marketing strategy, told me. "Halloween continues to grow and grow, not only for kids, but also for adults. Adults are putting on costumes and trick-or-treating along with the kids. We realize that this is something where the whole family really gets in the spirit, and why not do it on the ship?"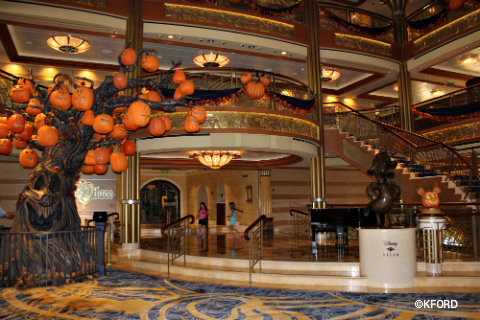 Halloween on the High Seas is a collection of activities that debuted in 2013 on the Disney Dream. Among them were: Halloween Tree (a multi-day experience in the lobby); Mickey's Mouse-querade Party (trick-or-treating, games and a dancing with the characters in the atrium); Haunted Stories of the Sea (story-telling on the deck); spooky movie marathon; and an adult costume party. Some of my extended family members experienced Halloween on the High Seas and you can read about it and see plenty of photos here.
Perhaps the most popular event, though, in the first year was Tim Burton's The Nightmare Before Christmas Sing and Scream. This interactive experience was described by some as a "Rocky Horror Picture Show" for families, and it ends with a special meet-and-greet with Jack Skellington and his love, Sally. In the last year, Disney has begun offering character experiences with the pair and they have commanded hours-long lines at Walt Disney World.
"We did the 'Nightmare' Sing and Scream, which was very popular," Haile said. "At the very end, there is a scene where Jack and Sally are posed, and we had the scene end with the spotlight on the Walt Disney Theatre curtain and you could see their reflection right through it. Then the curtain rose, and they were in that pose and everyone went wild."
The same entertainment will return for 2014 Halloween on the High Seas, Haile said, but Disney Cruise Line staff is tinkering with the schedule to better suit passengers' needs, based on guest feedback. The most difficult task is on the three-night sailings on the Dream, where they add the holiday programming to an already jam-packed schedule.
"It was difficult for us because we haven't taken anything away from our typical cruise experience so we had to decide where do you sandwich these [Halloween events] in," she told me.
Also returning next year will be the longer, six-week period of Christmas celebrations.
"We're taking a cue from the [Disney] parks to transition earlier," Haile said. "We're rolling it [the Christmas programming and decor] out in early November."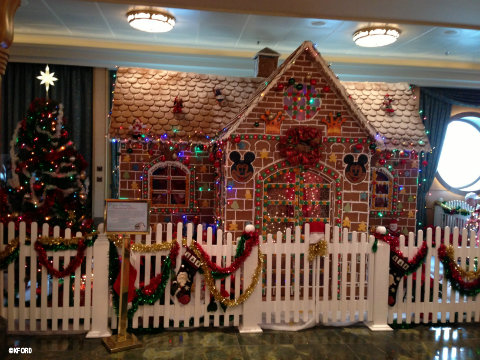 The Very Merrytime Cruises feature King Triton's Tree Lighting Ceremony; Deck the Deck Holiday Party; family activities, such as making gingerbread houses and meeting Santa Claus and his elves; holiday storytellers; and a holiday edition of 'Til We Meet Again farewell party.
My extended family and I sailed on the Fantasy at the beginning of December and experienced most of these events. To see photos and read about our experiences, click here.