Back in the summer, I told you about the start of the sixth annual Tour de Turtles from the beach in front of Disney's Vero Beach Resort. Now, the results of the race are in — and Disney is a winner in more than one way.
Tour de Turtles was started by the Sea Turtle Conservancy as a way for researchers to study the long migration of sea turtles from their nesting beaches to their foraging grounds while also engaging the public to learn more about this important part of our natural world. Tracking is accomplished through satellite telemetry, with transmitters sending signals each time a turtle surfaces to breathe, and progress is charted on tourdeturtles.org.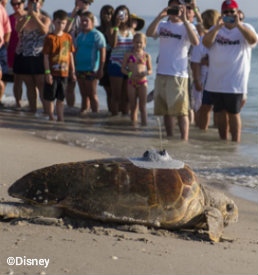 There were 13 sea turtles in this year's race, and they left from various nesting beaches around the world, including Archie Carr National Wildlife Refuge in Vero Beach. (Other locations were Tortuguero, Panama, Nevis and Bermuda.) Disney sponsored two loggerhead turtles, Carrie and Claire, who placed fourth and sixth, respectively. First place went to Calypso Blue II, a giant female leatherback from Panama.
A secondary contest, though, challenged each sponsoring group to choose a cause and raise money to support it. Carrie's three-month swim was an effort to raise awareness about the danger of man-made light on beaches at night during nesting season. (Sea turtle hatchlings use the moonlight to guide them to the ocean, and artificial light can make them become disoriented.) Carrie raised $1,500 for her cause of Light Pollution and won the competition. Claire received an honorable mention for her efforts in raising $900 to educate the public about the dangers of sea turtles ingesting or becoming entangled in Plastic Debris.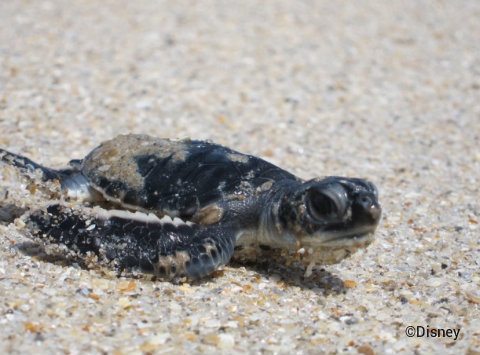 Another measure of success for Tour de Turtles was the number of hatchlings that come from each sea turtle's nest. The Sea Turtle Conservancy reports that in a Tour de Turtles first, Carrie came back to Vero Beach again to nest for a second time in the same season. Her second nest was within one-half mile of her first. Carrie's first nest had the greatest number of hatchlings this season at 161. The second produced the same number, for a total of 322 baby sea turtles. Claire's nest offered 99 hatchlings.
The loggerhead turtles in the competition, who still have their transmitters attached, have been spotted together in the Atlantic Ocean near Cuba and the Bahamas. Apparently humans aren't the only species to seek a warm Caribbean vacation in the winter months.
Look for the 2014 Tour de Turtles to begin in late July or early August. Individuals are invited to sponsor a turtle participant with a donation of $30 ($40 outside the United States) to the Sea Turtle Conservancy. In return, they receive a personalized adoption certificate, a logo decal, a colorful magnet, STC's Sea Turtle Conservation Guide and a one-year subscription to the Velador, Sea Turtle Conservancy's newsletter.