Many years ago my sister began creating a monster. She took a liking to Department 56 "Dickens Village" pieces and each year she gave us a new one as a Christmas gift.
The collection grew year by year and soon we had a complete intersection . . . then two . . . so they became part of our Christmas tradition. Each year we put up our Dickens Village for the holidays.
Of course, this sort of thing is right up Carol's alley . . . so she added accessories and her personal artistic touches! When there were so many pieces that they began to disappear, one behind the other, she called on me for help. I built a styrofoam base and styrofoam cutouts which elevate the houses in the back, making them more visible.
The Dickens Village comes out each autumn and throughout the holiday season it adorns the top of my roll-top desk.
You can only imagine Carol's glee when she discovered Department 56's North Pole Series. It has some Disney themed houses! She just had to have a few pieces to add to the Dickens Village . . . NO . . . WAIT . . . that doesn't work. Those North Pole pieces just don't work in a Dickens Village.
What to do? How about a second village?
So I started cutting more styrofoam while Carol collected houses and accessories.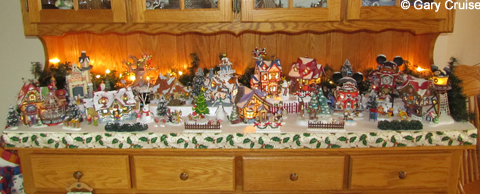 Now we have a Disney Village which takes over our kitchen hutch every fall. Some of the pieces are Department 56 and some she spotted on Disney shelves and couldn't resist!
Look very closely at all the accessories and you'll see plenty of Disney characters enjoying a holiday wonderland.
As you wander through the village from left to right you will pass the M & M's Candy Factory, the Disneyland Fire Station, Mickey's House and Piglet's Treehouse.
Further down the street you will find Geppetto's House, Goofy's House, Cratchit's Cottage and Scrooge McDuck & Marley's Counting House.
The Reindeer Flying School is conveniently located in front of the Reindeer Feed Store and beside Mickey's Ear Factory.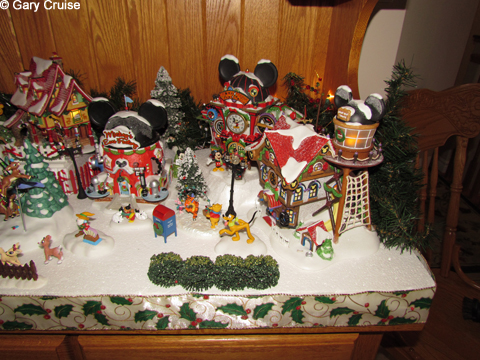 At the end of the block you will find the Mickey Mouse Watch Factory and Mickey's Playhouse which features a miniature version of the "Ear-full Tower".
Carol spends hours every year, arranging each building just so! Then the accessories are added with thoughtful care . . . there are bridges, fences, trees, garland, lights . . . and of course plenty of Disney figures. She even found a spot for the Grinch and some pink flamingos!
It's quite impressive once it's all finished.
After the holidays, Carol agonizes when it's time to take it down. One year it stayed up until the end of January!
I wonder how long it will stay up this year?