A visit to Animal Kingdom Lodge is a truly immersive experience. This resort, quite possibly better than any other at Disney World, completely transports Guests to an entirely different world. While its open savannah with its array of animals gets much of the attention, Animal Kingdom Lodge has so much more to offer. The resort is truly a celebration of African culture and this is reflected as soon as Guests enter into the awe-inspiring lobby. The architectural design of the Jambo House lobby reflects the detail of African craftsmanship, with its thatched ceilings and intricate wood carvings. Meanwhile, the large windows help to highlight the African-inspired landscape of the savannah just outside. Throughout the lobby are numerous examples of African art, including masks, headdresses, paintings, pottery, and carvings, all of which lend an even greater sense of immersion.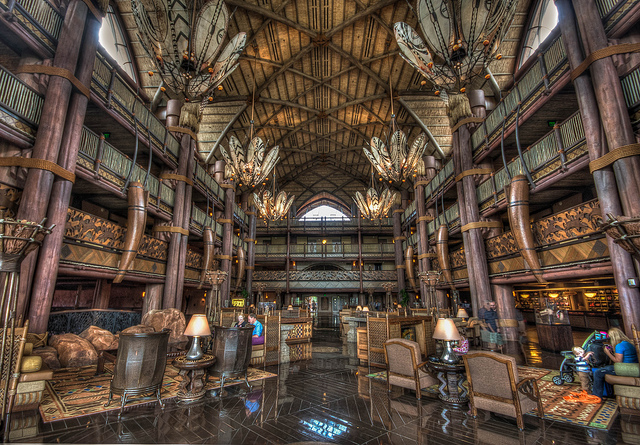 Of course, no cultural experience would be complete without showcasing the cuisine and Animal Kingdom Lodge delivers with three tremendous full service restaurants. With Sanaa at Kidani Village and Boma and Jiko at Jambo House, visitors to Animal Kingdom Lodge have no shortage of dining options to choose from. Each of these restaurants provides their own unique twist on African cuisine and has something different to offer, but it is Jiko that stands out as the resort's Signature dining option.
Overview:
Jiko is the Swahili word for "cooking place," making it an apt name for this restaurant. Being one of Disney's Signature restaurants, Jiko offers a truly unique and memorable dining experience. Just as Animal Kingdom as a whole seeks to immerse Guests into African culture, Jiko highlights various aspects of African cuisine while also providing its own unique spin by blending in elements of Indian and Mediterranean flavors. In addition to its cuisine, Jiko has received notoriety for its vast array of African wines. Combined, this helps to make Jiko one of Disney's most exotic dining experiences, showcasing African flavors made with the freshest ingredients.
Being a Signature dining location, you know that you can expect the highest quality in all facets of the dining experience. This Signature status also means that Jiko features a dress code. Men are encouraged to wear khakis, slacks, jeans, dress shorts, and collared shirts. Sport coats are optional. For women it is suggested that they wear capris, skirts, dresses, jeans, dress shorts. There are also certain articles of clothing that are not allowed in the dining room, such as tank tops, swimwear, hats, cut-off or torn clothing. Jiko's Signature status also helps to make it a very popular dining destination. As such, reservations are highly recommended and should be made well in advance.
Atmosphere:
Jiko is a completely immersive experience and it really all begins with the restaurant's color palette. As soon as you enter the dining room, your eyes will immediately be drawn to the bold, blue ceiling overhead.
Standing out in stark contrast to the deep blue are dozens of bird-like structures suspended from the ceiling, which are also a sign of good luck.
The restaurant's effective use of color continues down to the walls, which can feature warm red, orange, yellow, and gold tones. Throughout the course of your meal the lighting and coloring on the walls will actually change to mimic an African sunset. The effect is subtle, but beautifully done.
The restaurant features some other striking characteristics. Upon entering, Guests are first greeted by a wall of wine, with the bottles held in very unique display racks. At Jiko, its wines play as important a role as its cuisine in introducing Guests to the flavors of Africa. In fact, Jiko features the largest selection of African wines at any restaurant outside of the continent.
As you progress from the Jiko's bar area to the main dining room, the restaurant's floor-to-ceiling windows really become evident.
These massive windows overlook a beautiful water feature strewn with boulders and also offer tremendous sunsets views. The windows likewise help to bring a little of the outdoors into the restaurant, as the natural environment is such an important aspect of African life.
Another unique feature of Jiko is its open kitchen. Here you can watch as chefs prepare appetizers utilizing two large and colors wood-burning ovens.
One of the great features of this open kitchen is that it is surrounded by a counter where Guests can sit to enjoy their meal. This is where I had the opportunity to dine while I was here and it makes for a very memorable experience. There is no added cost for sitting at this counter and it allows for Guests to observe and converse with the chefs as they prepare various dishes.
The décor of the restaurant is very subtle with a few themed elements, such as the columns which are adorned with gold rings. The rings represent the neck rings worn by women of the Ndebele tribe of South Africa, which are a symbol of beauty and wealth.
Overall, Jiko's décor is one that relies more on color, lighting, and texture rather than decoration, but it still distinctly African in look and feel. It is a restaurant that has a simple elegance about it that help make it the perfect destination for a romantic night out. It's quiet and intimate setting combined with its beautifully exotic feel help make Jiko one of the most unique dining experiences in Disney World.
The Menu:
Just as Jiko's atmosphere goes a long way in immersing Guests into the culture of Africa, the restaurant's menu plays an equally important role. It is a menu that is constantly changing depending upon what ingredients are fresh and in season yet always highlights the unique flavors, tastes, and ingredients of African cuisine.
The menu features an array of appetizers including the Grilled Wild Boar Tenderloin ($17.00) with pap, chakalaka, white truffle oil, and cilantro, South African Vetkoek ($12.00), which are three house-made Naan pastries filled with herb-braised rabbit, coconut-egg curry, and vegetable curry, Inguday Tibs in Brik ($10.00) featuring mushrooms, spinach, and cheese in crispy filo with a curry vinaigrette, Fire Roasted Oysters on Half Shell ($17.00) with lemon butter, house-made hot sauce, horseradish, and smoked tatsoi, the Taste of Africa ($9.00) including an assortment of African inspired dips with pappadam, poppy seed lavosh, and house-made naan, and an Artisanal Cheese Selection ($15.00).
Also available as appetizers are a selection of flatbreads baked in the restaurant's wood-burning ovens. These include Roxanne's Kitfo Leb Leb ($13.00) topped with beef carpacio, feta cheese, pistachio-basil pesto, berbere, and tomatoes, KG's Peri-Peri Roasted Chicken ($10.00) topped with lime chakalaka, lamb chopper cheese, and pickled sweet bell peppers, and the Roasted Cauliflower ($10.00) topped with masala, roasted cipollini onions, lamb chopper cheese, and mitmita gremolata. There are also a few soups and salads to choose from such as the "Mozambique-Style" Tomato Salad ($15.00) with heirloom tomatoes, peaches, avocado, mache, arugula, and feta cheese, the Jiko Salad ($15.00) with heirloom spiced melon, rockett, mizuna, peppered chevre, and a blackberry vinaigrette, and the Taktouka Tomato Soup ($10.00) featuring vine-ripened tomatoes, peppers, and purple haze grilled cheese.
The entrée choices feature everything from seafood to chicken to beef and even vegetarian options. While some of the ingredients may seem a little exotic, the servers are very helpful in explaining each of the dishes if you have questions. One may think that African cuisine is very spicy, while this is true of some of the dishes, there are others that are not.
Among the entrée offerings are the Spicy Botswana-Style Beef Short Rib ($42.00) served with cassava-potato puree, sambal, mushrooms and fava beans, "Nigeria-Style" Pan-Roasted Whole Local Sea Bass ($46.00) accompanied by sweet potatoes, red sauce, and chili pepper pickle, West African "Jerked Scallops" ($35.00) with basmati rice, red quinoa, baby rainbow carrots, and coconut curry sauce, Curry-Rubbed Lamb Loin ($37.00) with cauliflower puree, eggplant-artichoke zaalouk, and olive-walnut tapenade, Seared Barbarie Duck Breast ($40.00) accompanied by potato and spinach masala, royal trumpet mushrooms, and port emulsion, Oak-Grilled Filet Mignon ($45.00) served with an ancient grain pilaf, heirloom pole beans, and South African red wine sauce, Tagine Chicken ($34.00) with preserved lemon, artichokes, olives, cinnamon couscous, harissa, and saffron jus, and a "Braai Pie" ($29.00), a pastry filled with squash, sunchokes, carrots, garbonzo beans, and wilted greens.
If you still have room for dessert, the choices include a Milk Tart ($11.00) with gooseberry jam and goat's milk balsamic ice cream, Kenyan Coffee Creme Brulee ($9.00), Cheesecake ($9.00) with white chocolate, toasted coconut, mango sauce, and pineapple chile sorbet, the Chocolate and Tea Safari ($10.00) featuring a Tanzanian chocolate cake, free form "kit kat," and green tea ice cream , and the Cinnamon-Chocolate Flourless Cake ($10.00) with sesame crisp, chocolate sauce and herb-citrus salad.
I decided to start my meal with the Taste of Africa ($9.00). This appetizer came with an assortment of three different types of breads and four sauces for dipping. The first type of bread was pappadam, a thin, crisp Indian bread made from lentil flour. Next was poppy seed lavash, a thin, crispy flatbread. Finally there was naan, a slightly thicker oven-baked flatbread of Eastern Indian origin. The sauces were bhuna masala, a curry consisting of tomato, coconut, tamarind, and chili peppers, sagh dahl, made with lentils, spinach, garlic, and chilis, Moroccan chermoula, with a mixture of herbs, oil, lemon juice, garlic, cumin, and salt, and kalamata hummus, made from mashed chickpeas, olive oil, lemon juice, garlic, and olives.
With each of the breads having different consistencies and textures and each of the sauces varying in degrees of spiciness, this appetizer made for a lot of different combinations. It was a great way for being able to sample a wide variety of different African flavors.
For my entrée I had heard many people rave about Jiko's Oak-Grilled Filet Mignon ($45.00). However, whereas the dish is now served with an ancient grain pilaf, it had for a long time been accompanied by macaroni and cheese. When I inquired about this to my server he commented that it is still a common request and they would be more than happy to prepare the dish that way.
The filet was extremely tender and juicy, just slightly seasoned so that the spices did not overpower the steak but rather helped to enhance its flavor. Topping the filet was a red wine sauce, made from an African wine reduction, which provided a slight sweetness that paired perfectly with the steak and provided a contrast to the spices it was seasoned with. Finally, the macaroni and cheese was incredible. It might seem like an odd accompaniment for a filet, but the two paired together extremely well. Rich and creamy, the macaroni and cheese also absorbed some of the juice from the steak and blended well with the red wine sauce. Overall, this was an extremely flavorful dish. While Jiko's menu may have many items that appeal to more adventurous diners, this filet is something that can be enjoyed by everyone.
Service:
Just as a Signature restaurant offers the utmost in terms of high-quality food, drink, and atmosphere, the service is likewise some of the best to be found in any Disney dining locations. The service at Jiko was certainly on par with that I have received at other Signature dining locations across property. From the moment I was seated my server was extremely attentive to my needs. Being my first time dining at Jiko, I was very appreciative that my server took time to explain many of the items on the menu, giving recommendations on those dishes that were a little more on the spicy side and those that were less so. With a menu featuring so many ingredients that many people may be unfamiliar with, it was very helpful to have someone explaining how each dish was prepared. Aided by the fact that severs at Signature restaurants usually have fewer tables that they are waiting upon, my server was always checking in to see if I needed anything and to make sure all the food was to my liking. There were also little touches throughout the meal that helped make the dining experience special. This started with a hot towel being brought out prior to the start of the meal to wash my hands, a small sample of a salmon cake appetizer the chefs had just prepared, and a complimentary pistachio cookie following the meal. It is all these things that help separate the service at Signature dining locations.
Dining on a Budget:
Being a Signature restaurant, dining on a budget is something that is a little difficult to do at Jiko. However, although the menu is a little pricey, you are absolutely getting what you pay for in terms of quality. If you are going to splurge for on a meal while visiting Disney World, this would be one of the dining locations to do it at. That being said, if you are looking for a more economical experience at Jiko the best bet would be to try one of the restaurant's flatbreads. Ranging in price from $10 to $13, these flatbreads are a good-sized portion and could easily be paired with another appetizer or a dessert to make for a relatively inexpensive meal. Another thing to keep in mind if you are really in the mood for African cuisine (but at a cheaper price) is one of the Animal Kingdom Lodge's other dining options, Sanaa. Located at Kidani Village, this restaurant still offers similar exotic African flavors to those found at Jiko but in a slightly more casual setting and with more affordable prices.
Jiko is on the Disney Dining Plan, but as a Signature restaurant is worth two table service credits. The restaurant does participate in Tables in Wonderland, giving members a 20% discount. However, there are no additional discounts for Annual Passholders or Disney Vacation Club Members.
The Overall Experience:
Animal Kingdom Lodge has always been among my favorite Disney resorts thanks to its tremendous theming and attention to detail. As soon as you set foot into the lobby, you become completely immersed in African culture and it is easy to forget that you are in the middle of Disney World. Animal Kingdom Lodge is also home to some of the most unique and exotic dining experiences on property. I have always been a big fan of Boma and Sanaa, but now after finally trying Jiko I can safely add this to my list of must-do Disney dining locations. Combining the exotic elegance of the restaurant's atmosphere with the exotic flavors and tastes of Africa, Jiko is a culinary adventure the likes of which cannot be found anywhere else at Disney World. While it might be a little more on the expensive side, this is one Signature restaurant that is definitely worth the price.
See past restaurant reviews by guest blogger Andrew Rossi.
Check out Reader Reviews of Jiko and post your own too!