Who can resist watching a litter of Golden retriever puppies play? Certainly not me or my kids, especially since we have our own mischievous Golden, Sunshine, at home. Add a little Disney magic to a naturally amusing gathering, and the antics of the pups easily became a popular movie series.
The franchise began in 1997 with the theatrical release of "Air Bud." It featured Buddy, a golden retriever with athletic abilities. Its sequel, "Air Bud: Golden Receiver," came out the following year, and then followed 11 movies that were released directly to DVD. About halfway through the series, the stories began to focus on the puppies rather than the original dog.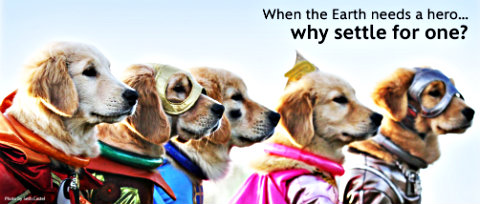 The Buddies return on Aug. 27 in a new adventure, "Super Buddies," that clearly builds on the recent popularity of Disney's film "The Avengers."
Walt Disney Studios describes the 130-minute "Super Buddies" this way: "An ordinary day at Fernfield Farms turns extraordinary when Budderball, Mudbud, B-Dawg, Buddha and Rosebud discover mysterious rings that grant them each a unique super power. Before you can say, "Buddies, assemble," the pups unleash their amazing abilities and race to the rescue when a shape-shifting bully from outer space threatens the planet. But can they succeed in kicking major tail without revealing their new secret identities?"
My children, now 8 and 10 years old, still love all the Buddies movies and watch them over and over again and try to remember when our Sunshine, now 7, was a puppy. They always appreciate her a little more after watching one of these movies, and she winds up with a bowl of treats.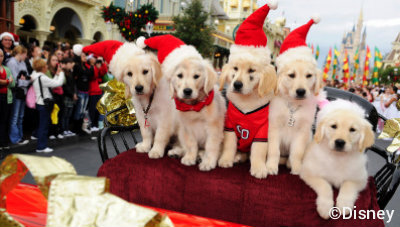 For several seasons, the Buddies — like other franchises The Walt Disney Company wants to promote — have been featured in the Disney Parks Christmas Day Parade. The Space Buddies were seen sitting on the curb among the guests one year, while the Santa Buddies posed in a sleigh on Main Street, U.S.A., for another.
As an Orlando resident, I have been to several of the Disney Parks Christmas Day Parade tapings at Walt Disney World, and it's entertaining to watch the trainers try to command the squirming puppies for certain camera angles as the crowd "oohs" and "aahs." One year, a trainer rewarded the guests lining the sidewalks by carrying some of the pups over and allowing them to be petted.
"Super Buddies" will be sold in Blu-ray and DVD combo packages. Can't wait until then? Check out the official website to play games, create a superhero comic with the Buddies and watch video clips from the various Buddies movies.