Many of us, the young and the young-at-heart, have fond summer memories of roasting marshmallows and making s'mores. Whether you enjoy the sweet treats blackened or just lightly toasted, you can make your dessert just the way you like it at Walt Disney World.
Most of the moderate and deluxe hotels at the Disney resort offer their guests complimentary supplies (marshmallows and roasting sticks) each night at a bonfire staffed by a cast member. For my family, this never gets old, so when we stay on property, we have to make sure we're at the hotel at least one of the nights at the proper time in the evening. Be sure to look at the activity sheet for your specific hotel to see when the fire is started each night.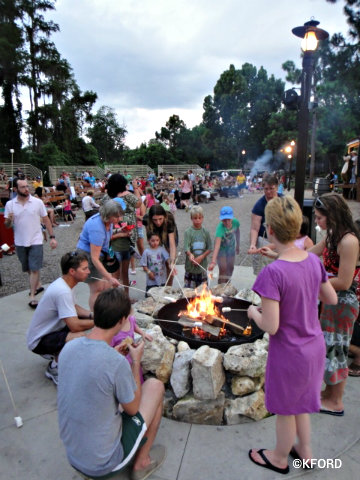 At Disney's Fort Wilderness Campground, though, guests can be immersed in the traditional campfire experience. Two fires are lighted about 7:30 p.m. in the summer — an hour later than the rest of the year — and cast members let them burn throughout the evening so guests can cook whatever they'd like, from hotdogs to marshmallows.
The nearby Chuckwagon sells supplies, but guests are welcome to bring their own food, as well. If grocery shopping already is part of your vacation, bringing your own food will save you a bit because the prices are somewhat steep for s'mores ingredients. Here is a list of what you can buy. Come prepared with supplies or money to purchase your treats because there are no complimentary treats at the Fort Wilderness Campground like there might be at the other resorts.
At 8 p.m., an entertainer leads guests in a singalong, which includes kid-friendly dances such as the Hokey-Pokey and the Chicken Dance. Don't forget your autograph books because Chip 'n Dale make their way through the crowd, stopping to visit with each guest.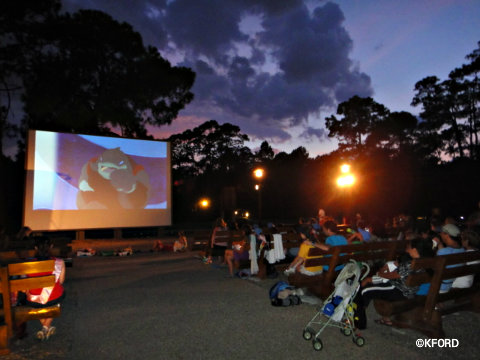 Finally, a Disney movie under the stars starts at 8:40 p.m. For nights with a double-header, the second movie begins at 10:15 p.m. The movie schedule is posted at the beginning of each month throughout the Fort Wilderness Campground. Many of the Disney World hotels also show outdoor movies at night, weather permitting, on their lawns or beaches. Bringing a blanket or some towels is likely to help kids get more comfortable so they can lounge, snuggle under them, and even fall asleep after a full day at Walt Disney World.
The campfire singalong is free and open to all guests staying on Disney property, not just those at Fort Wilderness.