As promised, I'm planning to share some more details from the "Monstrous Summer" media event last week. I was going to include everything in one blog, but thought it might be more useful if I broke it out into individual topics. So let's get started!
One of the projects featured at last week's "Monstrous Summer" media event at Walt Disney World was the soon-to-debut "Wilderness Explorers" at Disney's Animal Kingdom.
The new program is an interactive experience that invites guests to explore Animal Kingdom in "engaging and challenging ways" aimed at deepening understanding of animals and the natural world we live in. The "Wilderness Explorer" theme is taken from the Disney-Pixar film, "UP!" — one of the main characters, Russell, is a Wilderness Explorer himself.
Disney California Adventure already has a version of the Wilderness Explorer Program at its Redwood Creek Challenge Trail, but Walt Disney World's edition will obviously be different, due to the nature of its home park.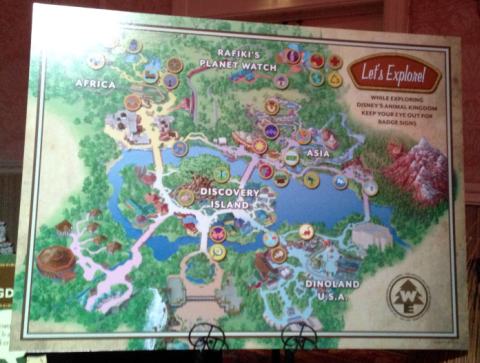 In the Animal Kingdom iteration of the program, guests will take an official pledge. Then, as new "Explorers," they can wander the park at their leisure, armed with field guides that describe challenges they can complete to earn sticker badges along the way. There will be about 30 different badges available.
Imagineer Alex Wright was on hand at the media event and took a few minutes to describe the program:
According to Wright, many elements of the "Wilderness Explorers" program have already been subtly integrated into the theme park — we might have walked right past them and not noticed.
Though the activity is geared to children ages 7 to 10, it's something that the whole family will be able to participate in and enjoy. Wright says that he expects that the first Explorers will be earning their badges very soon, within the next few weeks.
The Wilderness Explorers program will be included in admission to Disney's Animal Kingdom.