Last Wednesday I recapped our day at Magic Kingdom.
The week before that was Animal Kingdom
Disney's Hollywood Studios marked our third consecutive day in a theme park. I'm certainly accustomed to back-to-back-to-back (to-back, etc..) adventures that last from morning until night but Yoli isn't. When I advised her on preparing for the trip, I suggested she hit the Disneyland Resort from open to close for a glimpse into what our days would be like. Now she knows what I meant. (insert evil laugh here)
I finally figured out how to take advantage of AAA Diamond Parking that day. The trick is to follow the painted blue line starting after the parking lot toll booths and continue until you are directed to parking up front. Yay! (Make sure you have your AAA Diamond pass ready to show.) We were so close that we walked to the entrance.
The plan was already set for Yoli to ride Tower of Terror and Rock 'n Rollercoaster on her own, upon arrival. I carried her bag around as I set off in search of more photo blog ideas. We met up after her first ride with Aerosmith. She loved the coaster but thought the ride itself was over too soon. Tower of Terror proved to surprise her with enough differences from California Adventure's version that she became nervous since she no longer knew what to expect. Meanwhile, I had a lovely time in the gift shop and purchased a hotel room key-style key chain for the guest room in the house I don't yet own.
Yoli grabbed an ice cream treat and we piled into the theater to see Beauty and the Beast, Live on Stage. It was nice to sit down in the shade, the morning had started off a tad bit hot. Somehow I don't get to see this show very often, I'll have to change that habit. My one request is for Beast aka Adam to be played by Robby Benson. Yes, I am one of those girls who adores him. He's so dreamy.

Martin Mull and other famous actors' hand and shoe prints can be found inside the theatre just before the top row of seats.

Gaston as the new Bachelor. Coming this fall on UWISH.
Over at the Animation Courtyard, we checked out more gift shops and fulfilled our thirst for meeting more characters. Yoli wanted to see Sorcerer Mickey while Ralph and Vanellope von Schweetz from Wreck-It Ralph were on my list. The lines weren't too bad for any of them. I think we spent about an hour The Magic of Animation building.
We slowly hurried (you read that correctly) across the park towards Lights!, Motors!, Action! Stunt Show. By the time we got there, the show had already started and we were in the midst of a huge crowd being moved like cattle up who knows how many flights of stairs. Pass! Yoli and I exited stage right and had fun running amok on Streets of America and wishing The Muppets would come to life at the Stage 1 Company Store.
After playing, I steered us to Toy Story Pizza Planet, remember, my friend loves Toy Story…and pizza. Yoli had a kids mini chicken sub and a kids pizza. I brought food with me, it was either turkey or tuna, I forget which. It was nice to sit and get off of our tired feet for a while. Sitting was great later too when I grabbed a carrot cake cookie from The Writer's Stop.
Yoli's a Star Wars fan so I wanted her to see the exterior of Star Tours. It does make Disneyland's entrance, 2 sliding glass doors, look even more bland that it already is. Sorry Disneyland but it's true. I still love you! Well, once again my awesome skills at stumbling into parades came through and we caught Pixar Pals Countdown to Fun Parade. Yet again, our view was meh because 1.) We're short, 2.) We showed up late, and 3.) My Gadget shoes are busted.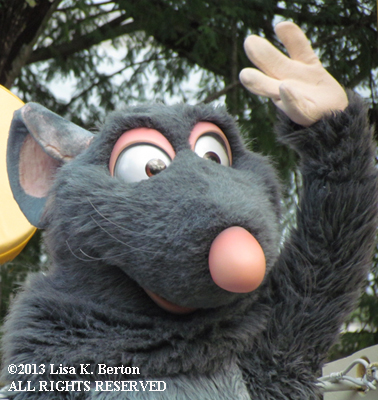 This is Remy, he's a naked rat. Mickey is a mouse with thousands of outfits, fancy genetics, a girlfriend, and a pet dog. Remy got jipped.
I hadn't seen any Citizens of Hollywood yet and my day would have sucked without them so we headed back to Hollywood and Sunset boulevards. Finally, at 3:30, three cars came out, each with a different cast. Over on Sunset Blvd a group of Citizens introduced themselves and then the focus turned to me. I got scared when one of the actors pointed and said something to the effect of, "That girl leaning against the post has a camera". Thankfully that was the end of my 15 seconds of fame. The skit was 99 Cameras Walk into a Bar.
When my memory card filled up I ran to the camera shop. I lied. I walked to the camera shop, bought another SDHC card, initialized it, and grabbed photos of Jack Diamond performing card tricks and the Hollywood Public Works Dept. It's possible that the latter has worked in my hometown. The same spot keeps sinking in front of my house. Anyway…we went back to The Magic of Animation so Yoli could meet Mr. Incredible and Frozone. Outside we met Handy Manny (he needs a new marketing director, there isn't a single thing to buy featuring the fella) and Jake (who has tons of merchandise).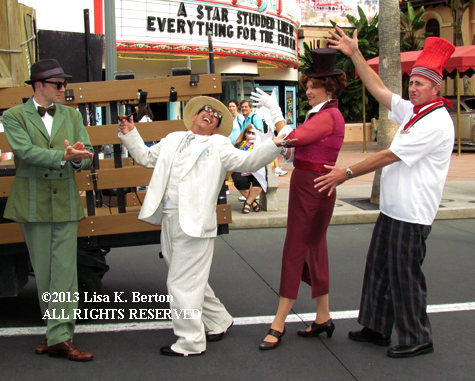 Meet your neighbors, Holden Hollywood, Shelby Mayer, Dara Vamp, and Ben Appetit.
Thankfully we did manage to catch Indiana Jones Epic Stunt Spectacular. My favorite part was watching to see if Yoli realized the guy in the Hawaiin shirt was one of the actors/stuntmen. You'll have to ask her if she knew. They did have to restart part of the show when the skull doors didn't open properly. That was a first for me.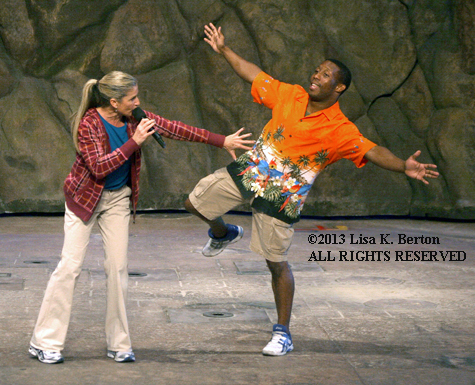 He would have won Hawaiian Shirt Day at my office. He also would have won Stand in Place Day.
Tonight's dinner took place at 50's Prime Time Cafe where I had the best server, Cousin Craig and chef, Frank, ever at that particular location. My previous experiences were all rather stinky. I had an adult size version of the kids grilled fish of the day meal and a vanilla Coke. Yoli had the sampling of Mom's favorites and a cherry Coke. We both had apple cobbler a la mode. Chef Frank was so nice that on his own accord, he split the 1 dessert we ordered to share into 2 bowls so I wouldn't have to take off the granola. I love you, man. He even knew one of my other favorite chefs, Jeff from Spoodles and Cape May Cafe and called him to let him know I said hi.
The rest of the night consisted of The Great Movie Ride, One Man's Dream, Legend of Captain Jack Sparrow, Voyage of the Little Mermaid, and Toy Story Midway Mania. Yoli made it beyond park closing at 10 o'clock. Hooray! For the record, I trounced her in Toy Story Midway Mania until the very last game where she destroyed me. Ugh!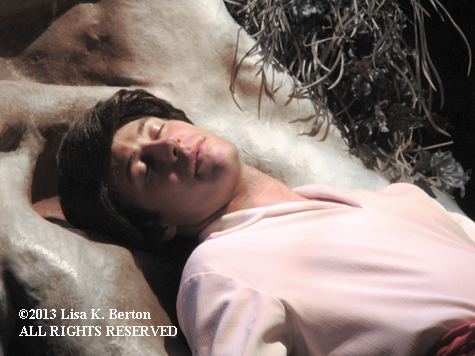 I have auburn hair. Do you think if I jumped up on stage and kissed Prince Eric he'd realize I'm not Ariel?
Next Wednesday I'll tell you all about our shopping adventures, a minor letdown, Jellyrolls, and Celebration.
Bonus photos/videos/info from Newbie and the Geek are only available on my Facebook page.