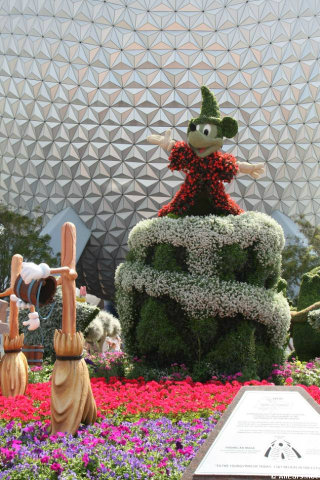 Celebrating Mother's Day at Walt Disney World is, of course, a wonderful treat in and of itself. But if husbands and children want to make the day perfect for the women in their lives, there is one simple thing they can do to make the day a success — plan ahead.
If they're like me, what's important to most mothers is spending the day with family doing something fun. It doesn't have to be an expensive or unique experience, but it does have to be planned by our families. The gift — besides spending time with our favorite people — is that we don't have to make any decisions or pack the bags. For one day, we don't have to think ahead and plan for every eventuality. We get to just show up and enjoy the day.
To make this happen for the mother in your family, it's important to know what she enjoys. Are Mickey waffles the perfect way to start the day? Or is sleeping in and then lounging by the pool while the kids play even better? Does being the first one in line for Expedition Everest make her excited?
Here are a few suggestions that are sure to bring a smile to any Disney mom's face on Sunday:
1. Visit the Epcot International Flower & Garden Festival. It's beautiful with all the flowers and topiaries, and there are fun seminars and demonstrations for guests who like to garden. Herman's Hermit's, starring Peter Noone, will be performing. Plus, there are special activities and playgrounds for kids. If the little ones are happy, chances are, mom will be, too. (Florida residents still can purchase a three-day Walt Disney World ticket for $99 plus tax.)
2. If brunch is on the agenda, why not make it a character meal and let her feel like a kid again? Two of the most popular are Chef Mickey's at The Contemporary Resort and Cinderella's Royal Table in her Magic Kingdom castle. At this late date, you can try for a reservation cancellation by calling WDW-DINE. Another great character brunch is located at Disney's Beach Club in the Cape May Cafe, which has just reopened after renovations.
3. For shopping aficionados, give her a Disney gift card and the time to shop. Try a gift-shop crawl on the monorail loop. It's fun to see the beautiful hotels while she's browsing for souvenirs. Or, if she's more of a boutique shopper, plan a visit to Downtown Disney and stores such as D Street, Something Silver, Apricot Lane, PoP Gallery and TrenD.
4. Who doesn't like to visit the spa? There are many locations and services to choose from at Walt Disney World. Full-service spas, which include massages, facials, aromatherapy, salon services and exercise facilities, are available at the Walt Disney World Dolphin and Saratoga Springs Resort. (The Grand Floridian spa is closed for refurbishment.) There also are massage and fitness services at Animal Kingdom Lodge, Boardwalk Inn, Contemporary Resort, Coronado Springs, Wilderness Lodge and the Yacht Club. Disney World passholders receive 10 percent off one regularly priced service at the Saratoga Springs spa.
5. Wrap up Mother's Day with dessert and fireworks at one of the Disney World parks, resorts or restaurants. This can be as simple as grabbing a casual treat and a table outside one of Epcot's World Showcase restaurants or as formal as paying for a ticket to the Wishes Dessert Party at Magic Kingdom. One of my favorite resort spots for viewing the fireworks is the beach at the Polynesian resort. A bonus there is being able to see the Electrical Water Pageant.
What ideas do YOU have for celebrating Mother's Day at Walt Disney World? Leave a comment below!