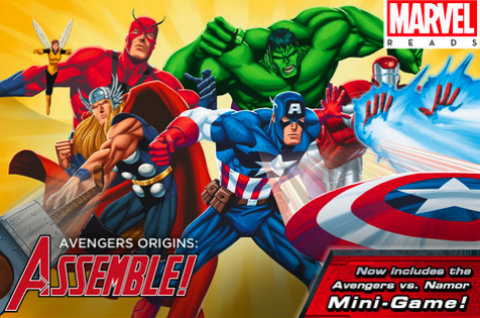 Evidently, The Hulk isn't the only one who can smash things.
Joss Whedon's film version of Marvel's "The Avengers' pulverized the former record for a domestic opening weekend. With more than $200 million taken in for its U.S. debut, the blockbuster film ushered in the summer movie season and showed just how popular Captain America, Thor, Iron Man and Co. remain for fans of all ages.
Whether you caught the film this weekend or not, Disney Publishing has several stories in different formats for fans who want to continue the action at home. Narrated by comic legend Stan Lee, two new Disney storybook apps take readers into the world of The Avengers.
"Avengers Origins: Assemble!" has a lot to offer for its $5.99 price tag. The in-depth story follows Atlantis' Namor, who seeks revenge by attempting to conquer the entire human race, and The Avengers, who vow to stop him. In this version, the super heroes also include Ant-Man and The Wasp in the mix. (They weren't in the movie.)
What makes this storybook app stand out are all the interactive features. You don't even have to turn the page to follow along. Not only do the pages fade in and out with the action, but little hands can help with the plot. For example, readers are able to put on each super hero's mask and give him his weapon, move their fingers to help melt the ice that imprisons Captain America, and drag shields over the enemies to free The Avengers.
In addition, "Avengers Origins: Assemble!" offers three separate games each with three difficulty levels. The app is available for iPad, iPhone and iPod touch.
A great deal: Through May 11, Disney Stores and Apple are teaming up to give away 100,000 coupon codes for a free download of "Avengers Origins: Assemble!" when a consumer purchases at least $20 worth of merchandise at all Disney Store locations throughout the U.S. and Canada.
Also new in Disney Publishing apps is a story about my daughter's favorite smashing character, The Hulk. In "Avengers Origins: Hulk," readers learn how Dr. Bruce Banner is transformed into The Hulk. This storybook app offers several positive messages about the importance of education, explaining that Banner loved to read and science was his favorite subject. Along the way, readers are invited to help toss a car, contain gamma radiation and punch a wall as The Hulk. It also has a seek-and-find feature, in which readers can try to collect six symbols in the course of the story.
"Advengers Origins: Hulk" is also available for iPad, iPhone and iPod touch and sells for $3.99 at the iTunes store. For that price, it's too bad there are not a few separate games included with the app.
For those that like their comics in a paper, instead of digital, format, Disney Publishing recently unveiled its Marvel Super Heroes Magazine. The new 36-page publication is written and drawn for boys ages 8 to 10 and features brain teasing puzzles, cool activities and cut-outs in addition to the story. The May 2012 issue also includes an exclusive poster of Iron Man. Marvel Super Heroes Magazine is sold on newsstands for $4.99 per issue, and an 8-month subscription costs $29.92.

Guests who visit Walt Disney World this summer will find that Monorail Red has been wrapped in an Avengers movie promo starring The Hulk, Iron Man, Captain America, Black Widow, Hawkeye and Thor. It's eye-catching, for sure. Look for the Avengers monorail on the loop that leads to the Magic Kingdom and the resorts. Fans will not find any meet-and-greets with the Super Heroes on Disney property, however, a Disney spokeswoman confirmed. Although the company acquired Marvel in 2009, Universal Orlando still has an agreement that allows the characters to appear at Islands of Adventure.