My friends over on the Disney Photography Blog have come out with a new ebook series based on the many requests they have gotten about where and how to take the photos they post. The series called 10 Must Take Photos will cover each park in Walt Disney World and Disneyland. They have released two so far: Disneyland and Magic Kingdom. Today, I will review the 10 Must Take Photos for the Magic Kingdom.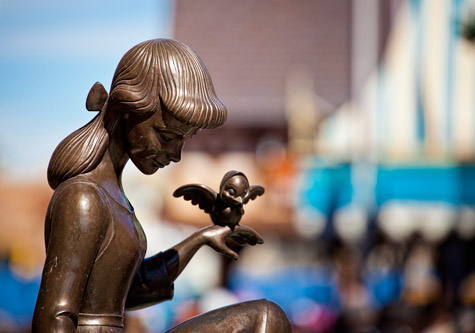 La Fontaine de Cindrellon (Cinderella Fountain) one of the 10 Must Take Photos in the Magic Kingdom.
As the authors state, this is their list. Each one of us could come up with our own list which would differ. What the ebook does well is for each Must Take Photo, it tells you the where, how and why. Those answers are often not included with park photos you see online. In fact, that is my biggest complaint with most photo sharing websites.
Cinderella Castle Must Take Photo Page.
Each photo gets a large introductory page so you can delve into it, study it and see it. See it? Yes, many times we do not take the time to really "see" a photo. With large photos it is much easier. The next page has a smaller version of the same photo for reference. The page tells how to get to the location where the photo was taken. Explains why the photo is considered a Must Take and gives specifics on how the photo was taken. Additional Photo Tips may be included giving ideas for alternative photos for the subject.
I have all but two of these Must Take Photos. I am planning on using this ebook soon (see below) to complete the set. I will report back in a few weeks on how I did.
The price of the ebooks are only $4 (US) each and can be ordered by following this link. What are your Must Take Photos?
Vacation Notice
I will be on vacation the next couple of weeks to, you guessed it, Walt Disney World. Remember the Photowalk announcement? Still spots available! If can not make it, you can follow my Disney Twitter feed @Scottwdw or on Google+ at Scott Thomas.