By Erinn Casazza
Have you met Jamison Reynolds? If you have, you know that Jamison Reynolds has been blamed for many things. Here is something else he can add to his list: I blame Jamison Reynolds for how utterly happy I am right now! Weird, right?
Here's how it happened:
In the fall of 2010, through the wonders of Facebook, Jamison discovered that I am a Zumba instructor and he asked me to help him fundraise for a running team he had joined. Jamison is on a running team? Huh? We had not kept in touch much since college, but I did not remember him being a runner. He may have run to Sheetz for more beer, but running on a team? Really?
He sent me a link to a video of a wonderful lady named Deb Wills with information about what she does in the fight against breast cancer. Not that Jamison had to twist my arm to do him a favor, but hearing Deb's story and seeing all the change she has inspired helped me say "yes" more quickly.
After raising $250 at the Zumba event, I decided it was silly to give that money to Jamison when I could raise money, run and go to Walt Disney World myself, so I signed up for Team AllEars 2012!
Clearly, it was all Jamison's fault.
I am not a runner, but what better excuse to become one? Sure I would be helping others by raising money for the Avon Walk for Breast Cancer, but I would get to go to Walt Disney World too! As a former cast member who has been itching to get back to Orlando, that reward motivated my untrained feet and calves.
I started the Jeff Galloway training program and tried to enjoy it. I cannot lie. It is hard to enjoy running on the hills of Morgantown, WV. But I did feel a sense of accomplishment when friends and family would look at me in amazement when I explained what I was doing and why.
It is hard to explain the emotions and thoughts running through my head while I traveled solo to marathon weekend in Orlando. My husband had been in Miami covering the Orange Bowl and we didn't get to see each other before I left for Florida. I was without my immediate support team and freaking out a bit over what I had signed on to do. I couldn't stop chatting with my fellow travelers about running, meeting new friends, raising money, and West Virginia's 70 point victory at the Orange Bowl!
Luckily, strangers were spared more of my nervous chatter when my friend Kristy picked me up at the airport and we headed to Port Orleans to take in YeeHaw Bob and meet up with Team AllEars. I have to be honest. I felt nauseous. I was nervous, happy, exhausted and excited, all at the same time.
I tackled Jamison upon arrival and received the sweetest hug from Deb. I relaxed. We were seated with two of the hippest chicks in running shoes: Libby Goldberg and Julie Olsen. We quickly got to know each other and then laughed and sang together with good ol' Bob. I decided that night that I could maybe start to forgive Jamison for what he had gotten me into.
Race day came a little too quickly with a 2:30 am wakeup call after I had fallen asleep at 11 pm. Nerves, people. Nerves.
My one-woman cheering squad, Kristy, drove us to the team meet and I found my corral buddies Libby and Julie. It seemed like we were in Corral F and ready to go within minutes.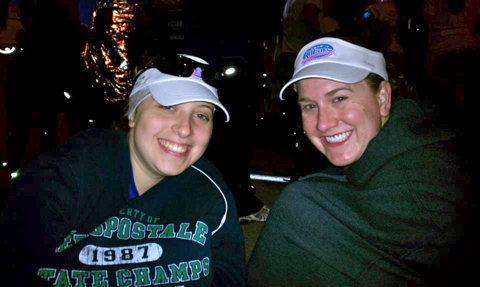 I kept having thoughts of "I can't believe I'm doing this!" and "I can't wait to see the Christmas decorations at MK!"
Again, I felt nauseous.
Libby, Julie and I started the race together but we eventually were separated by our running speeds. In the few miles when I was alone with my thoughts I was overwhelmed with how extremely cool this half marathon is, and how lucky I felt to be part of it and a part of Team AllEars. I felt a sense of pride in what I was doing for others and for myself. I felt a sense of excitement because, if for only those 13.1 miles, running was fun. I felt humbled by those running around me with shirts proclaiming "Survivor" or "I run because they can't" or "I'm 80 and you're behind me." I felt warm and fuzzy because I knew I was part of an amazing family that instills the feeling that you can do anything. This is when I forgave Jamison a little bit more.
I caught up with Libby in time for her to see me cry like a baby when we hit Main Street in the Magic Kingdom. This was why I initially signed up to run. This was why I had trained on the hills of Morgantown.
This was what made every stair on Law School Hill worth it. I finally got to see Christmas in the Kingdom! Seeing our Team cheering us on at the top of Main Street was much appreciated (Here's looking at you, Dan "I ran a marathon!" Rajnik).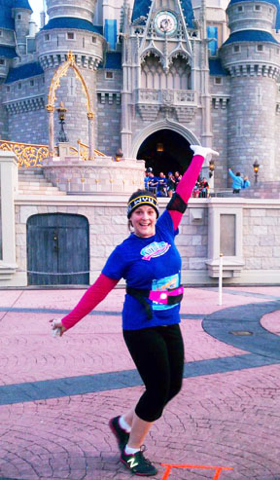 The remaining miles were a blast, even the slow, boring ones when my feet felt like they might fall off. Libby and I were able to keep each other going and we were encouraged by Team AllCheers and the thing-a-ma-jigs on the sidelines. I laughed at the "hill" at Mile 10 and cried when my right calf got a cramp. Then Julie found us so we could all finish the race together!
One thing I will always remember is the three of us stopping for our photo shoot at Mile 13. Jamison, Dan and others were urging us to finish, but we could not be bothered with that. Kristy had a camera and we were celebrating – leg cramp and all. Why? Because that is what this whole marathon weekend and Team AllEars seems to be about: Celebrating.
We celebrate our triumphs. We celebrate people. We celebrate the bonds we have created through helping others and ourselves. We celebrate life. And we keep running – or hobbling – to the next party.
Ok, Jamison. I forgive you.
Erinn would like to take this opportunity to officially claim she is Going Goofy in 2013!! Bring it on you silly dog!