Thought I'd write about some of the new (to me) meals I've had at Disneyland over my last few trips.
The Village Haus in Fantasyland re-opened late last year with a somewhat new menu – I have to say I was happy to see a new twist on the the burgers and pizza they served before! They still serve burgers and pizza, but now in addition to the usual offerings they serve a burger with pastrami, horseradish sauce, and caramelized onions, and a BLT flatbread with bacon, caramelized onions, marinated tomatoes and arugula. In keeping with the Bavarian theme of the restaurant they also offer a chicken sausage in a pretzel roll, covered with sauerkraut, which was what I tried. It was pretty good – the sausage was tasty, though the pretzel roll was a little dry. And it needed more sauerkraut. But I enjoyed it and would order it again.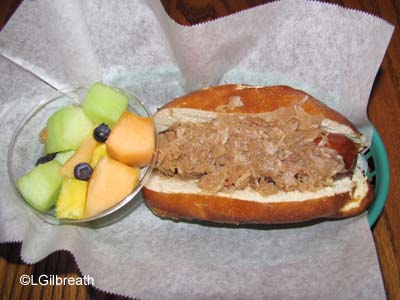 Troubadour Tavern is located next to Disney's Princess Fantasy Faire. Its offerings are more like substantial snacks than real meals. In addition to bratwurst and corn on the cob they offer three kinds of baked potatoes: broccoli and cheese, bacon and sour cream, and barbecued chicken. I ordered the bacon and sour cream potato, which also came with cheese and chives. I'm never quite sure what I'm going to get when I order a baked potato from a fast food place, but the one I had here was hot and fluffy and very good. They were pretty generous with all of the toppings, and it was petty filling for $6.29. I think next time I'd like to try either the broccoli and cheese or the barbecued chicken potato – those look good, too!
Tomorrowland Terrace has a Mahi Mahi Sandwich on the menu. The mahi mahi is marinated and baked, and served on a bun with cabbage and pico de gallo. I opted for the fruit instead of fries. It could have used something that would have given it a little bit more of a kick, but I'd order it again.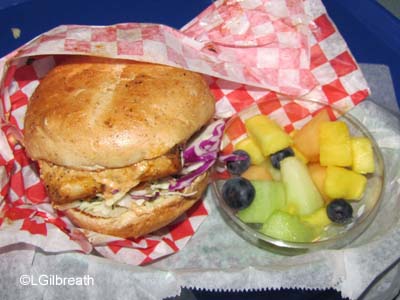 While Lee and I have done the World of Color Picnics several times, we had never done one of the World of Color Dinner Packages. I was surprised when I called on a Thursday and found plenty of availability for the next night – I had my choice of times at both restaurants!. We chose the Wine Country Trattoria – I hadn't been there since they re-opened last summer with the new menu.
There is now seating at the Trattoria both upstairs and downstairs, but the kitchen is not quite as well-equipped upstairs, so only World of Color diners are seated upstairs, since it has a smaller menu. (They also seat World of Color diners downstairs.) We were seated upstairs. The area is a large covered patio, and is open on the sides. It was a little chilly on this January night, but not too bad.
The World of Color Dinners are prix fixe – you have choice of soup or salad, and then a choice of six entrees. Dessert is a shared platter with small servings of four different desserts. It's $39.99, and at the end of dinner you receive tickets to the Reserved Viewing area for the World of Color show.
Since it was a cool evening Lee and I started with the minestrone soup. It's a very acceptable soup, but nothing to rave about.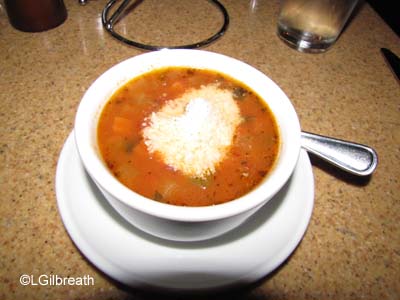 I chose Today's Sustainable Fish for my entree. I don't remember now what kind of fish it was but it was nicely cooked, moist, and served on a bed of tomato-vegetable ragu.
Lee had the Braised Lamb Shank with polenta and some kind of greens. He really liked it – I had a few bites, too, and it was very good.
I have to say I was disappointed in the desserts: Trattoria Tiramisu, Mini Fruit Crostada,
Vanilla Bean Panna Cotta with Fresh Fruit, and Chocolate Hazelnut Mousse with Lemon Cream. The mousse was pretty good, but the rest were just ok. We didn't finish the crostada or the tiramisu.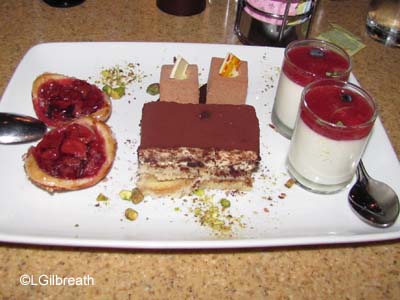 I was surprised that there was an annual pass discount on the dining package, but there was, and our server even asked if we were AP holders (which they don't always do). Even with the discount, by the time we added tax, tip, and a couple glasses of wine it was a hundred dollar dinner.
Wine Country Trattoria World of Color Dinner Menu
We had tickets to the 8:00 World of Color show – even though it said to go to the viewing area at 7:30, and we went at 7:30, there were already LOTS of people in there. So, even in the reserved section we didn't get a prime spot, though we had a mostly unobstructed view. Still a great show, though. I hadn't see the Tron tag at the end from the viewing area – only from the side. It looks a lot better from the front.