It is not easy to convey size in a two dimensional photograph. If a person looking at the photo has no idea how big something in the image is, they will not have a reference to gauge from. That is when a photographer should supply a reference.
Everyone has read about how big the Disney Dream, the new ship in the Disney Cruise Line fleet, is but what does that mean exactly? I can give you the Dream's dimensions: 1,114.8 feet long and 121.5 feet wide. Sure sounds big, doesn't it?
The best way is to show the size or scale of something in a photograph is to include something of known size. Most people have an idea of the average size of a person. Adult or child. They can immediately judge size by seeing other people in a photo. That is how I will show you the size of the Disney Dream starting with Deck 11 and the Funnel Vision screen.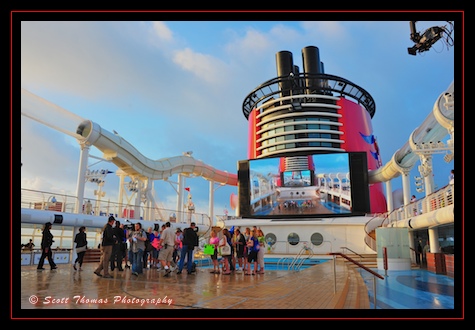 Sam Champion of Good Morning America, crew and guests before going on the air from the Disney Dream.
Nikon D700/28-300VR, 1/250s, f/8, ISO 400, EV 0, 28mm focal length
In a previous post, I showed you the Funnel Vision, the giant LED screen. I am sure you can appreciate the size of the screen more after seeing the Good Morning America crew and guests standing below it.
I got up on deck early the morning we were to dock at Castaway Cay in the hopes of photographing a Caribbean sunset. While the weather did not cooperate, I did photograph the Sun peaking through clouds while a crew member cleaned the Disney Dream's bell. Do you seem him?
As the Disney Dream nears the island of Castaway Cay, a crew member cleans the ship's bell.
Nikon D700/28-300VR, 1/80s, f/14, ISO 400, EV 0, 62mm focal length
The bow of the Disney Dream looks deceptively small with a Caribbean Sun and ocean in front of it until a crew member came out to raise the Disney Cruise Line flag and clean the bell before docking at the island of Castaway Cay.
When docked at Castaway Cay, crew and guests disembark from Deck 2 of the Dream. Walking next to the Dream really makes one feel small. I used a wide angle lens to further show the size difference between the ship and the guests walking beside her.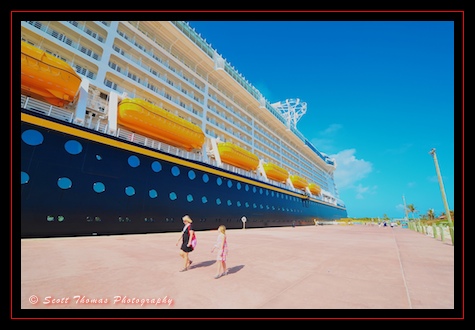 Guests walking past the docked Disney Dream at Castaway Cay.
Nikon D700/Tokina 11-16, 1/60s, f/18, ISO 200, EV +0.7, 16mm focal length
For more information about how to show scale in your photography, click on this link: Showing Scale.