Grab yer loved ones and trot on down to see Jessie, Buzz Lightyear, Woody, Bullseye, and partners when Disney on Ice skates into your town. Before ya head off into the sunset lookin' for seats, take a gander at this here recap of the show with lots of photographs. That way you can see what you're gonna see. Is that…yep, that's as right as a piggy bank with rear legs doing all the work.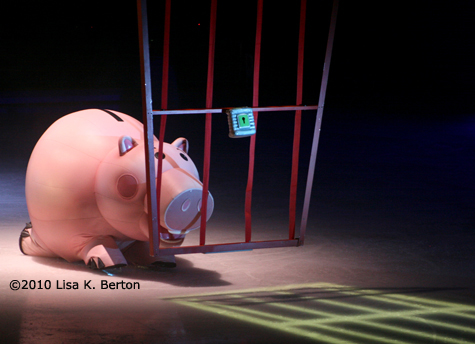 Following story lines from the Toy Story movie trilogy and expanding upon select moments, Feld Entertainment produces a top-notch show that's fun for all ages. Costuming mimics what played on the movie screen as does the music with some popular hits added in for overall enjoyment. As if the ice skating isn't enough action, Woody flies off on a paper airplane, Buzz rockets down, and Green Army Men parachute onto the custom made traveling ice rink.
The show opens with Mickey Mouse, Minnie Mouse, Goofy, and Donald Duck as they welcome you and set up the story of Andy heading off to college. During the first act we see Andy going through his toys and setting Woody aside while the rest are meant to be stored in the attic. Green Army Men fall into rank after receiving orders to protect Andy. Evil Emperor Zurg goes on the attack. Neon green illuminates from a group of Squeeze Toy Aliens. Jessie skates solo to When She Loved Me, a song originally in Toy Story 2 about Emily who stopped playing with her toys. A Hoedown Throwdown gets everyone dancing, skating, singing, and rockin'.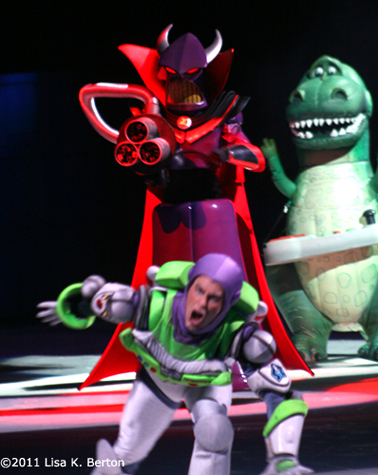 Rex can't operate the video game controller thus allowing Zurg to blast Buzz.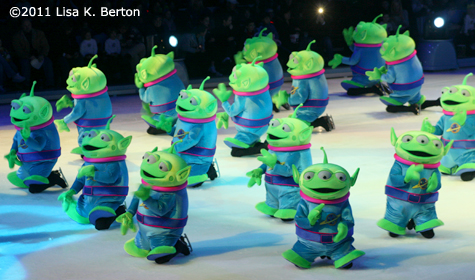 Toy Story Midway Mania! Who has a giant ring to toss?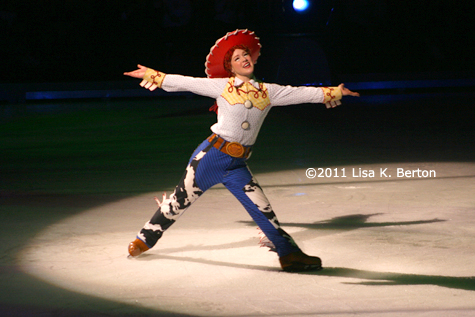 Feeling melancholy about being moved into the attic, Jessie remembers the good old days.
After a 20 minute intermission Barbie and her friends exercise, hula hoop, and dance to We Got the Beat and Girls Just Wanna Have Fun in gloriously bright 80's colors. The toys arrive at Sunnyside Daycare. Ken and Barbie fall madly in love with each other and have their first of 2 show-stealing segments. Buzz is reset by Ken who takes orders from not-so-loveable Lotso and is later inadvertently switched to Spanish mode. A newly enamorous Buzz Lightyear couple skates with Jessie. Woody comes to the rescue and an all-star cast moves and shakes in the finale.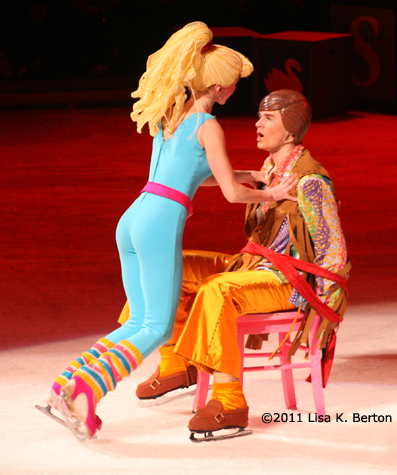 Skipper had better not be watching.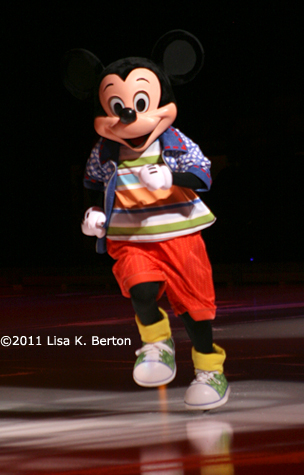 It's your old pal, Mickey Mouse, making a surprise appearance.
There may be a few falls throughout the course of the 2 hour show but the skaters bounce right back never missing more than a few beats. Characters do not meet and greet with guests. Typically, a sweatshirt or light jacket and thermals under jeans are enough to stay warm in the arena. That is ice they're skating on, afterall.
Bring cash or credit as merchandise wants to go home with you and snacks come with toys. Lemonade in a clear Disney on Ice cup sells for $10.00, snowcones in an Alien or Jessie cup are also $10.00, and a bag of cotton handy with a Styrofoam-like Buzz hat is $12.00.
The cast is currently performing at TD Garden in Boston, Massachusetts thru February 27, 2011. From here they move North to Montreal, Quebec followed by Auburn Hills, Michigan. For a complete touring schedule visit Disney on Ice. Discount codes and information is provided by Mousesavers.
Media ticket provided by Feld Entertainment/TD Garden.
Keep up with my freelance writing and photography via my Facebook page.