Does This Couple Look Familiar?
If you have paid attention while visiting the Asian section of Disney's Animal Kingdom, you should have a vague recollection of seeing this photograph. This couple's likeness turns up time and time again. But who are these people?
As it turns out, they are the Royal Couple of Anandapur, descendants of a long and noble lineage.
Anandapur (meaning "place of delight" in Sanskrit), was founded centuries ago by Ananta. This wise leader learned the importance of living in harmony with the animals and taught this lesson to his subjects. His sarcophagus can be seen on the Maharajah Jungle Trek.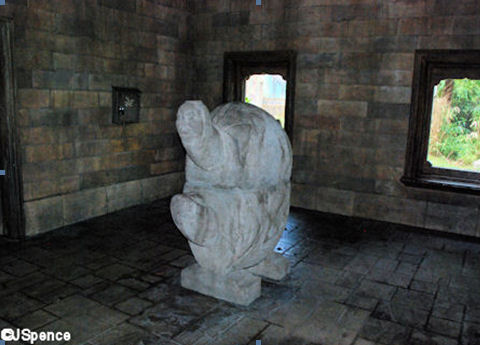 However, in 1544, King Bhima Disampati decreed the forest a royal preserve and built a hunting lodge for himself and invited guests. In an effort to make his "sport" easier, he had his subjects enclose much of this area, effectively trapping his prey. Soon after, he was attacked and killed by tigers in a turnabout of fate. Subsequent maharajahs, remembering Ananta's teachings, transformed this enclosure into a nature preserve where the animals and the local people could live in harmony once again – a tradition that lives on to this day.
In an effort to show their respect to the current ruling family and their benevolent ways, every shop owner in the village displays a picture of the Royal Couple. The size of the picture will vary depending on the wealth of the shop owner. Some merchants hang large, framed and matted photographs while others merely pin a postcard to the wall. The Royal Family's close association with tigers can be seen on the royal coat-of-arms.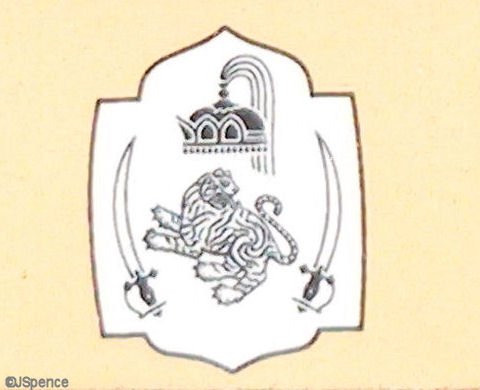 So next time you're in Asia, be sure to look for pictures of the Royal Couple. See how many you can find.
Reminder: If you send a comment, you must type "blog" in the appropriate field or your comment will end up in the Junk Folder.