The first topiaries you'll encounter when leaving Future World for World Showcase are Mrs. Pots, Chip, Cogsworth, and Lumiere from "Beauty and the Beast." I have to admit, Anita Answer and I were both somewhat perplexed by Chips lips. It looks like he borrowed a pair of Mrs. Potato Head's. Hmmmm.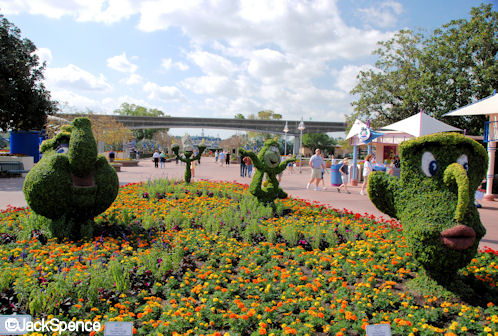 In keeping with the "Celebrate Springtime" theme, we find characters from the Lion King rejoicing in Simba's birth at the entrance to World Showcase.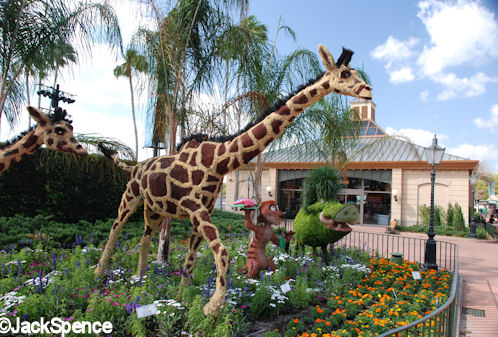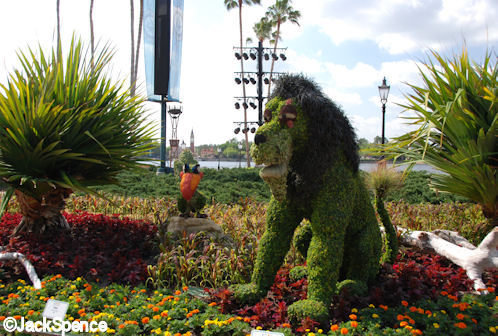 This year, the traditional arch that guests are accustomed to seeing in this area, is missing. According to Eric Darden, Horticulture Manager of Epcot's International Flower and Garden Festival, Disney tries to rotate and change certain features of the event each year to keep things fresh and new. He told me that a particular design or topiary is used for 2-4 years before it is retired or reworked.
A number of shopping venues are available around World Showcase and feature both Disney and non-Disney merchandise with a gardening theme. Two favorites are the Mickey gnomes and the do-it-yourself Mickey topiary.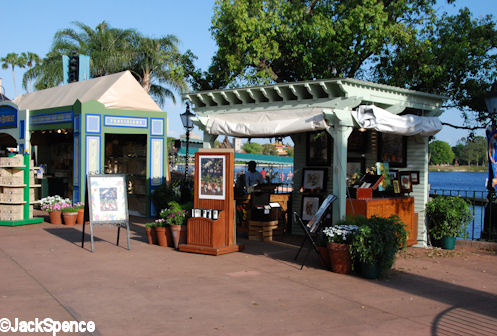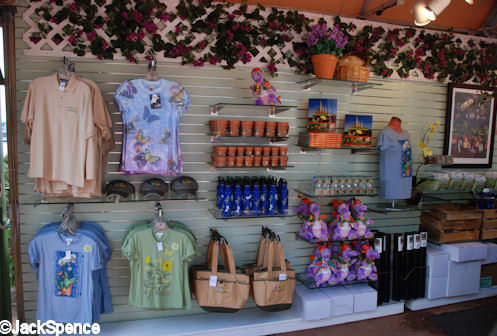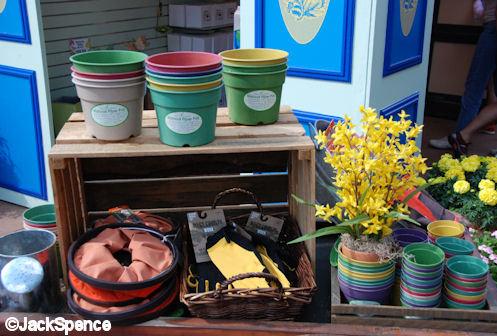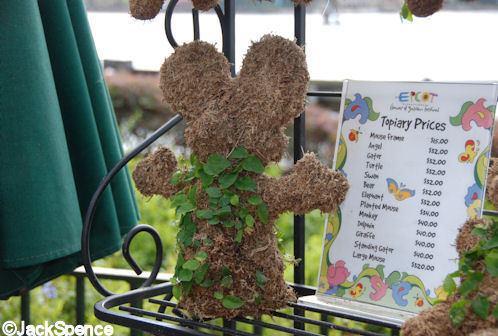 I'm going to start in Canada and circle the World Showcase Lagoon. The first characters we find are Bambi, Thumper, and Flower.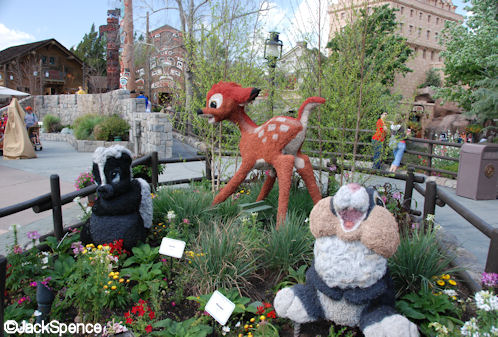 Even though they're always beautiful and difficult to improve upon, don't forget to take a stroll through Victoria Gardens.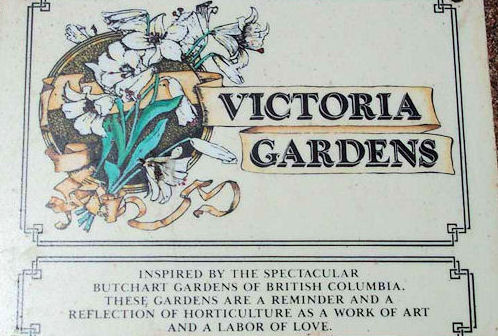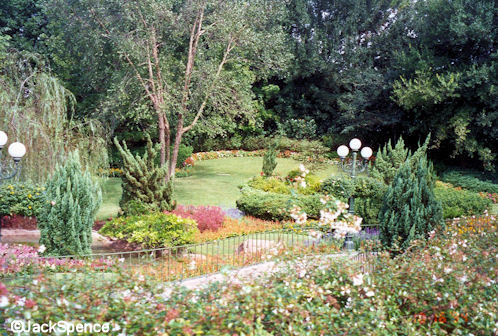 In the United Kingdom Twinings Tea has a number of teacups filled with various kinds of foliage.
Guided tours through the tea garden are presented on Monday thru Thursdays at 3:30 and 6:30 and Friday and Saturdays at 2:30, 3:30, 5:00, and 6:30. You can sign up at the Tea Caddy to learn the history and art of tea blending.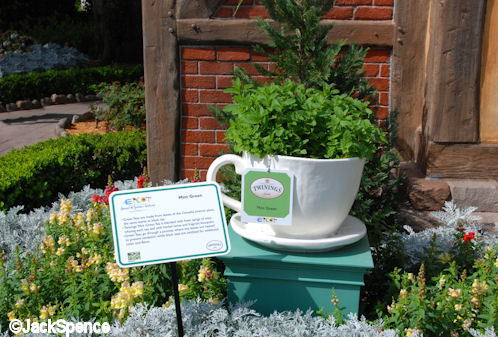 The France Pavilion features a number of topiary in the shape of perfume bottles.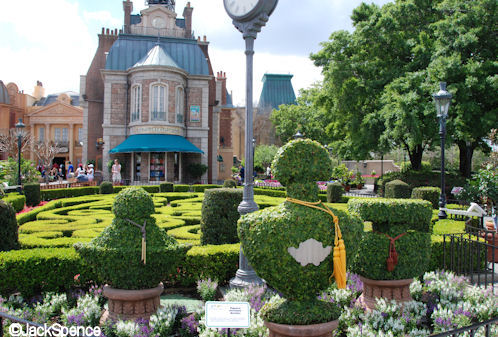 Also in this area is the Fragrance Garden. The Guerlain Company sponsors this exhibit which allows guest to learn about the connection between plants and fragrances. A Guerlain representative conducts 20-minute informative tours of this area daily at 2, 4, and 6pm.
Ten different Guerlain fragrances can be sampled at the Lift & Sniff kiosks in this garden. An informative sign helps you understand the odor's complex blending.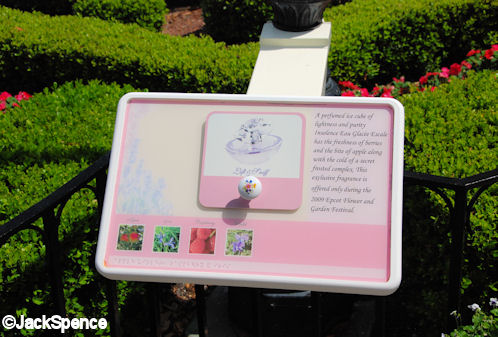 Located between the France and Morocco Pavilions is the Nature Conservancy display. While your kids enjoy themselves in the nearby playground, you can learn how to create an environmentally friendly garden in your own backyard.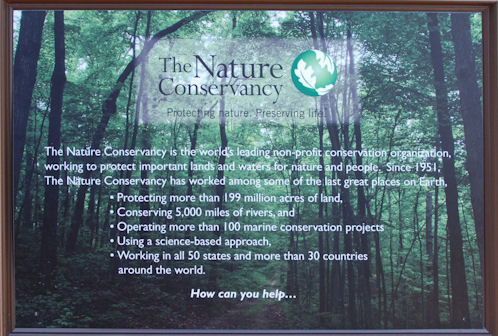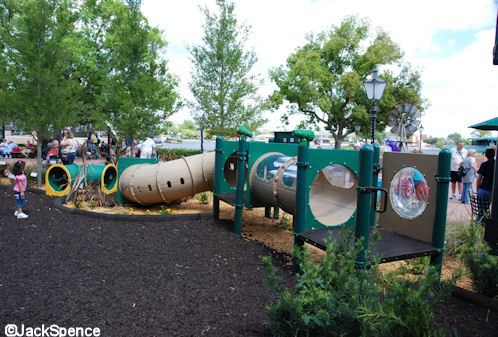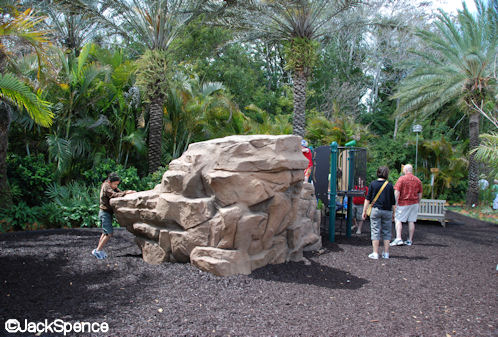 In Morocco you can see topiary Aladdin flying on his carpet.
A perennial favorite are the bonsai trees found in the Japan Pavilion. But don't forget, besides the obvious collection near the tori gate, there are additional treasures behind the pagoda.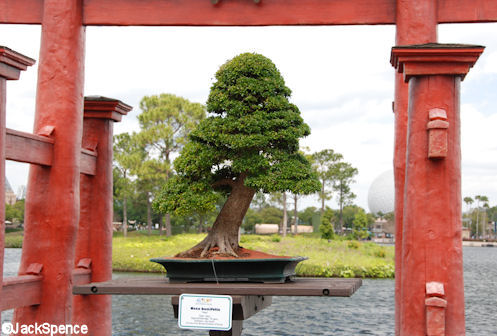 I'm going to skip the American Pavilion for the time being.
In the Italy Pavilion you can find a large array of container plants. According to Epcot Horticulturalist, Eric Darden, all of the container plants throughout the park must be watered by hand – a task that takes endless hours. Also, his staff plans for a 70% – 100% replacement of all bedding and container plants during the festival.
The other highlight at the Italy Pavilion is the Lady and the Tramp topiary. Who could resist getting their picture taken in front of this romantic spot?
The Germany Pavilion did not have any special landscaping this year, so I'll share a bit of trivia with you. The large LBG train layout next to Germany was once a part of the Flower & Garden Festival. Each year this elaborate layout was assembled just for the event. But due to its popularity, and the expense involved with its construction and deconstruction, it was decided to make it a permanent part of the Germany Pavilion.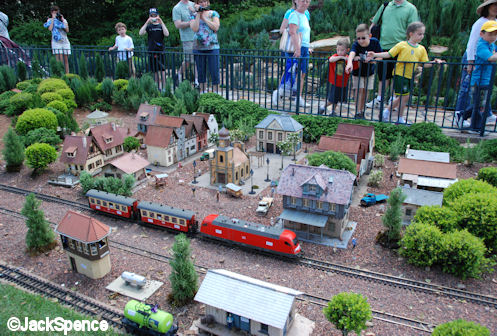 Between Germany and Refreshment Outpost is the Pirate Adventure Zone.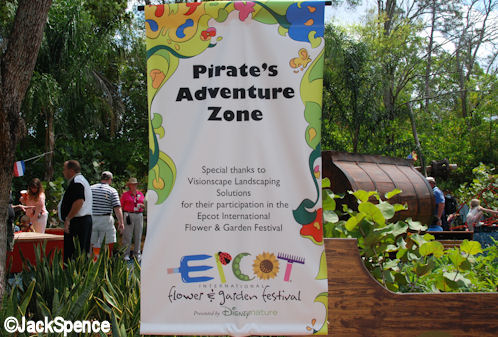 This is another beautifully landscaped area designed especially for the kids. Captain Hook, treasure chests, and a rickety boat are on hand for them to explore.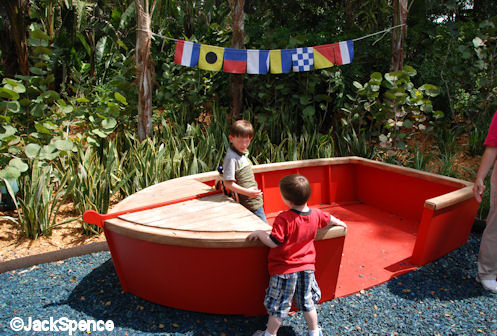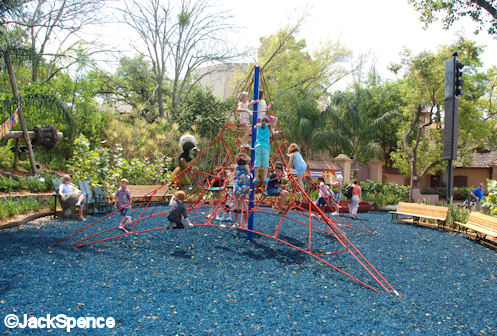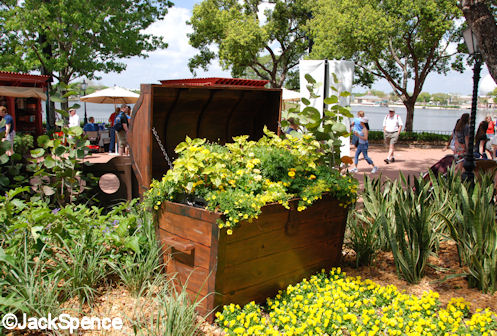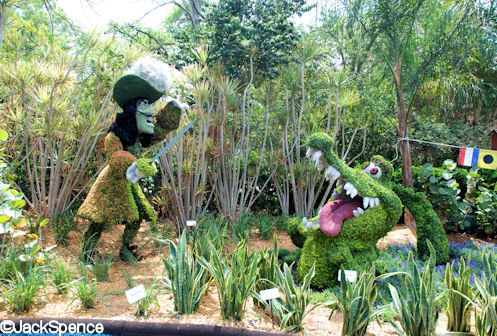 A ferocious dragon and a decorative cow are on exhibit at the China Pavilion.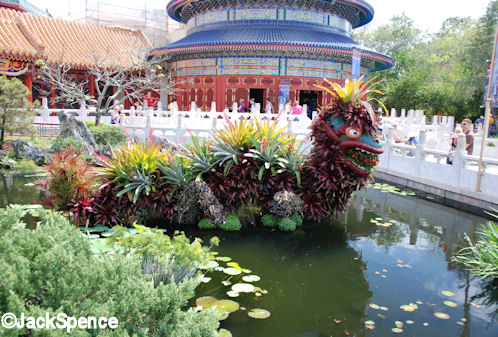 Over twenty trolls have escaped from the Puffin's Roost and are hiding in the Norway Garden waiting for you to find them.
The Mexico Pavilion did not offer any additional landscaping for this year's event.
As part of the press event, I was invited to attend a reception on the third floor of the American Adventure.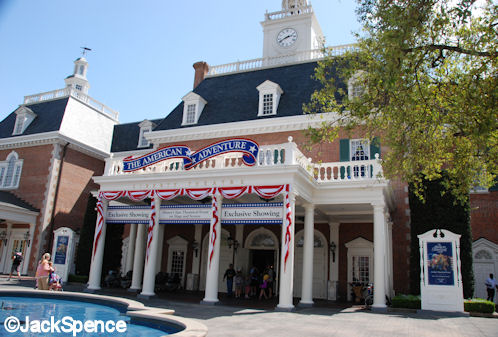 This area was once a corporate lounge for American Express when it sponsored this attraction. It is now used for special events and parties.
As we stepped off of the elevator and into the lounge, we were offered white sangria cocktails adorned with flowers. Appetizers of cheese, fruit, eggrolls and crab-cakes were beautifully displayed on a table in the lounge. In the two corners of the dining area, chefs were waiting to dish up various pastas or carve slices of prime rib and turkey.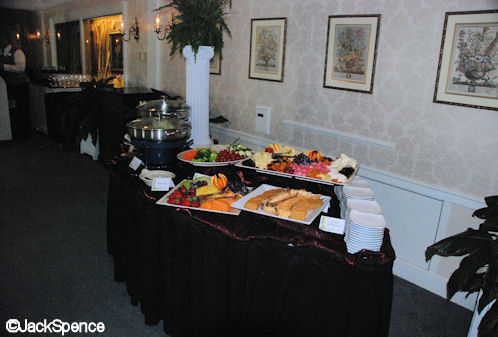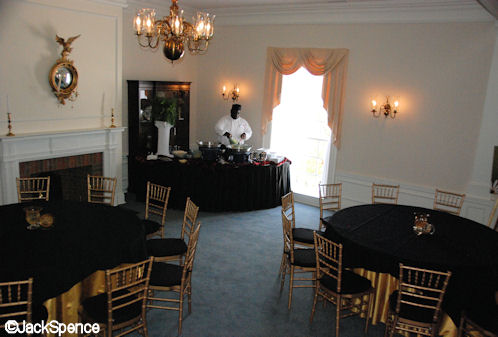 For dessert we dined on chocolate flower pots with Oreo dirt and gummy-worms. How appropriate for the Flower & Garden Festival.
Dan Cockerell, Epcot VP spoke briefly then turned the microphone over to Eric Darden who explain what goes into creating the Flower & Garden Festival each year.
Here is a photo I was excited to be given the opportunity to take – a picture of Spaceship Earth taken from the third floor of the American Pavilion.
At 4:45 we were escorted to the American Gardens Theatre for reserved seating to see the Davy Jones concert as part of the Flower Power concert series that takes place during the event.
Davy put on a great show. Although only 35 minutes in length, he packed a lot of memorable tunes into this concert. Most of the audience was made up of my generation – those old enough to remember seeing the Monkees' TV show when it first aired. A number of fans brought old record albums for Davy to sign. And even though he picked up several of them and showed them to the audience, he did not sign any as there simply wasn't time during this abridged concert.
For a 63 year old, Davy still can shake it and move it. Although he made numerous jokes about his age, there was no sign of him slowing down. And since the audience had memorized all of his songs when they were teenagers, much of the gang sang along with Davy, which he didn't seem to mind and even encouraged at one point.
When ending the concert, Davy let everyone know that he's putting on three shows a day with different numbers in each. He encouraged everyone to come back for a later performance – which I'm sure many did.
After the concert, I was tired and decided to call it quits for the day. When I got home I downloaded the 470 pictures I had taken and started to whittle them down to the few I will share with you.
Unlike the Food & Wine Festival, which cost extra if you wish to enjoy its benefits, the Flower & Garden Festival costs nothing more than your price of admission. It's a wonderfully beautiful event that everyone can enjoy and marvel at. I would highly recommend planning your next trip to Disney World around this occasion. I realize that Spring Break coincides with much of this event, but if you're into gardening, you won't be disappointed.