Frontierland – Part 1 – Thunder Mesa
Moving clockwise from the end of Main Street, Frontierland is the first land you come to. You enter the Wild West by walking through Fort Comstock. But before you do, be sure to check out the Native American encampment just outside its gates. A nearby babbling brook and a canopy of trees help you believe you're deep in the American wilderness.
Once you've passed under the Frontierland sign, you're in the middle of a large fort. In concept, this stronghold is similar to Fort Langhorn on Tom Sawyer Island at Disney World, but this Parisian version is far more elaborate.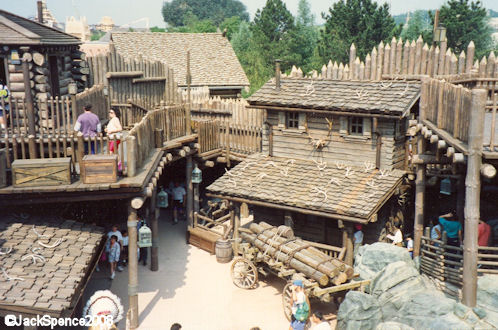 Fort Comstock has an attraction, of sorts, within its walls. Called "Legends of the Wild West," this walk through begins at one end of the fort and takes guests on a journey past a stockade, supply hut, office, barracks, rifle loft and more. A number of these rooms feature tableaus depicting characters from frontier America. Signs printed in both French and English describe the various scenes.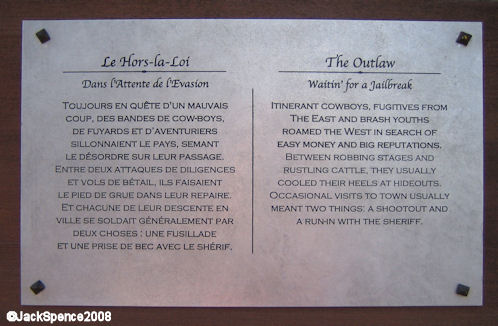 I'm not sure if this next gentleman is Davy Crockett, but whoever he is, he's not nearly as good with a gun and a mirror as he thinks he is.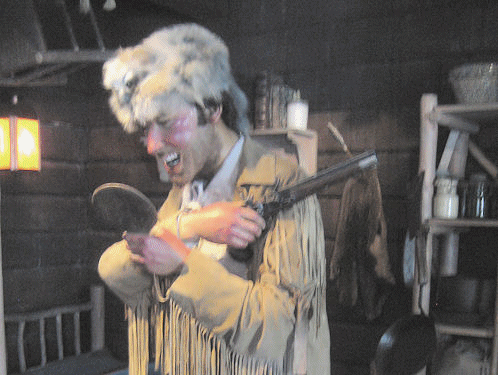 When you exit Fort Comstock, you're in the mining town of Thunder Mesa at the height of the gold rush.
Faded paint, clapboard siding, boardwalks, and hitching posts are the norm in this bustling little town. Most of these buildings are filled with shops and restaurants.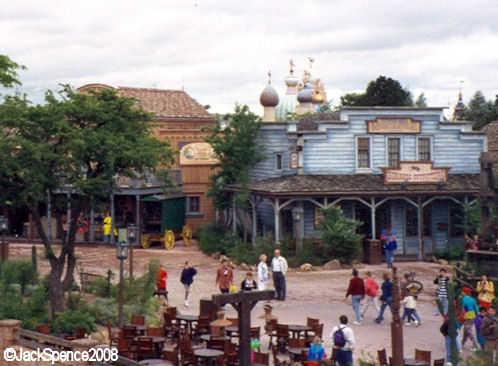 Legend has it that Diamond Lil found a gold nugget the size of a loaf of bread on Big Thunder Mountain. With her windfall she built the Lucky Nugget Saloon. Combining western and Victorian architecture, this establishment is reminiscent of a bar you might have found in San Francisco's Barbary Coast in the 1880's.
Comedians, can-can girls, and Disney characters are all part of the show here. Reservations are suggested for this buffet meal.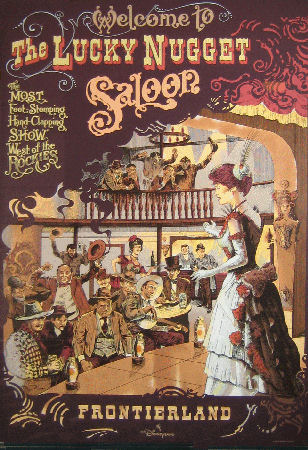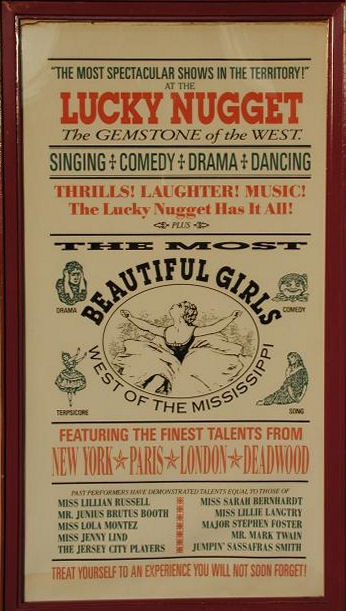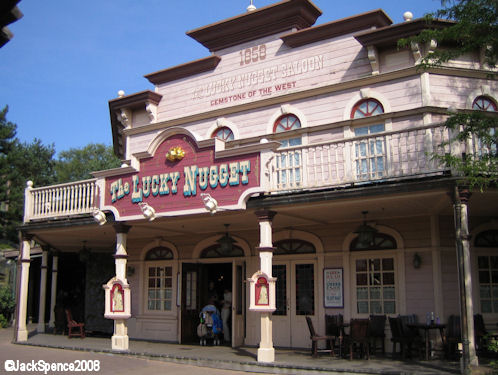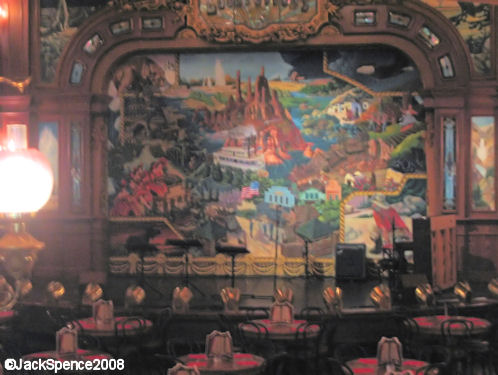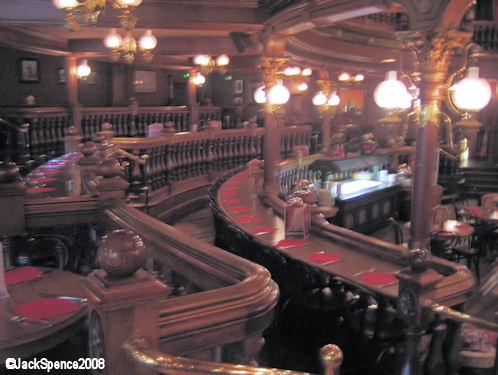 The Silver Spur Steakhouse is intended for the well-to-do cowboy. Modeled after a Western-style gentlemen's club, this table service restaurant exudes old-time elegance. A number of grilled meats are prepared in a show kitchen while you enjoy a beer or a glass of wine. Reservations are suggested.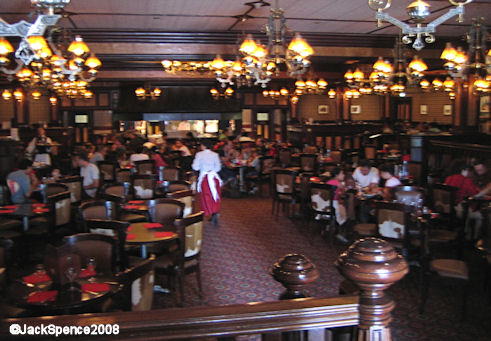 Over 70 animated targets are on tap at the Rustler Roundup Shootin' Gallery. Rifles that fire infra-red shots bring these comic effects to life. Note, this attraction is not included in your admission price and a small fee is required to play.
To add realism to this mining town, a number of props and signs are scattered around the area.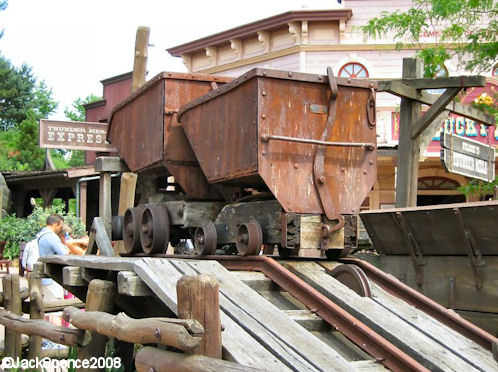 As you venture toward the end of town, Thunder Mesa changes from clapboard to adobe. A strong Mexican influence is noticed everywhere.
The building below is the Fuente del Oro Restaurante. As you might expect, Mexican specialties are served at this counter service restaurant. Guests can either dine indoors or on the lovely patio with views of the Big Thunder Mountain loading area.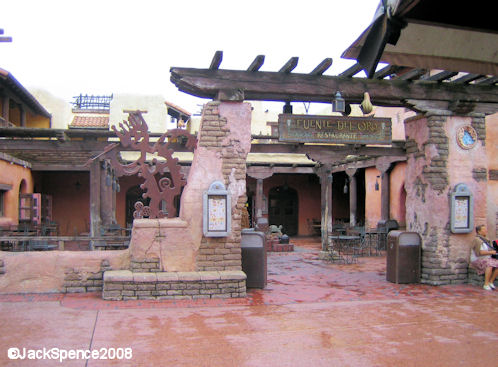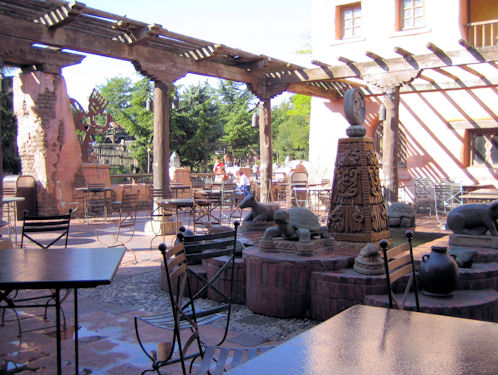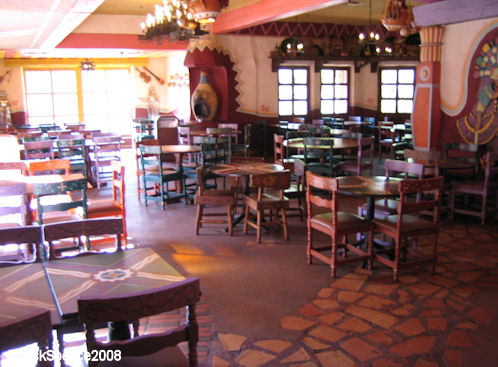 I mentioned in another blog that the transition between lands at Disneyland Paris is practically seamless. The picture below shows us moving away from the Mexican section of Frontierland and its adobe walls. Just around the corner you come to the African section of Adventureland and its clay brick construction. The change in environment is so gradual that you're not even aware you've changed "continents."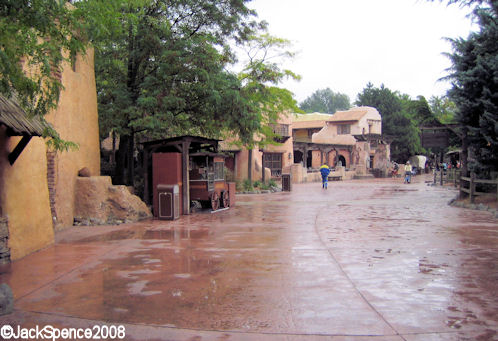 In my next blog I'll be discussing the outskirts of Frontierland.