It occurred to me that one thing I didn't really talk about in my "Conclusions" blog was the food. I wrote about it in the "live" blog as I had time, but there were meals (and lots of photos!) that I had to skip because of time.
So I'm going to put that in a couple of blog entries – I had planned to only do one but it was just too long. Read no further if you want to be spared the details and the photos of a whole lot of wonderful food! 🙂
Animator's Palate
We had dinner here our first night. For appetizer I had the Roma Tomato and Portabello Mushrooms on Polenta Cake, which was excellent.
Lee had the Wild Mushrooms Risotto and Porcini Wafer.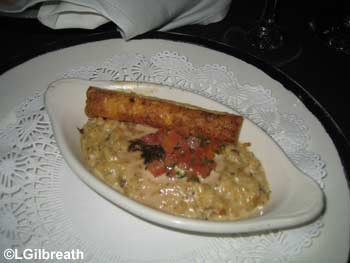 Next we both had the Smoked Salmon and Trout with Goat Cheese Salad. They could have been a lot more generous with the goat cheese, though. And there was almost no dressing on it. Now, I don't like a lot of dressing, but this was really dry.
For entrees I had the Grilled Salmon with Creamy Risotto and a Barolo Wine Sauce, and that was very good.
Lee had the Grilled Fillet Mignon, Seared Scallops with Port Wine Demi Glace. He said the scallops were good but small, and the steak was good.
Dessert was the Double-Fudge Chocolate Cake for me (I'm sure that's no surprise to anyone) and the Chocolate and Peanut Butter Pie for Lee. The cake was good — one of the better chocolate desserts I'd had from Disney in quite a while.
Parrot Cay
I did have time to cover our second night's dinner at Parrot Cay, so you can find that here:

Key West and Parrot Cay Dinner
Lumiere's – Lunch
On our first At Sea day, we had lunch at Lumiere's. It was actually our first time in the restaurant – we hadn't had dinner there yet. It's so beautiful inside – it's a a Beauty and the Beast theme, and I really loved the lights with the red rose suspended from them.
The food was presented just beautifully here – I was very impressed. This was one of the appetizers that we shared – the Shrimp Cocktail in a potato basket. It had one jumbo shrimp and some little shrimp, which wasn't really what I was expecting, but it was really pretty, and tasty. Small, though – we should have each ordered one. (And our server had recommended that we do that.)
We also shared the Barley and Potato soup. Neither of us detected any barley in it, but it was still good.
I had the Salad Nicoise – lettuce with chunks of tuna, red onions, tomatoes, green beans, anchovies, and olives. It was supposed to have diced potatoes, but there weren't any. But it had some slices of hard-boiled egg, which weren't mentioned on the menu. So it was not quite as advertised (I would have liked more green beans, too), but I still enjoyed it.
Lee had the Teriyaki Glazed Filet of Cod, served with white rice, steamed bok choy and teriyaki sauce. This was another beautiful dish. The teriyaki sauce had too much ginger in it for my taste, but Lee liked it – though the bok choy didn't do much for him.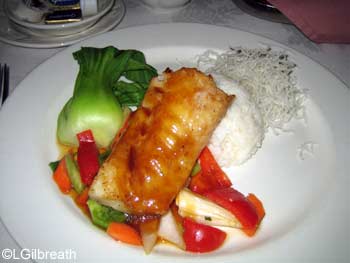 Lumiere's – The Golden Mickeys
That same night we had dinner at Lumiere's. It was Formal Night, when the ship-wide menu was The Golden Mickeys.
As an appetizer, I ordered the Spiced Asparagus and Citrus Delight – asparagus spears with segments of orange and grapefruit with almonds and vinaigrette.
Lee had the Double Baked Aged Reggiano Parmesan Cheese Souffle. Wow, that's a mouthful. A tasty mouthful, he said. 🙂
For the soup/salad course we both had the Scottish Smoked Salmon and Pear Salad, It was served with a creamy horseradish dressing (which was not too horseradish hot at all).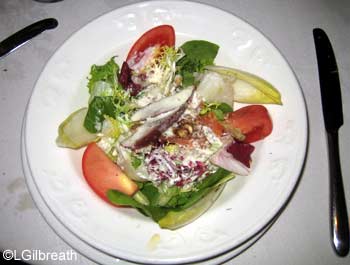 As an entree Lee and I had the Rack of New Zealand Lamb with a Dijon-Mustard Crust. It came with gratin potato cakes and Mediterranean vegetables. This was perhaps the most disappointing main course I had all week – the lamb was cooked a little too rare for me, and it was pretty tough, too. There wasn't much meat to it, either.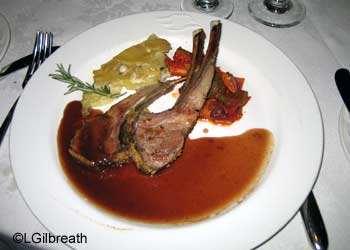 Other entrees that our tablemates had:
Jumbo Shrimp and Porcini Mushroom Tagliatelle:
Oven-Roasted Duckling with a Dark Cherry Glaze, with potato and cauliflower puree and vegetables: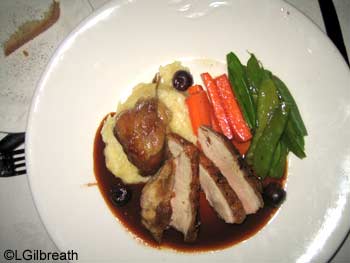 Roasted Fillet of Beef Wellington – covered with Mushroom Stuffing wrapped in Puff Pastry, served with Fingerling Potatoes, Baby Vegetables, and a Cabernet Black Truffle Jus.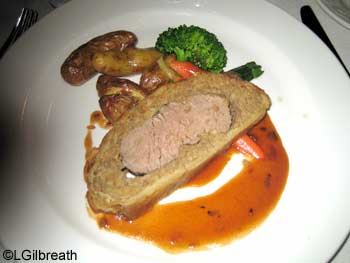 One thing that I hadn't realized until I edited the photos is that the plates they used for the entrees have the Disney Cruise Line logo along the rim! (You can see it on the photo of the lamb dish.)
For dessert Lee and I had The Golden Chocolate, Chocolate Award. It was multiple layers of chocolate – chocolate cake, chocolate mousse, chocolate meringue and chocolate. I like the chocolate Golden Mickeys ticket. And it was made of good chocolate, too! I've experimented a little bit myself with the chocolate transfers that they use to do that kind of thing, so I was very intrigued by the tickets and trying to figure out how they made them in that shape. A custom mold, I'm sure.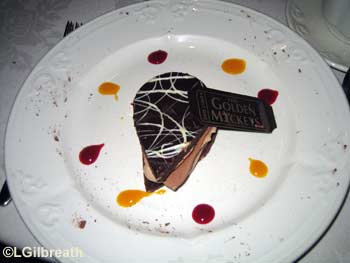 Our tablemates also tried:
Ricotta Creme Brulee – on a bed of honey raspberries:
Baked Apple and Blueberry Pithiviers. Pith-what???? It looked like a streudel, and was described as apple and blueberry with almond cream in a puff pastry.
In Part 2 I'll be talking about another dinner at Lumiere's, Pirate Night and the Captain's Gala.