I recently read a wonderful book on travel photography. Since most of us travel to Walt Disney World, I found lots of great information which can be used there, elsewhere and at home. It talks about finding the spirit of where you are. This is how I approached all my photography before I even knew this was how many others also described their vision. The book, Spirit of Place: The Art of the Traveling Photographer, was written by Bob Krist, who's a contributing editor at both National Geographic Traveler and Outdoor Photographer, back in 2000. The year it was written is important as digital photography was in it's infancy then. Most of the equipment he talks about in the book is still SLR equipment but is not digital. However, it all has equivalents to today's digital SLR and advanced Point and Shoot world of today. Digital photography has come a long way in just 8 short years. So, keep that in mind if you decide to read the book.
The first part of the book goes in depth as to the equipment Bob uses, composition of a good travel photograph and how to get the best technical photo possible. Very good for a beginning photographer and an excellent review for those who have been shooting for awhile. All this information is geared towards a working travel photographer which we all are when visiting Walt Disney World with our cameras. Right?
The part I most enjoyed was Bob giving tips on how to photograph people all over the world. Walt Disney World is unique in you can do that all in one day at Epcot. It's a bit easier in WDW but still takes a little effort to ask non-character cast members for their picture. If you are traveling without children, remember characters will pose for your camera, too. I have seen many great character portraits on message forums and photo sharing sites like flickr.
Bob talks about how to capture the essence of a city. Written before the advent of Yahoo or Google, it is much easier today to research a location then his advice. No need to write to a travel bureau when you can "google" it in seconds on our computers. Still, what to look for is very relevant and Bob tells you the best kind of things like festivals, parades, holidays, historical events and other cultural happenings. Researching a trip to Walt Disney World is the same. When you go, there are different things going on depending on the time of year and you need to know what they are and when they happen. One advantage for us is there's usually a schedule online for us to find out these things.
There's even a chapter on photographing in the tropics. Great tips on how to get good photographs even at midday on a bright, sandy beach. While he is referring to Caribbean Islands, central Florida poses the same challenges.
Throughout the book, Bob goes over how to create stories with photographs. Many of us do produce these in trip reports to our friends, family and Internet communities. Bob shows how to do it like an editor would. Giving ideas and examples on how to wrap up all those hundreds of images into interesting essays using all the techniques and equipment he introduces us to in each chapter.
The book is filled with Bob Krist's exquisite photographs taken on his many assignments for National Geographic Traveler, Outdoor Photographer, Smithsonian, Travel/Holiday and many other publications. Yes, the book is a little dated when it comes to the equipment he talks about but the rest is timeless information for us who enjoy photographing the places we travel to and live in.
How do I capture the spirit of Walt Disney World in a photograph? For me, Walt Disney's spirit lives on in the parks and some of it rubs off on all of us who visit. Of course, there are many kinds of spirits, below is one of magic. A man's vision of two dimensional characters brought to life and giving a family's children and their parents a gift in a photograph to cherish for the rest of their lives. You can find Donald and Daisy Duck (and other lovable Disney characters) on Mickey Avenue in front of their On-Location Hollywood Star trailers in Disney's Hollywood Studios.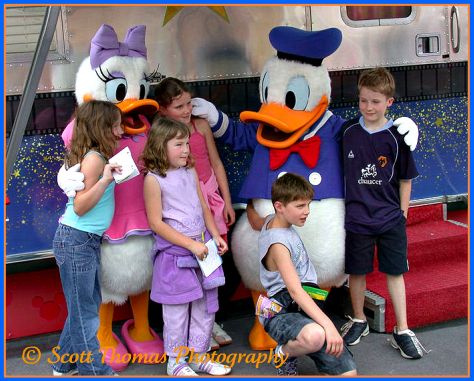 The spirit of Walt Disney can been seen in the faces of these children posing for their parents with Donald and Daisy Duck.
Nikon Coolpix 995, 1/100s, f/3.6, ISO 100, EV 0