I had heard that the Yak & Yeti restaurant in the Animal Kingdom was opening today. Since I had just been there a couple of days earlier and the construction walls were still up, I was a little dubious, but decided to check it out.
My friend Donald and I arrived a little before 11am. There were already about thirty people in line ahead of us. We confirmed with a cast member outside that the restaurant would be opening in about 5 minutes for "walk-ups" only.
During the first several minutes after opening, seating went slowly. Management was definitely giving the hosts and hostesses, servers, bartenders, and chefs plenty of time to get acclimated to their new surroundings before bombarding them. Eventually, they started taking names and told us approximately when we could expect to be seated. We were taken to our table around 11:20.
The restaurant is beautiful – just like you'd expect a Disney restaurant to be. Actually, I'm not sure beautiful is the right word. The restaurant is themed beautifully, but it's not beautiful. I'm not exactly sure what region of Asia this eatery is supposed to reflect, but I'd have to say the areas in and around Nepal.
The building looks like it's been here for many, many years and has seen the ravages of time. Floor tiles are broken, chandeliers are missing crystals, and the window pains are made of imperfect glass. Also strewn around the various rooms was Asian bric-a-brac – an assortment of stuff from all over. In other words, it looks authentic.
As our hostess took us to our table, she pointed out some of the details of the restaurant, telling us that the "proprietor" had selected this piece and that while on his travels.
The restaurant has a number of small dining rooms located on two floors. I doubt that any one room has more than ten tables in it. This gives guests a very cozy feel. Also, there are a few tables on each floor situated next to windows that look outside. I'm sure these window tables on the second floor will be in high demand.
The restaurant was promoting the Yak Attack, a concoction of Mango Daiquiri, Bacardi Light Rum, and Wildberry Flavors. Donald and I each ordered one and were happy we did. It certainly had a tropical taste about it, but was like nothing we'd ever tried before.
For appetizers we split the Dim Sum Basket. It arrived at our table in a bamboo steamer basket. Our waiter, Jay, set it down between us, then lifted the lid and positioned it just off to the side of the main bowl – a very attractive touch.
Later in our meal a manager stopped by. He asked us if Jay had presented the Dim Sum Basket correctly. When we said that he had, the manager was pleased and said that they are striving hard to serve several dishes with a flair. The Dim Sum Basket contained Pork Pot Stickers, Shrimp Siu Mai, Cho Su Bao and Pork Siu Mai. All was good and plenty for two to share.
For entrees I had the Baby Back Ribs .
Donald had the Maple Tararind Chicken. We were both pleased with our selections.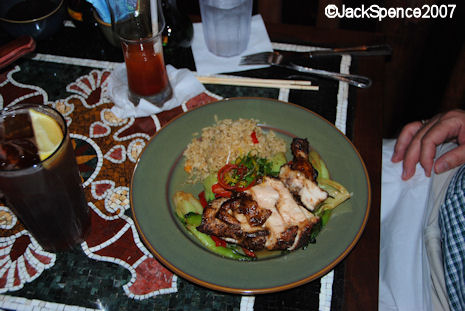 For dessert I had the Sorbet which consisted of three different flavors, raspberry, lemon, and mango. It was beautifully served and tasted even better.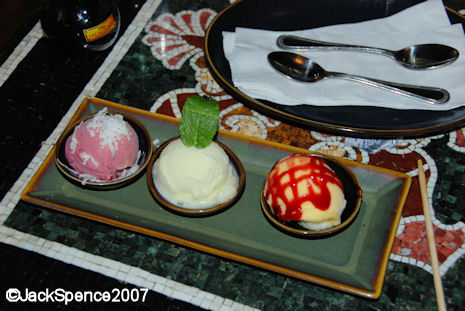 Donald had the Chocolate Brownie Sundae. There wasn't anything particularly Asian about it, but it was big and delicious.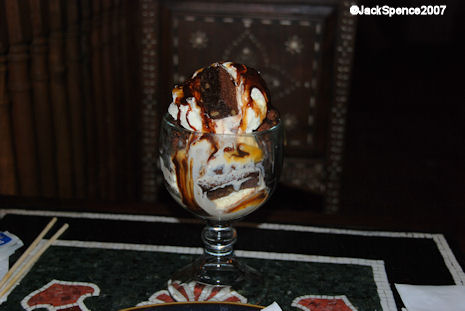 Overall the menu is fairly tame. There is nothing so exotic as to send guests running for a hamburger. Even the pickiest eater would have an easy time finding something to their liking.
While dining, I saw Joe Rhode wandering through the restaurant with some other big-wigs. For those of you who don't know, Joe Rhode pretty much designed the Animal Kingdom and was the primary guy when it came time to design and build Expedition: Everest.
I called his name across the room and he was kind enough to come over to our table. I introduced myself and complimented him on this wonderful restaurant. He then introduced me to another gentleman who was the lead architect on this project – unfortunately, I can't remember his name. Joe was then kind enough to pose for pictures. I was jazzed!
At the moment, it hasn't been decided if the Disney Dining Experience card will be accepted here. This restaurant is operated by Landry's, the same company that operates the Rainforest Café, which does not accept this card.
Ever since the Animal Kingdom opened, I have said that it needs a waiter service restaurant inside the park. The Rainforest Café is too far away being all the way at the park's entrance. The Yak & Yeti Restaurant is a welcome addition to the Animal Kingdom. The theming is wonderful and the food is good.
At the moment, reservations are not being accepted. They are only taking "walk-ups." Beginning December 3rd guests can make reservations for January 4th and beyond by calling 407-WDW-DINE