Last week, I visited Epcot with a friend and neighbor of mine, Lew Brooks. Lew often helps me find and verify Hidden Mickey sightings. You might remember him from my Hidden Mickeys books. He coined the term "two-beer Mickey" to describe an image that is really wishful thinking and only begins to look like Mickey after you've had a few beers!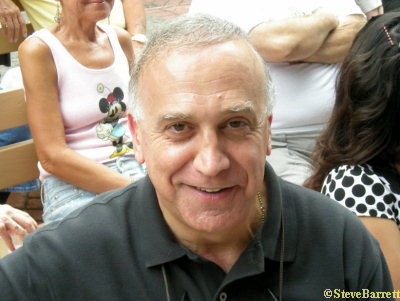 Lew and I met in front of the Sportsman's Shoppe in the UK pavilion in the late afternoon. As it was a weekday, the lines for food and wine at the various kiosks in World Showcase weren't that long. However, first we made a beeline for America Gardens Theatre to size up the waiting line for David Cassidy, who was performing in the "Eat to the Beat" musical series. An hour before his first performance, the line was quite long, stretching over to the winding ropes near the Italy pavilion. So we hopped in line and took turns getting wine from various countries to make the wait even more enjoyable.
Mr. Cassidy didn't disappoint; he performed with much energy and looked to be in good physical shape. It was his first performance at WDW, and he mentioned several times that "Disney World is the greatest place on earth" and that he'd definitely return! He has a large following of faithful fans, and baby boomers were dancing and swooning in the audience. We had a blast!
After the concert, we ambled around World Showcase, tasting various snacks and more wine. Pistachio baklava from the Turkey kiosk was really tasty, and a ravioli-type pasta stuffed with beef and covered with a yogurt sauce (also from Turkey) was interesting and satisfying. Of course, Lew and I had to order the famous cheese soup (and I also savored the maple-glazed salmon) from Canada. That cheese soup is simply the best around!
You might recall that the original fish with its classic Mickey in Canada's Northwest Mercantile shop was shattered some years ago. Thankfully, a new fish appeared in its place, and Lew and I visited the shop to confirm it and enjoy it again.
This small classic Mickey is a good one, as Lew points out in the photo!
We then checked out a sighting on a vase in the rear room of the store. We agreed that the circles on the vase are not proportioned quite right and form a good example of a "two beer Mickey". What do you think?