If you live in central Florida as I do, you know that not all of the local denizens are enamored of Walt Disney World. That fact continues to surprise me, of course.
Thankfully, many locals, including a large sample of my neighbors, enjoy WDW as much as I do. So when I meet up with like-minded neighbors or friends for dinner, our discussion most assuredly involves Disney at some point.
The Massoni family (James, Virginia, Jake, and Jessica) moved to Florida from Silicon Valley, California. Vickie and I became friends with the Massonis a few years ago when we discovered that we had Disney (among other things) in common. Recently, we joined up for dinner at a nearby steak house. James left the computer business and now owns a microbrewery in Melbourne (on Florida's east coast). I mention that because Vickie is holding one of Jim's beers (Ibor) in the photo. Sometimes, Jim sells his beers at Epcot's Food and Wine Festival. I think spotting your own beer at Disney's F & W is rather like an author spotting his or her book in a book store! What a rush!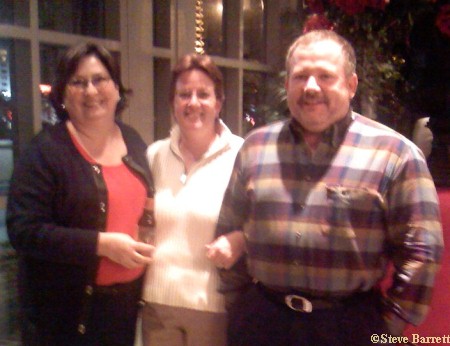 Virginia, Vickie and Jim hashed over Neighborhood Association issues at dinner. (That subject is definitely not my cup of tea). Jessica is currently attending the University of Miami, but Jake is at dinner with us this night. Jake is in high school and often helps me find Hidden Mickeys.
I attached a photo of a Hidden Mickey first reported by Jake.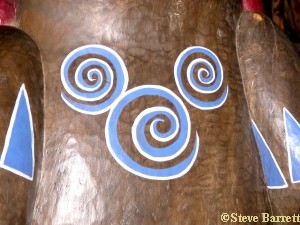 Not long ago, Jim and Jake found an image of a classic Mickey made of gemstones on a man's neck in a mural along the first tunnel of the Gran Fiesta Tour in Epcot's Mexico pavilion. If someone can verify that sighting and describe its location, feel free to let me know!
Dinner and Disney with friends: no better way to nourish body and mind!