I had a day off work and, naturally, I wanted to spend the day at WDW looking for Hidden Mickeys! The day was really special because I had a dinner meeting with my publisher, Kelly Monaghan, at Raglan Road in Pleasure Island at 6 pm.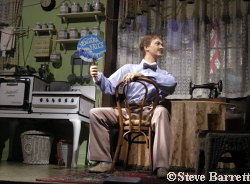 I studied my file of Hidden Mickey posts that needed verifying and planned my day. I arrived to the Wilderness Lodge at about 1 pm and located a HM on the lamps on the upper floors. (It's a good one; I think it's the same lamp cover that's in the Beach Haus at Blizzard Beach.) I took a boat to the Magic Kingdom. There might be a decent tiny classic Mickey on the moon to your left on Peter Pan's Flight. But the FASTPASS return time was already after 5:30 pm.
So I headed over to the Carousel of Progress. Someone thought one of the Grandmas had a Mickey-shaped broach; I'll have to study my photos on that one. I walked over to the Contemporary Resort to get a cappuccino at the small coffee bar on the lobby level (as it turned out, a big mistake!).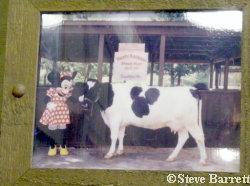 I hopped a boat to Fort Wilderness. Someone thought that a few of the horses or ponies at the Tri-Circle D Ranch had classic Mickeys shaved into their coats. I didn't find any, and a cast member there told me they haven't maintained those Hidden Mickeys for a while.
It was after 5 pm by now, so I decided to walk the trail from FW to the Wilderness Lodge. Actually I walked and jogged the trail so I wouldn't be late to Raglan Road.
There's a common thread here that I haven't mentioned. It was a hot day. I was zipping around nonstop like I normally do when I'm on a mission to find HM's. I know where every water fountain is at WDW, and I usually stop frequently to drink. Today, I broke that rule. I didn't drink nearly enough.
By the time I walked up to Raglan Road, I was feeling lightheaded and queasy. I couldn't eat any food or even keep down liquids. I would have to excuse myself to the restroom every 10 minutes or so. Thankfully, Kelly was understanding. I returned to my car, slept about 90 minutes in my back seat, then somehow made the 40 minute drive home. I was able to put ice cubes in my mouth and begin to rehydrate myself.
I'm an ER doctor, and I frequently treat patients in Florida with heat exhaustion! I should know better! Anyway, this experience will stay with me a long time. When at WDW, drink before you're thirsty! (And cappuccino is not a thirst-quencher).

Read more about Steve's Hidden Mickey finds on AllEarsNet.com
Steve maintains a Catalog of Hidden Mickeys on the Hidden Mickeys Guide.