In a recent blog entry on the Finding Nemo Submarine Voyage press event
I mentioned that I attended a "What's New, What's Next" presentation,
and that I might talk about that in a future blog entry. So here it is.
The session was held in the "Honey I Shrunk the Audience" theater, and
made good use of the huge projection screen. But I'm happy to say there
were no mice running through the theater during the presentation…pirates
and sea turtles, yes, but no mice. 🙂
Disneyland President Ed Grier spoke about Disney's "high-touch,
high-tech" philosophy in seeking to provide personal and memorable
experiences to Disney guests, creating technology that is innovative,
interactive and immersive. An example of this is the new Pirates
of the Caribbean: At World's End Nintendo game, which has special
components that work within the Disney parks to take guests on a
treasure hunt. Not being a video games person I won't pretend
to understand it, but apparently your character in the game gets
rewarded by additional "savvy" and costumes and other things that
might be useful within the game.
And speaking of interactive experiences…there were some special "guests"
during his presentation when the gang from Pirate's Lair on Tom Sawyer
Island, including the Bootstrappers and Jack Sparrow, showed up. General
mayhem (including sword fights and stunts) ensued for several minutes until
"Commodore" Grier ended up with the treasure map.
Ed Grier also spoke about Disney's Year of a Million Dreams celebration
(691,494 dreams granted up to that point…no, make that 691,495…)
and the return of the Disney Cruise Line to California in 2008 – but
none of that is news to AllEars.net readers (who have plenty of savvy
already – who needs video games?)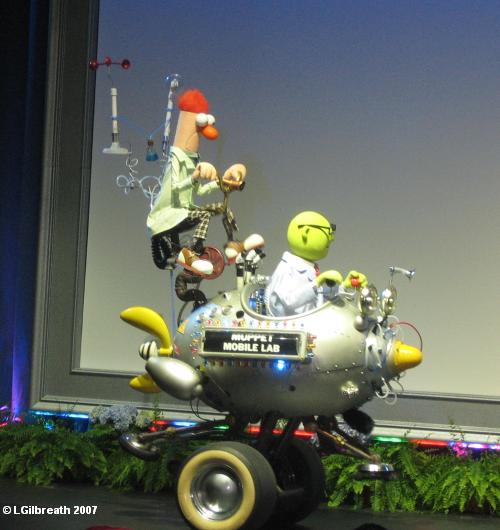 Next on stage were Disney's recently hired foremost experts in robotics –
Dr. Bunsen Honeydew and his assistant Beaker, who were "test driving"
Muppets Mobile Lab. This is an amazing device – I don't even know how
to describe it. Ummm…it's an interactive, free-wheeling audio-animatronic?
It looks like a spaceship piloted by Honeydew mounted on a Segway – with
Beaker pedaling. Like Crush, Honeydew is able to respond in real-time to
questions, but unlike Crush, Honeydew isn't a CGI creation on a video screen!
He's real, and sitting right there in front of you, and can obviously see and hear
and react to what's going on. The "Mobile Lab" have some interesting special
effects – like lots of blinking lights, a confetti shooter, smoke, and Beaker's
"air bag" – his nose inflates into a huge orange balloon! I loved this and would
have been happy to see a whole lot more (and hear about the technology
behind it), but they didn't stay out very long.
Tom Fitzgerald of Walt Disney Imagineering (WDI) spoke about the new Toy
Story Mania attraction, due to open next year at both Disney's
California Adventure and Disney-MGM Studios. He called it the "next
generation interactive ride game." Based on what he said and the
concept art we saw, I'd describe it as a 3-D version of Buzz Lightyear
Astro Blasters – but with more variety. Mr. Potato Head appears as a
carnival barker, and like Roz in the Monsters, Inc. at DCA, is able to joke
with guests and make specific comments directed at them. (Roz makes
pithy observations about what people are wearing or who they are with.)
Once in the ride vehicles you shrink to the size of a toy and enter a series
of carnival games where you rack up points by shooting your "gun" at the
virtual targets. Various Toy Story characters are running the games – like
Hamm at the Hamm n'Eggs game, Bo Peep at a balloon-popping game,
Woody and Jessie at a target-shooting game. The look of your ammunition
changes depending on what game it is (like eggs, darts or rings.) Unlike
Buzz Lightyear, you will supposedly be able to tell what you're shooting at,
since you'll see your shots (which will be in a different color than your
neighbor's) on the screens in front of you. There are bonus targets available,
and hitting those will change the game, such as making other targets appear.
Oh, and everyone wears 3-D glasses to add an additional dimension (groan)
to the game. It'll be interesting to see how well that works – I have an awful
time seeing the 3D effects in movies – so having an attraction where the 3-D
effect is a crucial element? I wonder about that.
There was also an appearance by Crush the Sea Turtle (our own Turtle
Talk with Crush experience) who answered a few questions from audience
members.
Then Tom Fitzgerald spoke of some of the challenges the Imagineers faced
in developing the new Finding Nemo Submarine Voyage, and how they
resolved them. WDI developed new digital projection techniques to
insert Nemo and friends into their underwater environment. 4D sound
systems were installed into the subs with speakers positioned above each
guest to custom synchronize the sound with what each guest is seeing
outside, since on a 52′ sub, the person in the front is seeing something
different than the person at the back! The subs themselves were converted
from diesel to electric. To keep the vibrant colors of the coral reef environment
in the lagoon the imagineers developed a new type of paint that is made from
recycled glass and won't fade in the chlorinated water and California sun.
That was about it – to be honest I was rather disappointed that there
wasn't anything that was really "news" to me, though the additional
details on Toy Story Mania and Nemo were interesting, and my favorite
part (in case you couldn't tell) was Muppet Mobile Lab.
Until next time.
Laura