All good things must come to an end and this cruise is no exception.
We got off the ship on Wednesday morning after our 8am breakfast seating. There was a great deal of confusion outside the terminal in terms of what bus would take us to the Disney-reserved hotel. Finally found the correct bus (they weren't labled) and realized it was going to stop at all the Disney reserved hotels. No problem. Until the first stop and someone on the bus said to make sure and check your luggage. Good thing, because a couple times, bags were taken off the bus to get someone else's and then mistakenly put on the trolley to the hotel. Chris managed to snag one of Beci's suitcases which was headed for this fate.
Once back at the Diagonal Mar Hilton, we were VERY excited that our room was ready. We headed up to settle in and wait until 12:25pm when we could log onto British Airways and get our seat assignments for the return trip.
Also we had to get our hotel to airport transfer for the next day straightened out. We were given a time of less than 2.5 hours from our flight and we really wanted at least 3 hours in advance to be picked up. Once again, there was confusion with the local transport team (part of the experience when you are the first cruisers). We were told we'd have a message on our room phone when we returned that evening.
Beci, Chris, Linda and I headed across the street to the Diagonal Mar and had lunch at a Tapas Cafe. While the menu had some English translations and our server spoke some English, there is still a difference in how food is prepared, even though it may be translated into something we are familiar with! Once this adventure was through, we headed up the street for our afternoon adventure.
For those staying in the Diagonal Mar Area, if you need an ATM machine, there is one in the lobby of the Princess Hotel.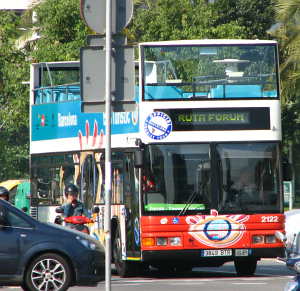 Off to the Barcelona Bus Turistic for an afternoon tour! We highly recommend this as a way to see Barcelona. For 19 Euros you can ride all day and get on and off when you like. I don't think we ever waited more than 10 minutes at any stop for a bus. There are 3 separate colored routes (Green, red, blue) and we did all three. It's a double decker bus, with the lower area enclosed and open air on top. We enjoyed the top side view almost our entire ride. This enabled us to get lots of photos!
We parted ways with Beci and Chris when Linda and I transfered from the Green to the Red Line. We wanted to visit Park Guell. Created by architect Antoni Gaudi, this mountain side has been transformed into a park for the people (no fee to enter). It is an incredible exhibit if architecture and imagination. There really aren't words to describe it..so here is a website to visit. We'll also be getting pics online too!
Exhausted at the end of our city tour, about 7pm, we headed back to the Hilton for tapas with Beci and Chris.
We did not have the promised msg on the phone so we had to get in touch with DCL to find out what the story was. It was very bizzare because the local number listed in the DCL information somehow transfered me back to Florida. The person there called the Barcelona folks.. what a mess. Good thing was, it all got worked out 🙂
I went downtstairs to join everyone for dinner. You could tell all 4 of us were tired and mostly ready to get back home and into our own beds! We parted ways after dinner and bid the last of our traveling companions "Til we meet again".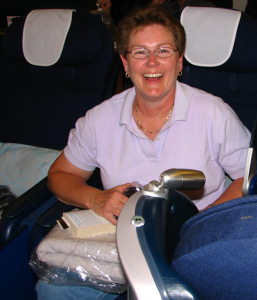 Up the next morning, breakfast in the hotel, and then off to the airport. For us, the trip home was uneventful yet magical. No long delays in Heathrow, whew!. This time we were upgraded to business class. I cried when I sat in the seat. It was like heaven. What a nice trip home. Finally got in around 10pm East Coast Time after leaving our Barcelona hotel at 10am Spain time.
It was indeed, a trip of a lifetime with dozens, no maybe hundreds of images and stories and laughs to remember. Good friends, good times and what an incredible adventure!
Deb and Linda – Life — IT Too Short!
Complete 2007 Mediterranean Cruise Information – Navigators, Blogs, Photos, Excursion Reviews, Podcasts and more!
Other Mediterranean Blogs from AllEars®
Glo from Miami
Guest Blogs – including Chris and Beci Mahnken