AllEars Team Member Anita Answer files this report:
Just back from a quick Mothers' Day weekend trip to the World, and wanted to share a couple of things: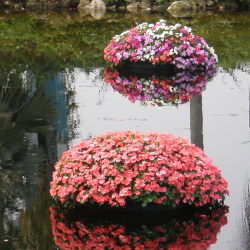 New Fastpasses: Saw them at the Safari and Everest. They're about 1/3 bigger, on heavier stock. The issue date is BIG now, so no cheating! The new FPs also reference the pass you used to get them, and have a ref number printed at the bottom as well as bar code on the sides. I think this foreshadows some other changes coming to the FP system in the near future, but I'm not really sure yet what they may be.
New Show at the Safari: First ride on the Safari on Sunday morning was the old show (Miss Jobson, Wilson, Big Red, Little Red, Shifty- eyed Crocodiles, etc.) I asked an area coordinator when the new show was starting as I thought it already had. He said there are 3 shows right now as they phase the new one in: The old one, the new one with a recorded spiel, and one where the driver does the whole thing. He asked if we wanted to check out the new show (Uh, let me think…YEAH!) and he back-doored us back onto the ride and made sure we got a truck with the new show. By the way, the trucks now have 2 extra rows on the back and a canvas roof. Anyway, back to the new show. Miss Jobson has been made redundant, Wilson has had a voice transplant and now sounds like Mr. Bean imitating Wilson. I was on the floor of the truck I was laughing so hard. It's unintentionally hilarious. What can I say? I'm easily amused.
In the new show, the driver handles most of the spiel now, and the poacher/dead elephant story has been relegated to the back page, with more emphasis on the animals now. Bottom line, the old show was silly and probabably needed some work. The new show is just…blah. The animals are spectacular as usual. Several times during the ride, we were eye to eye with rhinos, giraffes, and ostriches.
Saw the new Monsters, Inc. show. It was not an E Ticket, but not as bad as I had been led to believe. I thought it was cute. The audience interaction was very funny and entertaining.
Saw the new Three Caballeros ride at Mexico. Also cute and well done, but the boat goes too fast for you to catch on to what's going on in the story. You may have to ride it a few times to figure it out.
New queueing in Rock 'n' Roller. The queue is completely different from the entrance to the load zone now. There are three lines: Stand- by, Fastpass and Single Rider. The pre-show area has been rebuilt. The upper tier is now much smaller and for Fastpass guests. The lower tier is larger, and for Stand-By guests.
I rode Everest 12 times on Sunday. This is not my personal best, however, which is 29 times in one day during the first day of previews.
Saw the Nemo show again, and they've changed Crush's human's costume. I liked the old one better (dreds, board shorts, sandals). Now he wears one of those body suits the other puppeteers wear, and it's kind of a washed-out mottled khaki. Now it looks like there's another turtle riding on Crush's back. I thought it looked odd. Bring back the original costume, please?
Went to have lunch with friends yesterday (May 15) at the Yacht Club Galley and found it closed and under rehab! The hostess told me they had only found out at 2:30 on Friday they were closing. They'll re-open on May 23. Meanwhile, lunch is being served at the Yachtsman Steakhouse. The menu is the same. Lots of changes happening to the World's restaurants these days!
Stayed at Shades of Green for the first time and it was pretty much a bust. Although the resort is absolutely gorgeous and the rooms are huge, pretty and spotless, the restaurants were awful, and the guest service was worse. I started my stay on Saturday at lunch in Evergreens where I had an entire glass of iced coffee dumped on me by the server. Did she apologize? No. Did she offer to get me a towel to clean up? No. She didn't offer a free drink to replace the one I was now wearing, and in fact I had to ask for a replacement drink four times from two servers before I got it. Some of my clothing was ruined and my capris were soaked through to my skivvies.We didn't have a room yet, so it made for an uncomfortably damp coffee-scented afternoon. It did not set a good tone for our stay.
Although SoG is located right next to the Poly, it's impossible to get anywhere easily without a car. It's also impossible to park at the TTC and try to get back to SoG without going about 20 miles (slight exaggeration…) out of your way unless you know the Super Secret exit that will not put you on World Drive going south. I knew it was there, but could not find it at 1:00 am Sunday morning in the dark. After three loops around the parking lot, I gave up and went all the way down World Drive and turned around and came back. Frustrating, since you can see the
resort, but you can't get to it! By the way, it costs $5 a day to park at SoG, and your park parking is not covered. Parking is also in a garage, and the rows are so narrow you can't back out without doing a five-point turn.
Yesterday, they left our bill on our door. We opened it and noted that they had charged the wrong rate. We also noted that there was a room service charge we did not make. Then we noted we had been given the next room's bill! So…downstairs my friend goes, which was ok since she had to pick up a package we had delivered from Epcot. The front desk was less than helpful and had to be begged for a new printed copy of the bill. The desk clerk seemed unconcerned about privacy and identity security issues (at a military hotel!? ) and told her not to worry about who might have her bill. The the clerk then rolled her eyes at my friend as if it was all her fault!
Now it was time to get the package…which they had lost. Nowhere to be found. They said if they found it they would call and she could come get it! Uh, no! Shouldn't they mail it at their expense since they lost it? They finally found it and called, shortly before we were due to leave for the airport. "It was sent over to Saratoga Springs. You can pick it up there." Why did they send it to SSR? Needless to say, we both agreed that no matter how inexpensive it was to stay there or how lovely the resort was, we would never ever- did I mention NEVER?- ever stay there again. DND (Definitely Not Disney). It remains to be seen if the package ever makes it home.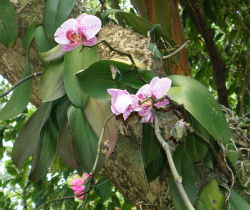 The Flower and Garden Festival has certainly been pared down this year! The grounds are stunning this year, but the "Festival" part is lacking. The Odyssey Festival Center contained a demo area, a display of arrangements and about 3 vendors. We kept asking if we were missing the rest somehow, but were assured this was pretty much all there was. Outside, there were some kiosks along World Showcase Plaza, and that was about it. They extended the show, and then got rid of 1/3 of it? That didn't make sense to me, but I'm not in charge of Epcot Special Events either.
Yak & Yeti – Second floor is taking shape, but still no roof. I don't think they're going to make that July 2007 deadline for opening. Had a "Farewell To Tusker House" breakfast on Sunday. Goodbye, old friend…
The Magic Kingdom Noodle Station is open 5pm to 9 pm daily. El Pirata in the Magic Kingdom has been open for lunch.
Apparently, the exhorbitant shipping costs did not go over well with guests and shipping costs are back to normal again. I didn't experience this personally, and I'm just repeating what my friend told me she learned when she bought something at Downtown Disney and had it shipped home. YMMV.
Saw the Animal Kingdom Lodge models and chatted with the sales people. I loved the layout, and especially the master bathroom in the new bigger 1 br. (there are two full bathrooms and the unit sleeps 5!) I did not like the general decor, however. Animal prints and dark woods are not to my taste. By the way, the dining table only seats 4, but the unit sleeps 5. Guess someone didn't think that one through?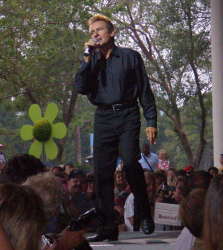 Saw Davy Jones on Sunday! We were so close to the stage we could almost touch him. Woohoo! For a 61 year old man, he sure looks good! He can also sing and dance just as well as he could when he was 21. Amazing. Can you believe the Monkees TV show is 40 years old? Special guest was his sister Hazel, sitting two rows behind me. He sang a Swing song for her, and a young couple began swing dancing near the back. He called them up on stage, but they didn't hear him as they were concentrating on their dancing. He walked all the way out into the audience and brought them onstage, then brought his sister out of the audience to dance with him. It was a really nice moment, and nice way to end my Epcot visit.
Now it's back to reality until my next trip.