Hello Everyone!
As many of you have read, Deb and I have been planning our trip to the Mediterranean. It has been a real experience getting everything together.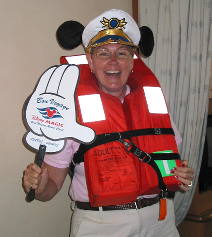 We have divided our tasks to help keep our sanity! Deb usually handles all the booking and planning and travel details. I, on the other hand, take care of the behind the scenes stuff. You might ask what that would be…well…let's see:
1. Packing list, 3 pages long. I'll write more about that next time.
2. I take care of the on line registration with Disney Cruise Line.
3. Making copies of all our important paperwork. I make four copies of everything front and back:
a. Passports
b. Drivers Liscense
c. Medical Insurance cards
d. All Credit Cards we are taking
e. Letter from Deb's doctor stating she needs all the diabetic supplies she is going to carry on the plane. (this was recommended by the agent from British Airways).
I made sure a close friend had a copy of all this and we have three copies to carry with us.
4. Just in case a piece of luggage doesn't make it to our destination at the same time we do, I will make sure there is a sheet of information in each suitcase. What will be on it:
a. Our name and phone numbers, US cell numbers and Global cell numbers
b. Home address
c. Hotel where we are staying and length of stay
d. Disney Cruise Line, Magic and length of cruise
e. Hotel where we are staying when returning from cruise and length of stay
5. Doing research and renting Global phones. Once the phones arrive, reading instructions on how to use the phones and programming the most important phone numbers in the phones. Then of course, a brief lesson for Deb.
6. Making sure all the monthly bills are paid and in the mail. (Don't want any late notices!)
7. Calling the credit card companies to alert them we will be traveling overseas.
8. Double checking with our medical insurance that we will have health care coverage on our trip, God forbid anything happens.
Next time I will give more details about the packing list and how I decided on the phone rental.
Next stop, Barcelona!
Linda