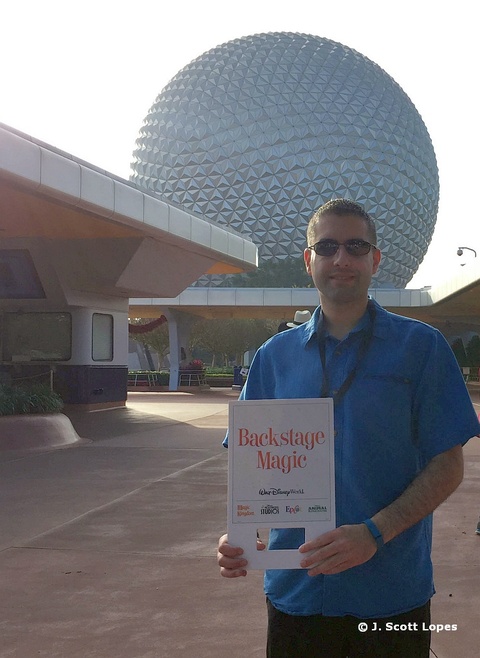 by J. Scott Lopes
AllEars.Net Guest Blogger
Have you ever wanted to go behind the scenes to see what goes on backstage at Disney World, to see how they make and maintain some of your favorite attractions? If you have then the Backstage Magic Tour is for you!
Disney refers to the Backstage Magic tour as "an insider's look at the heritage, daily operation and cast member roles that create the 'magic' at Walt Disney World Resort." I had been thinking about this 7-1/2-hour tour for several years, wondering if it would be the best use of my time at the parks. Despite my apprehension, I finally made the commitment a few weeks ago, and I am so glad that I did.
I know that tours can book up quickly, so once I decided to do it I booked it right away. (You can cancel within 48 hours if needed.) A few days before the tour, I received a call and a confirmation email, which also served to let me know that open-toe and open-heel shoes are not permitted on the tour.
The tour starts early, at 9 a.m., with the meeting time at 8:45 a.m at Epcot's Guest Relations located just outside the park entrance, in a specially marked area.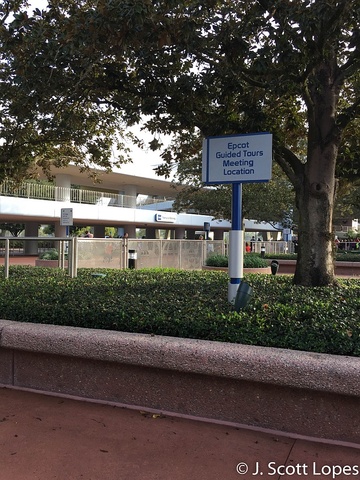 Based on my experience with early morning tours, I recommend that you use a taxi cab or Uber if you do not have your own transportation. Unlike some of the other tours where they will help you find and join the tour group if you are late (my experience with a few of the tours unfortunately), they specifically state that this is not possible for this tour. Instead, they will rebook you for a different day based on availability if you are late. Note that the taxi drop-off location for Epcot is very close to Guest Relations, however you do need to go through bag check. I decided not to bring a camera on the tour, and instead relied on my phone, mostly because there are very few times when you are allowed to take pictures during the tour, only one of them in a backstage area.
Just before 9 a.m., our tour guides Tom and Paul joined us. They talked with us about the tour, checked us in, gave us our name tags, and note if any participants had any food allergies.
We also had the option to take a picture, which they referred to as an "establishing shot," because there would not be too many opportunities for pictures. (You can see mine at the top of this blog.)
Ready to start on our journey, we made a restroom stop (one of many during the day), then proceeded to board our transportation for the day, a Disney Cruise Line bus, where we had access to complimentary bottled water.
Once on board, we talked a bit more about our day ahead. Our guides shared some stories, discussing a special event Disney has for its cast members during which they can bring their pets to work and take pictures with them in front of the castle. They also talked about the onsite healthcare staffed with nurses and doctors, onsite pet care, and how easy it is to pick up prescriptions at the onsite pharmacy.
The tour bus was almost full, and there were approximately 40 guests on this tour. Due to the size of the group, many times throughout the day we split into two smaller groups.
Our first stop was a good example of this, as we stopped at the American Adventure in the World Showcase. At this stop, we were given our listening devices, and safety glasses, as we would need both when we were backstage watching the morning test for the American Adventure. During the test, we were able to watch part of the show from behind the rear projection screen, and also viewed the show props and animatronic figures moving on a hydraulic mechanism. Paul discussed how Disney goes to great lengths to make sure that everything is detailed, such as using medical grade glass eyeballs in the audio animatronics as well as real hair and dentures.
After viewing that area, we moved outside into the America Gardens Theatre area. World Showcase was not open yet, so it was considered a backstage area and pictures were not allowed. While we were waiting other cast members were all abuzz as they were filming a wedding with a bride and groom rushing out to a horse-drawn carriage. There were also carriages in Canada and China pavilions, and although at first the guide speculated it was staged, we found out later that it was a real wedding, supposedly being filmed for a reality show that will air sometime in 2017.
After discussing some of the external details of the American Adventure pavilion, we boarded the bus for Costuming, which used to be housed in Disney's Hollywood Studios (you might remember that the Backlot Tour tram would drive though it), but has been relocated to a new building. Just like when an attraction is removed, and some props are reused in other areas, the old costuming sign from Hollywood studios has been reused in the new building. During this stop, we were shown a wall that contained button and fabric samples of the costumes that are used. We also got an up-close look at two of the costumes from the soon-to-open Rivers of Light show at Disney's Animal Kingdom. There were many cast members working on various costumes, however one thing that was impressive is that during the holiday season, a theme is selected and scraps of fabric are used to create teddy bears that are then donated. A similar event where they make pet beds also happens, both of which show how Disney and its cast members like to give back to the community.
Our next stop was Textile Services. This particular location handles laundry from the moderate and deluxe resorts. At the laundry facility, we were given the opportunity to take a special picture, the only one that was allowed in a backstage area. In this photo op, you get to have your picture taken in one of the laundry bags that they use to transport the laundry between sections of the plant.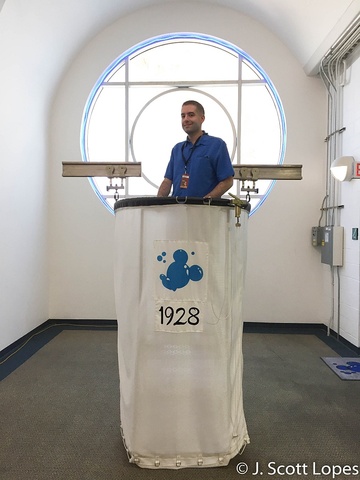 At Textile Services, you get to view how they process the sheets and towels, and use machinery to fold them. One of the fun facts that our guides shared with us is that Textile Services has the lowest job turnover (a human resources term for how long employees stay in a particular job). They also told us that Disney requires cast members in guest-facing roles to be able to speak English, but those who don't can work in an area like Textile Services that doesn't have guest interaction. We were also shown the inspiration for the hallway of doors scene in Monsters, Inc. On the way out, our tour guides coordinated the group in yelling out thank you and waving, as these cast members usually don't get thanked by guests for their important roles.
We then proceeded to the Wilderness Lodge, where we had lunch at the Whispering Canyon Cafe.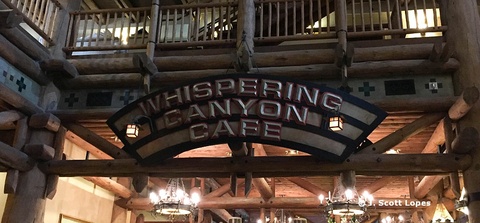 This family style, All-You-Care-To-Enjoy Skillet included Slow-smoked Pork Ribs, Barbecued Pulled Pork, Roasted Glazed Chicken, and Western-style Sausage served with Mashed Yukon Potatoes, Corn on the Cob, and Cowboy-style Baked Beans. For dessert we enjoyed the Granny Smith Apple-Caramel Tart.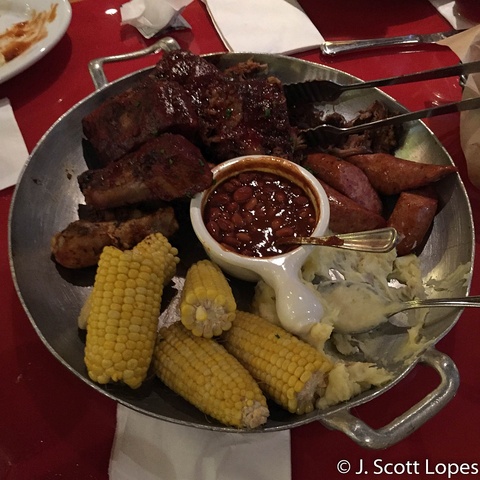 This was delicious — everyone in the group was impressed! The cast members were very good about making sure that the tour members who had dietary restrictions were well taken care of.
After lunch, we discussed some of the Lodge's Christmas decorations before boarding the bus again.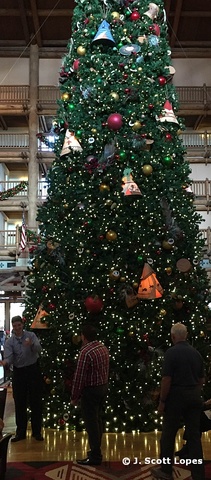 Our next stop was Central Shops. We toured the facility, where we had an audio-animatronic demonstration using a Tiki bird and also a polar bear from the old Norway pavilion attraction, Maelstrom. While in the shops, we could view many different props and ride vehicles being worked on. One engineer was using a laptop and digitizer to 3D scan an elephant. Another group of technicians was working on making a fiberglass item. We also walked through the paint room where a craftsman was prepping a wooden horse for painting. After viewing the shops we walked across the street to view a storage warehouse.
We then boarded the bus and were off to our last stop, Magic Kingdom, where we were taken though the utilidoors. You may have seen this backstage area if you have ever taken the Keys to the Kingdom tour, although I feel like this visit might have been a little more extensive. We were then brought back on-stage and given a special treat to watch the Festival of Fantasy Parade near the town hall.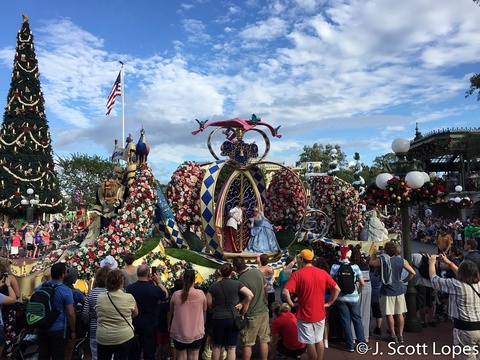 After the parade was finished, we regrouped and made our way backstage to re-board the bus. We then headed back to Epcot where we were given a special commemorative pin only available to guests who take this tour.
Overall, I was pleasantly surprised on what a great tour this was and recommend that every Walt Disney World fan take it a least once.
The Backstage Magic Tour is currently $275 per person plus tax and can be booked by calling 407-WDW-TOUR. Note that this tour does not require separate park admission so if you are in a situation where you have a day without a park ticket, this tour might be a good choice for you. When booking the tour, be sure to ask about discounts for Chase Disney Visa, Disney Vacation Club, Annual Passholder. (Visit AllEars.Net's Walt Disney World Special Tours and Experiences page for more information about the tours currently offered.)
ABOUT THE AUTHOR:
J. Scott Lopes is a long time Disney fan who first went to Walt Disney World as a child in 1989 and has enjoyed traveling to Orlando ever since. He is interested in all things Disney Parks related and especially interested in the Walt Disney Imagineering division and all of the work and detail that they put into everything that they engineer.