Fifty years ago today, December 15, 1966, the world lost a great man!
His life story has been well documented and I'm sure that those of you reading this are as familiar with his background and his achievements as I am. But on this special day, let's pause briefly and reflect on the life of Walt Disney and the rich legacy he left for all of us to enjoy.
Walt Disney said "If you can dream it you can do it" and during his life he proved that he was both a dreamer and a doer. He conceived new ideas, daring and wonderful ideas, and then he made them reality.
Yes, he had some significant setbacks over the years but he always rose to the occasion and he overcame them all.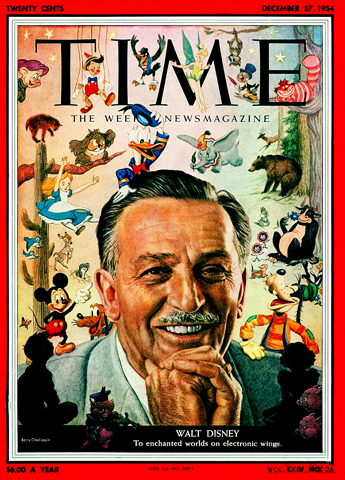 I consider myself very fortunate; I am part of the "Baby Boom Generation" which means that I had the opportunity to see Walt on television every Sunday evening. My entire family watched; Walt was like an uncle, he was warm, caring and always had an interesting or exciting tale to tell us. We seldom missed an episode.
From his humble beginnings he rose to fame and fortune. Walt Disney created an entertainment empire the likes of which the world has never seen. Yet through it all he retained his humility and his focus. To paraphrase one of Walt's famous quotations, he never forgot that it was all started by a mouse!
Early last summer I had the opportunity to chat with Disney Legend Tom Nabbe who was hired by Walt himself to play Tom Sawyer at Disneyland. As I sat with Tom, enjoying a cocktail in Dayton Ohio, he described his conversations with Walt in the fall of 1955. He was a newsboy at the time; every day after school he sold copies of The Disneyland News in the new theme park. When Tom heard that Walt was planning to build Tom Sawyer's Island he thought he would be perfect for the role of Tom Sawyer, so he stopped Walt and told him so. That's the sort of man Walt was, he stopped and listened to a young newsboy. Walt didn't hire him after that first suggestion, but young Tom was persistent. Over the next six months he would stop Walt almost every time he saw him in the park and ask, "Are you ready to hire me yet Mr. Disney?" Walt would always smile and say, "Not yet, but I'm still thinking about it."
Then came the pivotal day in May 1956 when Dick Nunis, at that time a manager at Disneyland, led twelve-year-old Tom to the newly built raft landing near Tom Sawyer's Island. Walt Disney was waiting there and asked, "Do you still want to be Tom Sawyer?" "Yes Mr. Disney, I absolutely do." Tom replied. His 48 year Disney career began that day.
The reverence Tom Nabbe feels for Walt Disney shone in his eyes throughout our conversation.
Let's look at the words of a few others who knew Walt personally and worked with him. About 27 years ago the Disney News magazine ran a series of articles, titled "Remembering Walt", in which some of those people looked back and shared their memories. Click on each image to see a larger, easily readable version.
In the Fall 1989 issue Margaret Kerry, who was the live-action model for Tinker Bell, was featured.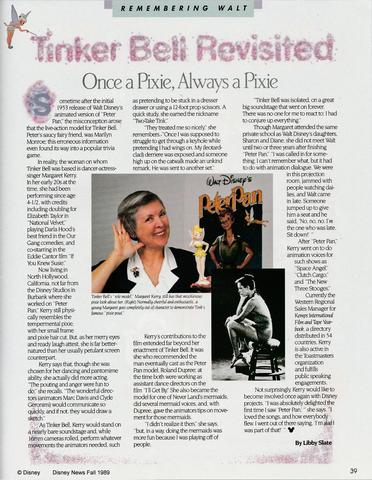 In the Summer 1990 edition Wally Boag, the traveling salesman in the original Golden Horseshoe Revue shared his memories.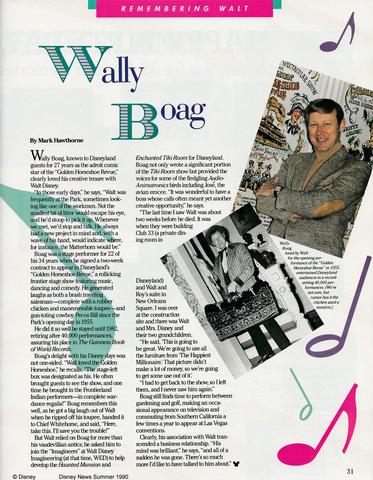 In the Fall of 1992 Marc Davis, one of Walt's "nine old men reflected on the many years he spent working closely with Walt.
The last "Remembering Walt" article, at least the last one in our magazine collection, featured Paul Carlson who had the dubious honour of directing "the Boss" in his first television introductions way back in the mid 1950's.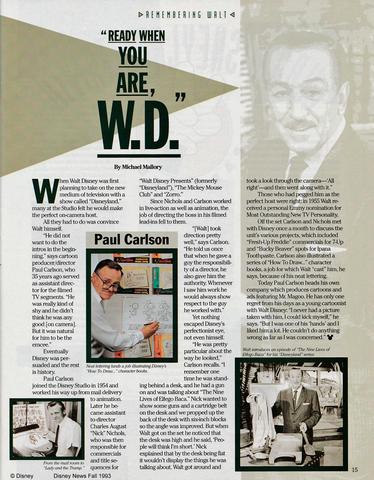 Let's look back at one comment from each of those articles:
Margaret Kerry told us about Walt arriving at a meeting and as someone rose to give him a chair he said, "No, no, no, I'm the one who was late. Sit down."
Paul Carlson commented, "He told us once that when he gave a guy the responsibility of a director, he also gave him the authority. Whenever I saw him work he would always show respect to the guy he worked with."
Mark Davis, who worked very closely with Walt for over 30 years told us, "He was a fascinating guy with a lot of ideas, there's never been anyone like him."
Wally Boag said, "His mind was brilliant and all of a sudden he was gone. There's so much more I'd like to have talked to him about."
Yes Wally, I think we'd all like to talk just a bit more with Walt Disney!