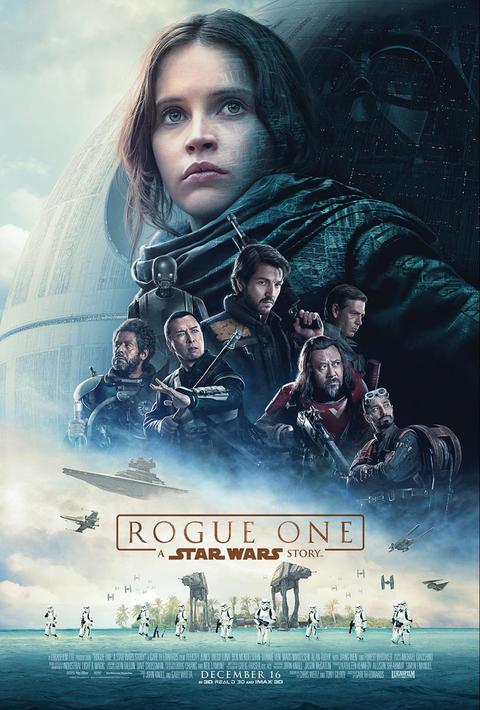 Fans of the pop culture juggernaut "Star Wars" will get their next installment in theaters December 16, when Lucasfilm and Walt Disney Studios present "Rogue One: A Star Wars Story." The first in what they originally called the Anthology films, "Rogue One" starts a series of standalone films that detail different parts of the Star Wars timeline, but are not directly connected to the Saga films that tell a continuing story of the Skywalker clan.
"Rogue One" details the events alluded to in the original "New Hope" title crawl, in which rebel spies steal the plans for the Empire's ultimate weapon–the DEATH STAR. It takes place between Episode III and Episode IV, at a time when Order 66 has all but destroyed the Jedi Order and nothing but the bravery and daring of ordinary citizens can hope to free the galaxy.
[All non-attributed photos and video courtesy of Disney.]
Up at Lucasfilm's Skywalker Ranch, the cast and creatives behind "Rogue One" gathered to briefly discuss the film and their roles in it. The first panel consisted of Producer Kathy Kennedy, Director Gareth Edwards, Diego "Cassian" Luna, Alan "K2SO" Tudyk, Donnie "Chirrut" Yen, and Executive Producer John Knoll, who was also the VFX Supervisor, and who contributed the original story idea.
Some video highlights from the press conference:
Edwards on getting George Lucas' feedback: "So two days ago, we got to show George the movie, and we all had a phone call and I got to speak with him yesterday, and I don't want to put words into his mouth, but I can honestly say that I can die happy now. He really liked the movie, so it meant a lot. To be honest, and no offense to anyone here, it was the most important review to me…what George thought of it. You know, you guys are important too, but come on, he's kind of God when it comes to Star Wars."
Kennedy on diversity and representation in "Rogue One:" "I think, you know, having a cast that represents and reflects the world today and having characters that people can relate to all over the world, this is very much a global industry. Films mean something to people all over the world, and it was certainly important to this story…It lent itself very, very well. These are a group of people who come together in ways that are kind of inexplicable, but they share a very common belief and they feel very strongly in their desire to do the right thing and they work together incredibly well, and having that sense of diversity as people come together was really important to our story. Every movie has reasons for why you cast certain people, but I think what we're doing today is just being much more mindful of that, and I think it's important."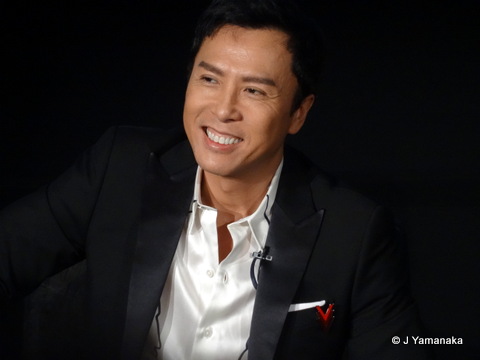 Yen on how his martial arts background helped him relate to the Force: "You know, I always think of the force—we all have the force, it's just we don't realize it. It's kind of like—I think it's interesting to see…to me, the Star Wars story is about reminding us of the things that we neglect and forget. And the force is—we always have these kinds of ability, and to answer your question, I don't think of it as having the martial arts ability, it's just being a human being—you do have the force."
Tudyk on getting into character on set as the CG droid K2SO: "I was wearing a, you know, fully body jumpsuit sort of thing, and it's such a new technology, even still. We've been introduced to it a lot of different ways. Sometimes people wear cameras on their heads, sometimes there's dots all over their face, they have balls all over their suit. The way that ILM did it, I wore a suit that was very comfortable, it didn't have all of that restriction on it, it just had interesting designs on it which..it was very cool looking. Come on. It was like a luge costume from like the Italian team, like it looked cool. And yeah, I mean, it didn't have the colors, but still—and then I was on stilts so I was 7 foot 1, so I towered over everyone most of the time, and it was great, you know, just even at that height it colors how you move and helped me get into character. It was fantastic."
Luna: "It wasn't."
Tudyk: "It was basically just acting, but then the makeup and the costume came later, but because you're on set you are able to create a character with the other actors. Without that, you can't tell a story with the true character who can react in a moment. With some of the stuff Diego's throwing at you, you need to be able to throw it right back."
Luna on Cassian's moral complexity: "I think it's a modern approach to Star Wars, and we live in a different world today, you know. If you revisit all the films, it's kind of like a stamp of what was going on and a reflection on the world back then, you know? And ours has to do the same. And we live in a diverse…world where racial and cultural diversity is in fact making us richer and more interesting. But it is a complex world we live in, and making the right choice many times looks horrible, you know? And these people are in war. You know, when you mentioned Cassian doing something not heroic, I would say, no, Cassian is a true hero, as Jyn and everyone in this team, you know? It's just that they are the heroes we can be, just regular people doing amazing stuff you know, and no special powers, no Jedis, it's just conviction and teamwork and yeah, that hope of actually being able to shape the reality we live in, and that makes them great, you know? But yes, they have to make choices on the way and war is horrible. I mean, no one wants war to happen, none of these characters would choose war, you know, but it's the last chance, you know, and they have to do it."
The second panel then took place with Producer Kathy Kennedy and Director Gareth Edwards returning, along with Felicity "Jyn" Jones, Ben "Krennic" Mendelsohn, Mads "Galen" Mikkelsen, and Riz "Bodhi" Ahmed.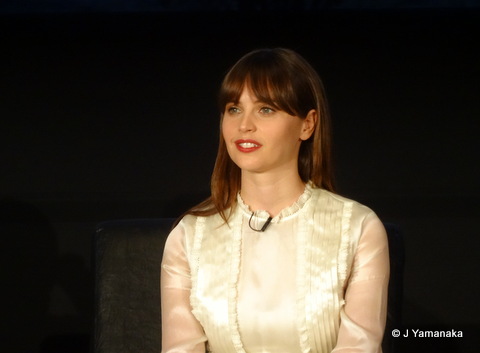 Jones on finding her Inner Warrior: "Yeah, well, it's in Jyn's head, it's very clear. She hates the Empire. So anytime she sees Stormtroopers she has this kind of a very clear instinct to take them down. So I just tapped into that, into that energy that Jyn has. And I'd never done that kind of thing before. It was very new, the whole kind of physical preparation, that side of acting. I'm kind of used to lots of, you know, talking in corsets so it was really nice to be running around with a blaster and a baton to bash Stormtroopers with. But yeah, it was an extraordinary process and you work very closely with the stunt team who take you through every kind of move and moment and support you throughout the whole thing and I'm very lucky to have a great support from the stunt team doing it."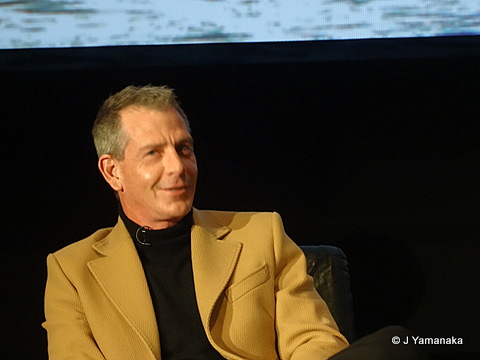 Edwards on working with Ben Mendelsohn: "And Ben is so relaxed in front of the camera that he would start like just messing around, like he's very playful. And I thought he was reciting Shakespeare or something, like to get himself into character, and then I would listen carefully to the lyrics and realize he was singing Billie Jean by Michael Jackson, and even like Frozen, I think. There was like times where…"
Mendelsohn: "Oh yeah, I did sing a bit of Frozen."
Edwards: "Yeah. What was it — we used to be friends or whatever?"
Mendelsohn: "Yeah, that's right, yeah, yeah, yeah. I did the we used to be friends — no, it's escaping me now, but yes."
Mikkelsen: "I remember it vividly."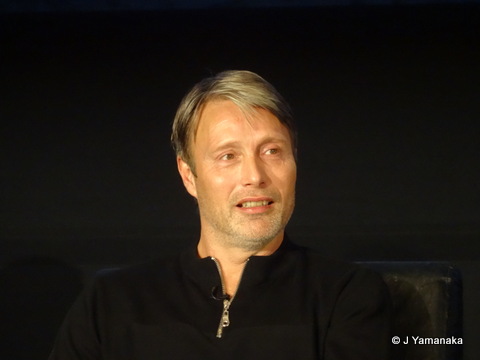 Mikkelsen on Galen's moral complexity: "…I think that as actors we always try to find, like, the two sides of a character, but definitely it's in this one because he's working together with this gentleman (Mendelsohn) something that he believes from the very beginning as a project that has the ability to change the world into a better place. And though be it that it turns out that he's working on something that he didn't know, and for that reason he's in a gigantic dilemma. And for other reasons I will not spoil here, the dilemma gets even bigger. So yes, that's a gray zone here. As you said, you used to be maybe in the '70s and the '80s a little more black and white, but there are a lot of grays in here.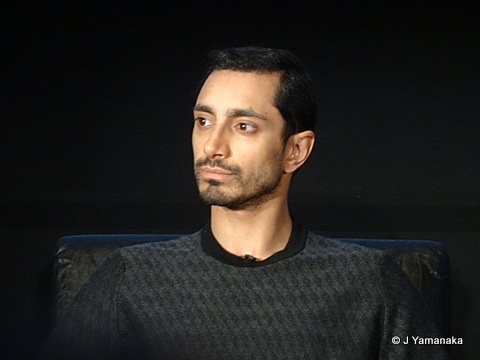 Ahmed on becoming an action figure: "I did get an action figure. I was very pleased because I think he's a lot better-looking than I am. I think they accidentally modeled it on Diego or something, we're easily confused. Yeah, it was a kind of surreal, amazing moment, to be honest. I remember kind of playing with those toys as a kid and so to be part of that universe, you know, in plastic, is an amazing thing.
"Rogue One" will open in theaters December 16, 2016.