To all who come to this photo trivia game, Welcome! Along the way, the photos can make us relive memories and see details Walt's Imagineers put into everything we love in Walt Disney World!
Steve And Ruby Jordan are down in Walt Disney World!! Have a magical trip!
This week had 2 big holidays! Happy Canada Day and Happy Independence Day!

Thank you to Judy Simonsen, Jennifer Rowell, Sandie Albrecht, Susie Howard, Claire Gregory, Danielle Harsley And Agnes Ciotti for your wonderful notes! I'm glad you like the picture. 🙂
Patrick Broaddus, I can't believe we just missed each other! That would have been fun!
Some Players asked about my ECV: it ZOOMED! I had to turn down the speed control when I had foot traffic around me out of fear of bumping into them. I even buzzed around Star Tours so fast that I got a reputation with the cast members: "So you're the Hell's Angel that's blasting around here!" Sigh. I miss you, Apple Scooter #76.
Sandie Albrecht, yes Pal Mickey still works! And I still get people who want to know where to get one. His outfit was a big hit with guests and Cast Members, especially those working in Exhibition Hall. One cast member called him the "best Mickey ever". His biker outfit was popular in Downtown Disney too. (Yes, he had to have a biker outfit! He was riding on a scooter!)
Last week's challenge: number #338

And here's the answer: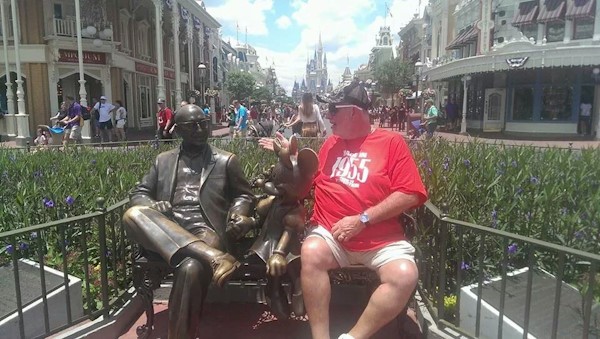 Copyright © Erin Blackwell
"Sharing the Magic": the statue of Roy O. Disney and Minnie Mouse! My husband had a lot to discuss with Roy. 😉
Let's take a moment to thank Roy's memory. Just as we wouldn't have anything we love about Disney without Walt, we'd have none of without Roy O. Disney. He was the one who made Walt's dreams come true. Thank you, Roy.
Kristi Strembicki was the first to send in the correct answer! Congratulations to Kristi and to all our winners this week! Ed Suscreba, Linda Ranatza, Tim Johansen, Donna Frank, Carol Ney, Jim &Lorie Sonnen, Nan Amor, Chris Kelly, Mike Amor, Andrea Kruszewski, Mary Beth Tarbet, Tricia Petty , Diane Tredore, Phyllis, Carla C, Tinkerbell Wells, Christi Ison, The Gunnels Family, Theresa Rucando, Nancy Ahlsen, Judy Simonsen, Lyn Johnson, Jeanell Todd, Belicia Cullen, Candice Grimes, Kim Howe, Lynette Michalos, Scott Cullen, Jamesd (dzneynut), Ed Hogan, Emily Hudson, Robin Mcconnell, Mike Schmidling, Teresa Frangakis, Wendy Barney, Julia Wickware, Paul Dickson, Pablo Moreno, Tom Neary, Dan Edwards, Vanessa Gordon, Holly Liska, Kathleen Glovna, Jennifer Rowell, Scott Precise, Christen Johnson, Sharon Pierce, The Long Familt, Mike O'brien, Kye Layton, Jean Myers, Rob Hepler, Anne Mcatee, Erin Ryder, Steve And Ruby Jordan, The Kertes Family, Diane Dukes, Caryn Schill, Sarah Orman, Les Stewart, Vera And Izzy Williams, Melissa Such, Annette Nuenke, Dave Freemyer, Michelle Darabaris, Chris, Gretchen, and Katie Barnes, Karen Ramirez, Dena Derr, Grumpy's Groupies, Deb Ragno, Claire Gregory, Shane Cash, Lori Rienhardt, Sandie Albrecht, Ellen Sullivan, Kathy Davies, Betsy Silvestri, Pat Schwier, Olszak Family, Rebekah Schultz, Virginia Pierce, Eric Johnson, Tina Powell, Fred Shakeshaft, Jennifer Walker, Herb Miller, Elaine Kleinhenz, Laurie Ruggeri, Scott Greenbaum, The Parker Family, Ed Lijght, Diane Curfman, Patty Carty, Janet T Thorn, Sheryl Hicks, Barbara Ajak , K Beasley, Bill Mckim, Lee Anastasi, The Emich Family, Kirsten Miller, Christina Prignano, Lisa Bohannon, Tyler Otts, Maryann Romagnano, Maggie Klotz, Mike Haeberle, Haylee Smolek, The Fosbender's, Rosemarie Novelo, Team Hill, Kathy Morris, Bob Hendrix, Leach Family, Kenny, Hobbes And Snorky, Lynne Schneider , Deborah Wolfe, Lynne Schneider, Megan Krainski, Tom Koval, Karen Spreitzer, Les Whitten , Cassy Dickerson, Erin Hammer, Susie Howard, Laura Herzog, Angela Curley, Linda College, Rob Blundin, Pollyanna Buff, Maureen Handy, Bruce Hinterleitner, Gail States, Evald Olson, Kathleen Tyrrell, Ellie Argaluza, Jeff Wetmore, The Kahle Family , Eric Enli, Michele Mongeon, Karen Schlumpf, Suzanne Renfroe, Stefanie Vest, Demetrios Makres, Josh Weiss, Bryant And Ruben O'meara, Stefan Owens, Sharon Powell, Jen Tremley, Chris Joyce, Kris Nixon, Madison Hovan, Kerri Coggins, Gabriella, Terry And Matthieu, Chloe Mayhew, Larry Sprenkle, Jim Finley, Luis Rodriguez, Russ Morgan, Dennis Carter, Dwayne Fontenot, Desiree Fremer, Joseph A Brown, Murr Family, Chris England, Heather Sabatino, Double Family, Josette Gabel, Team Bonnie Sue, Jeremy Hardy, Gary Drake, Jeff Blank, Jason Hocker, Dusty Cheatham, Terry Blair, Amy Santapau, Brian Grabowski, Kim Watson, Michele Johnson, Chris Bauman, Christopher Hall, Tricia Noble, Jeremy Reichelt, Caroline Burmester, Beth Josuweit, Davida, The Hutchinson Family, Erin Connell, Patrick Broaddus, Dee Dee Kenney, Monica Owens, Alan Mize, Rebecca Keenan, Wayne Witherspoon, Melody Odonnell, Matt Holley, Terry Fleming, Daniel Record, Carri Marotto, Dick Smith, Kim Paulakos, Anastasia Macneil, Team Meeker, The Patterson Family, Jim Thompson, [email protected], Tim L, Gloria Martin, Craig, Ron Harper, Jan Rosato, Arlene Vicek, Kameo Crea, Chuck Sands, Lorine Landon, John Bickers , Marcia Mardirosian, Harrison Grasso, Sara Holloway, Andrew Pettit, Melissa Littman, John Paul Carnell, Josh Carney, Dave Carriere, Karen Bellamy, George Mundy Jr, Joseph M. Zafia, Heidi Goodhue, Theresa Maradei, Mickey Eckert, Jackie Graebel, Jane Johnson, Liz Moreau, Susan Higginbotham, Maryann Daly, Wendy Duff, Gallagher Family, Lynn Lofton, Jodi Cook, Vicki Britt, Barclay Bakkum, Randy Thomas, Mike M., Kyle Burdo, Darrell Shortt, Amy Fleming, Jo Ann Bailey, Debra Buckhannon, Jackie Klafeta, Carolyn Como, Tom Swan, Margie Larmon, Smitty, Jim Webber, Mike Cerce, Skip Caraway, Judy Bradshaw, Stacy Guarracino, Sarah And Chris, Lorraine Soper, Danielle Harsley And Agnes Ciotti, and Maryann Eckenrode.
Time for our monthly drawing! And the winner is: Kirsten Miller! Congratulations! You will be getting a prize from Deb Wills!
__________________________________ _____________________
Challenge #339 Where in the world is this?
We have left the parks!

Do you know? Do you have a guess? Please send in your answer, before the end of the day on Thursday, July 10th, by clicking on the blue box below.
Please do not post answers using the Feedback Form link at the bottom of this post.
See you next week, Players!


_______________________________________________________________________
Everyone who sends in a correct answer to a Where in the World Challenge this month will be entered in a drawing at the end of the month for some special AllEars® goodies!