I have been visiting Walt Disney World since 1983. In all that time, I have never ridden one of the iconic rides in the Magic Kingdom. This has always been my view of it…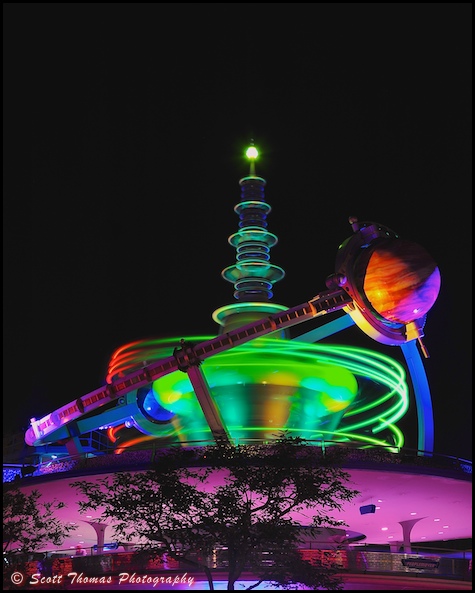 Long exposure photo of the Astro Orbiter in Tomorrowland.
Nikon D700/28-300VR, 6s, f/16, ISO 200, EV 0, 55mm focal length, tripod.
On my last trip, I was bound and determined to rectify such an oversight. The Astro Orbiter has a very different queue. You line up in an outdoor queue below the PeopleMover platform. As you get close to the elevators, you are given a pilots card or a riders card and you are then placed in a holding area. The people in the holding area will take the next elevator up to the Astro Orbiter platform. Upon reaching the loading platform, you will have unique views of the Magic Kingdom.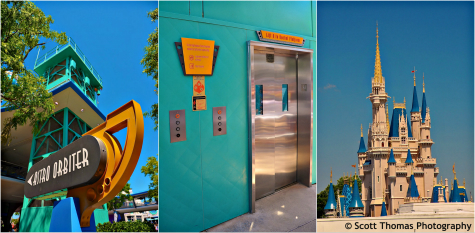 Getting to Tomorrowland's Astro Orbiter.
The main fascination for riding the Astro Orbiter on this trip was to do some slow shutter speeds while piloting one of the rocket ships. It is not that easy but I managed to get this one out of all the photos I took which came out.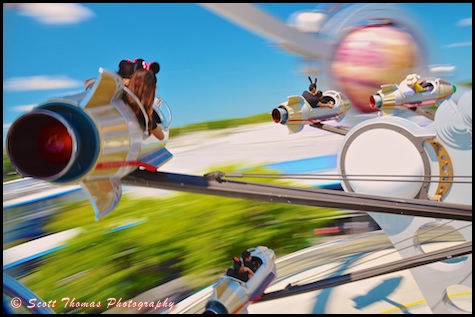 Long exposure photo of the Astro Orbiter from the Pilot Seat.
Nikon D700/28-300VR, 1/10s, f/22, ISO 200, EV 0, 24mm focal length.
Remember, motion photography is a high risk, high reward kind of photography. I felt very rewarded with the last photo. Until next time Space Rangers…To Infinity and Beyond!