To all who come to this photo trivia game, Welcome! Along the way, the photos can make us relive memories and see details Walt's Imagineers put into everything we love in Walt Disney World!
Last week's challenge: number #339

And here's the answer: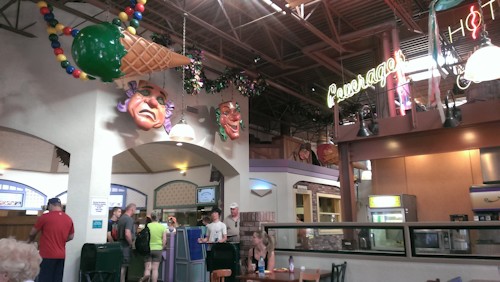 Copyright © Erin Blackwell
The Sassagoula Floatworks and Food Factory at the Port Orleans French Quarter Resort! Like Michelle Palazzo, it's my favorite moderate resort. 🙂
The Gunnels Family: I remember what you do about this place. Thanks for making me feel old!
"Why I remember when this was Port Orleans and the other resort was Dixie Landings!"
Plenty of you asked for beignets: did you know Disneyland makes Mickey shaped beignets?
Now I'm craving them; thanks, Players. 🙂
Michaela O'brien was the first to send in the correct answer! Congratulations to Michaela and to all our winners this week! Mike O'brien, Daniel Record, Kristi Strembicki, Tricia Petty , Mary Beth Tarbet, Chuck Sands, Ed Elder, Christi Ison, Dee Dee Kenney, Bill Mckim, Virginia Pierce, Paula Massarelli, Nan Amor, The Parker Family, Betsy Silvestri, Diane Tredore, Sharon Pierce, Jim &Lorie Sonnen, Linda Ranatza, The Kertes Family, Carol Ney, Barbara Ajak , Linda Scrivano, Leigh Mertz, Erin, Brian Miller, Bruce Jones, Phil Vickers, Pollyanna Buff, Stephanie Peterson, Craig, Dwayne Fontenot, Janine, Kylie Durr, Jason Hocker, Kerri Coggins, Jenny Brennan, Jen Tremley, Pat Schwier, Beth Pleban, Laura Lagerstedt, Theresa Rucando, Mike Schmidling, Emily Hudson, Lisa, Sarah Francis, Ken Maikowski, Mike Haeberle, Ed Suscreba, Diane Marsden, Eric Johnson, Lisa Collymore, Michelle Darabaris, Dave Freemyer, Michelle Darabaris, Melissa Such, Kye Layton, Jennifer Rowell, Leslie Schmauder, Kristaserpi, Kellie Conway, Nick Ruber, Hillary Waldroop, Mike Mondoux, Wendy Barney, Fiona Knight, Valerie Nance, Brian Newell, Roberta Thomas, Jamesd (dzneynut), Jeffrey Howell, Tommy Montgomery, Brittany Chichester , The Gunnels Family, Ryan Mccorristin, Tyler Otts, Laura V., Sarah Orman, Gina Smith, Phyllis, Ken Clark, Shannon Savoia, Gabriella, Terry And Matthieu, The Emich Family, Heather Sabatino, Tracey Horan, Tom Koval, Kara Morton, Cathy Derecola, Deb Ragno, Kim Miller, Jodi Cook, Judy Simonsen, Caroline Steill, The Long Family, Stefanie Vest, Lorine Landon, Belicia Cullen, Karen Schlumpf, Darcie , Agnes Ciotti And Danielle Harsley, Sherry Debray, Christine Dagney, Scott Cullen, Joe Kmiech, Amy P, Maryann Eckenrode, Tim Johansen, Josette Gabel, Lee Deroia , Jim Thompson, Lisa Bohannonl, Marsha Waidelich, Lee Anastasi, Paul Knott, Carla C, Patti Gumiela, Hobbes And Snorky, Sandie Albrecht, Vera And Izzy Williams, Shari Sand, John Mahoney, Carol Collins, Dusty Cheatham, Karen Bortz, Matt Wildey, Jeremy Hardy, Suzanne Renfroe, Donna Frank, Sherry Tarantino, Nancy Ahlsen, Susie Howard, Kris Nixon, Herb Miller, Maureen Handy, Samantha Palmieri, Grumpy's Groupies, Lori Rienhardt, Robert Davis, Lisa Bufo, David Leonhardt, Scott Mcbride, Leigh Robillard, Carolyn Como, Wendy Markwood, Andrea Kruszewski, Rob Blundin, Chris, Gail States, Bruce Hinterleitner, Dawn Bach, Madison Hovan, Stefan Owens, Kirsten Miller, Matt Cofone, Debbie Desimone, Heather Pedulla, Elaine Tomko-deluca, Mary A., John Bickers , Demetrios Makres, Steve Morin, Michele Zowacki, Stacey Guman, Team Bonnie Sue, Antoinette Leblanc, Tiffany Gibb, Karen Costa, Les Stewart, Mike Malampy, Russ Morgan, Maggie Klotz, Stephanie Newell, Chloe Mayhew, Matt Weier, Kimberly O'reilly, Vincent Maltese, Meg Brancato, Marjie Phillips, Chris Bauman, Darci Collins, Maureen Tavrell, Elaine Kleinhenz, Jeremy Reichelt, Al Sandal, John Wolff, Matt Holley, Lisa Zitek, Terry Fleming, Elizabeth Scarborough, Anastasia Macneil, Monica Owens, Alexander Wells, A. Beaulieu, Sara Alaimo, Juliet O'hare, Emmalee Poprock, The Patterson Family, Kirk Hardy, Les Whitten, Ron Harper, Mike Cerce, Deborah Wolfe, Dave Carriere, Josh Carney, Smitty, Desiree Fremer, Stephanie Dollar, Patrick Broaddus, Alex A, Brenda Hawk, Scott Greenbaum, Scott Harrington, Julie Ob, Rebekah Schultz, Ashley Collins, Cheryl Chambers, John Foggo, Rob Hepler, Heidi Goodhue, Mickey Eckert, Cynthia Hitchcock, Tom Hermes, Shelby Watson , Claire Gregory, Jennifer Peterson, Randy Thomas, Fran Rendulic, Brad Mossbarger, Betsy Dross, Rebecca Keenan, Christopher Hall, Annie Snodgrass, Kevin Morgan, Vicki Britt, Robbyn Anglin, Jennifer Mercier, Michelle Palazzo, Elizabeth Cordes, Julia Marsh, Suzanne Denham, Arlene Vicek, Jennifer Bogdan, Jackie Graebel, Jane Johnson, Kim Howe, Karen Ramirez, Meredith Rule, Eileen Miller, Shirley Garcowski, John Dupre, Paul Dickson, The Foley Family, Teri Michalski, Amber Slifer, Carrie R, Stacy Guarracino, Tricia Noble, Melissa G, Kevin Ennis, Patti Mccaffrey, Olszak Family, Andy Hickey, Diane Furtado, Nathan York, Kyle Burdo, Deb Horvath, Carey Smith, Jeff Blank, Caroline Burmester, Kendra Hettel, and Marissa D'ambrosio.
__________________________________ _____________________
Challenge #340 Where in the world is this?
We are in a park!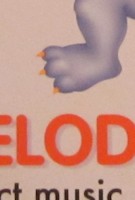 Do you know? Do you have a guess? Please send in your answer, before the end of the day on Thursday, July 17th, by clicking on the blue box below. Please do not post answers using the Feedback Form link at the bottom of this post.
See you next week, Players!


_______________________________________________________________________
Everyone who sends in a correct answer to a Where in the World Challenge this month will be entered in a drawing at the end of the month for some special AllEars® goodies!