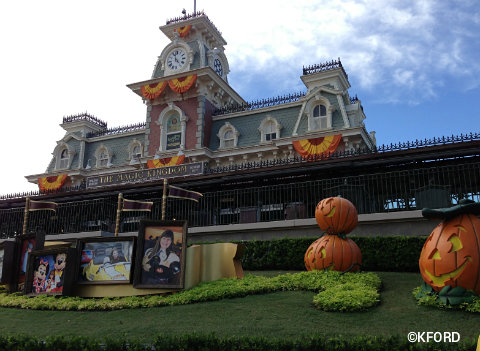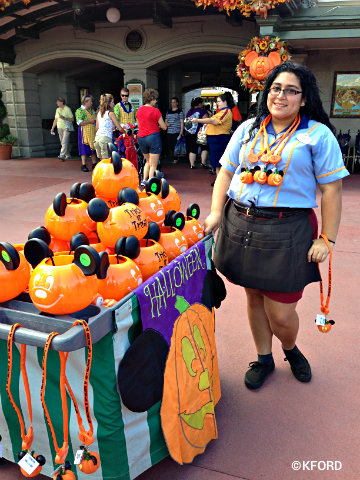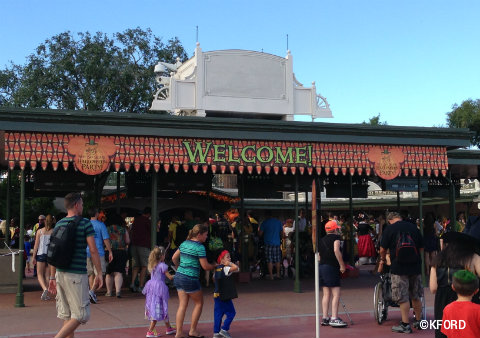 Here's a little trick that will help make Mickey's Not-So-Scary Halloween Party more of a treat: Map out a strategy for how you'll spend your time at the party so that you can avoid lines as much as possible and see more of the holiday attractions at the event.
With some additions to the party this year, my family changed our strategy for enjoying all the special Halloween activities only offered at the event, which requires separate admission.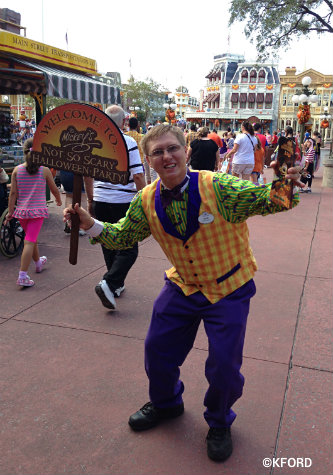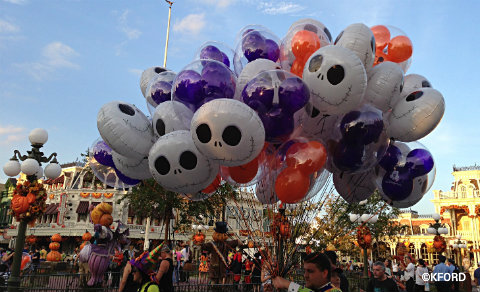 Although the party hours are from 7 p.m. to midnight, those with Halloween Party tickets are allowed to begin entering the Magic Kingdom at 4 p.m. If you call Disney World and ask, you will be told that party hours begin at 7 p.m., but this unannounced practice has been in place for years to allow the park to disperse the arriving crowds.
My best tip, especially this year, is to take advantage of the early entry! You can use that time for a number of things, including grabbing a bite to eat or getting transformed at The Pirates League or the Bibbidi Bobbidi Boutique, so you don't have to spend precious party time on non-Halloween events.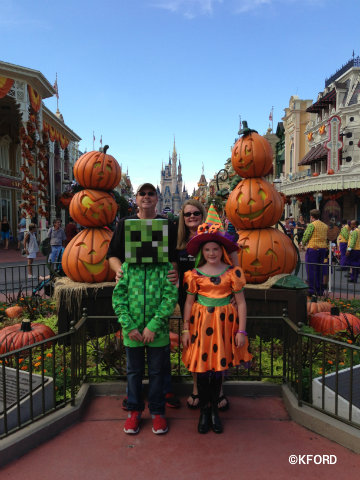 We arrived at the second party of the season about 5 p.m. and dedicated ourselves to activities in Town Square. There you will find a great, free photo opportunity with stacks of pumpkins framing a view of Cinderella Castle. We took a quick family photo while it was light out. A PhotoPass photographer is stationed there during the party if you want to purchase a professional photo.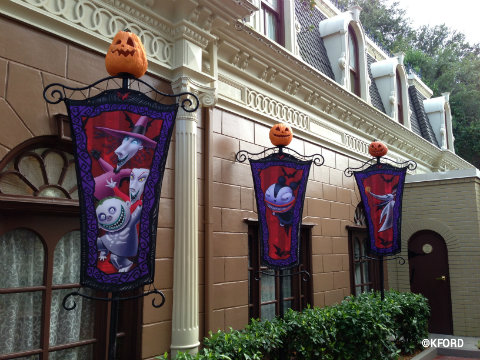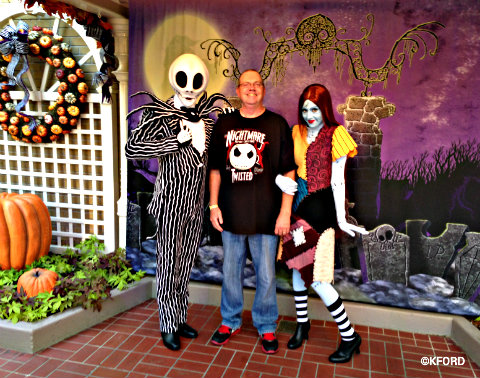 Then, we headed over to the outdoor spot adjacent to City Hall where we knew Jack Skellington and Sally from "The Nightmare Before Christmas" would be greeting guests, beginning at 7 p.m. The pair are new to the party this year, and early reports were that they commanded hours-long lines. (When they appeared at Downtown Disney last year during a Frankenweenie event, the lines had three-and-a-half-hour waits.) We snagged the first spot in line.
We all wanted to see Jack and Sally, but none of us relished the idea of waiting two hours, so I tried to break up the time for my family by multi-tasking. We took turns in different lines, with some of us waiting in line at the Fire Station to collect the new Haunted Mansion card for the Sorcerers of the Magic Kingdom game. The new card is only available at the party. Distribution began at 4 p.m. at the Fire Station and behind Ye Old Christmas Shoppe for guests who had their party tickets and wristbands. Even if you don't play Sorcerers of the Magic Kingdom during the party — and we didn't — it's still worth getting the card for another visit.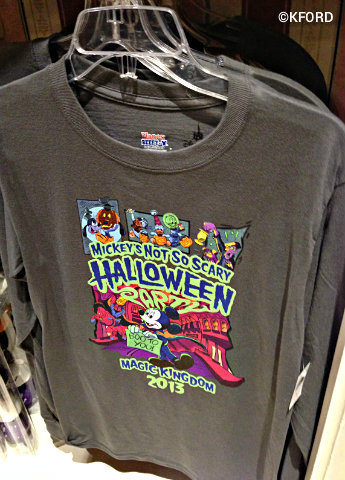 We also looked at the exclusive party merchandise in The Emporium, when it was taken out at 6:30 p.m., and we had a bite to eat while we sat in line. Although we didn't avoid the long line for Jack and Sally, we chose to do our waiting before the party started so it wouldn't affect our ability to see the fireworks, parade and other shows. The pair didn't sign autographs — probably to keep the line moving — but they did hand out a cool autograph card designed just for the Halloween parties. You can see it in the video below:
There are other special character meet-and-greets, too, such as Mickey Mouse and Minnie Mouse in their Halloween costumes in Town Square Theater, Winnie the Pooh and friends in costumes in their regular location, and Snow White and all seven dwarfs near the gates to New Fantasyland.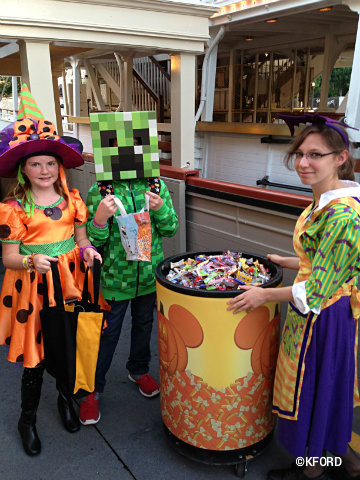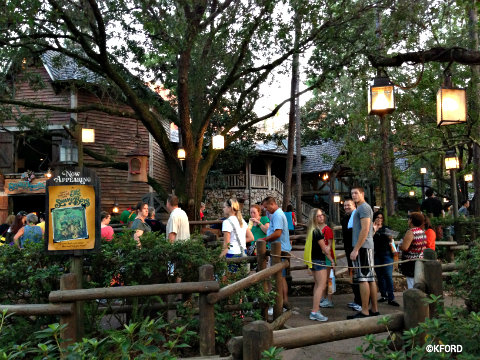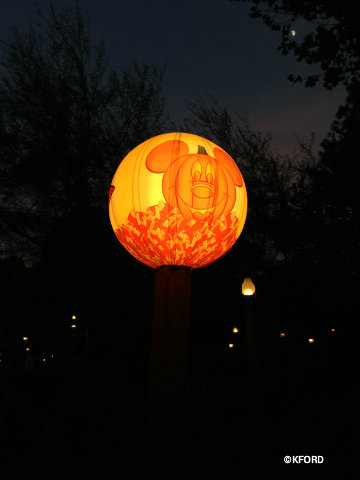 After seeing Jack and Sally, we moved to what my daughter most wanted to do: trick-or-treating. We headed back to one of the treat trails, which have multiple candy stations, near Splash Mountain so she and her brother could get plenty of sweets. It was disappointing to see that the cleverly carved jack-o-lanterns that were themed to "Song of the South" were missing from Br'er Rabbit's Laughin' Place Candy Patch this year. Also, the treat trail that runs along the walkway between Storybook Circus and Tomorrowland was reversed, with its entry near Space Mountain. The Alice in Wonderland decorations were missing from this trail, too. Both trails had fewer candy stations than in past years, which certainly is not a hardship when the candy is unlimited and included in your party admission. It just means you may have to do a bit more walking to fill your treat sack! (Guests with food allergies can exchange their candy from trick-or-treating for other goodies at City Hall.)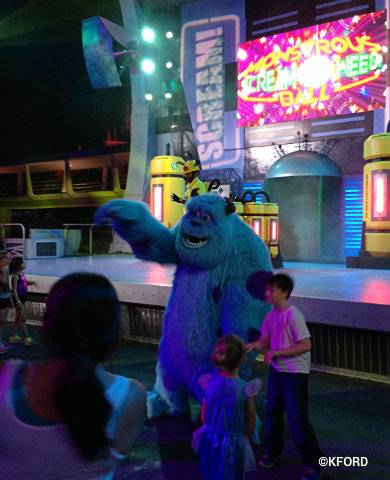 Next up: attractions and dance parties. Space Mountain was closed for the first Halloween party of the year because it was undergoing a series of short refurbishments. It was, however, open during the party I attended. The last refurbishment is scheduled for Sept. 23 to 26. Nearby, the new Monstrous Scream-O-Ween Ball was taking place on the Rockettower Plaza Stage in Tomorrowland. The dance party is hosted by "Monsters University" scarers Mike and Sulley, and we saw other "Monsters, Inc." characters, as well. Woody's Happy Harvest Roundup takes place inside The Diamond Horseshoe in Liberty Square.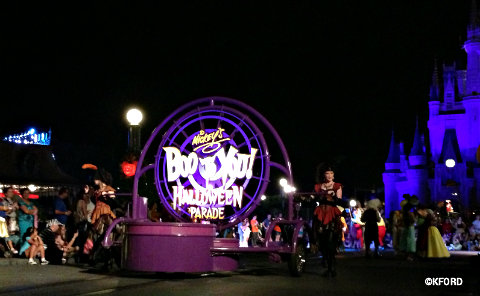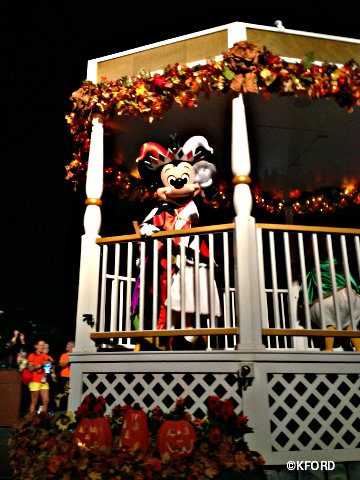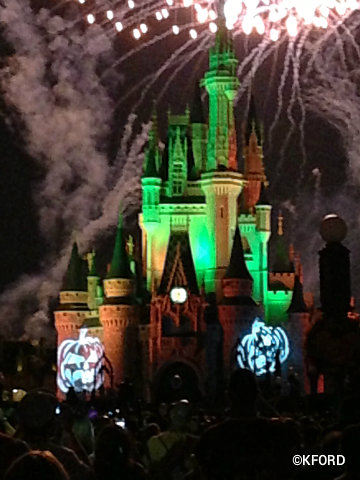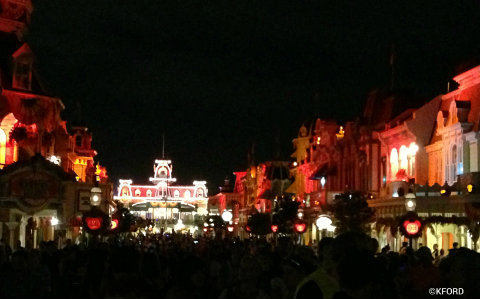 You definitely won't want to miss Mickey's Boo To You! Parade, Celebrate the Magic projection show and Happy HalloWishes fireworks. The debate is whether to go to the first parade at 8:15 p.m. or the second at 10:30 p.m. (Celebrate the Magic and Happy Hallo-Wishes are only presented once — at 9:15 and 9:30 p.m., respectively.) To be sure, the first parade is always the most crowded, with folks lining up at least an hour beforehand. If you have young children, this may be the only option for you, but if you can wait, I would recommend it. The second parade is a lot less crowded and you will be able to get some trick-or-treating, dancing and riding attractions done beforehand, which might tire the kids out enough to sit without complaining during the wait for the parade. If you choose to sit near the castle, you will be able to see the Disney Villains' Dance Mix and Mingle, which is performed at 7:45, 8:50, 10:05 and 11:15 p.m. The characters perform on stage and then descend into the crowds for a quick meet-and-greet.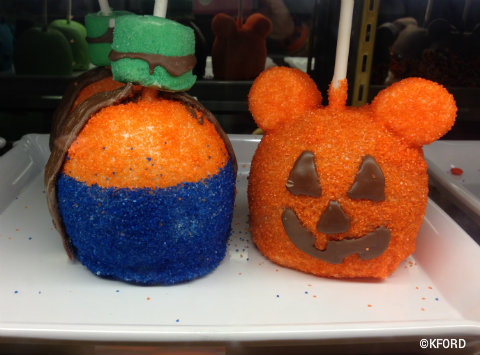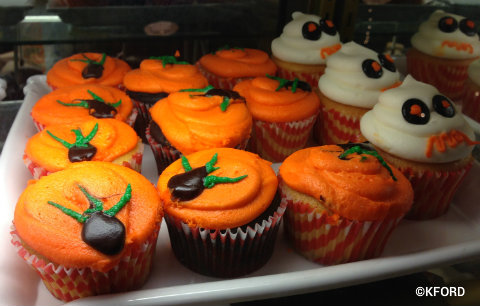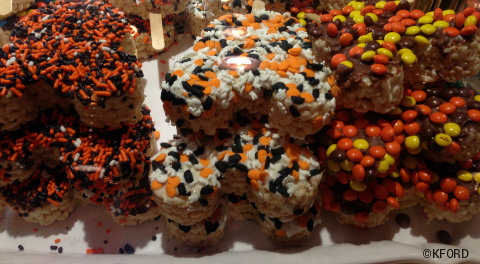 Finally, if all the candy doesn't satisfy your sweet tooth, the Magic Kingdom is offering specialty treats: a spiced pumpkin waffle sundae at Sleepy Hollow, ghost cupcakes at Gaston's Tavern, candy corn soft serve at Storybook Treats, Halloween cupcakes and cookies at Sweet Treats on Main Street, and Hitchhiking Ghost popcorn buckets at the popcorn carts.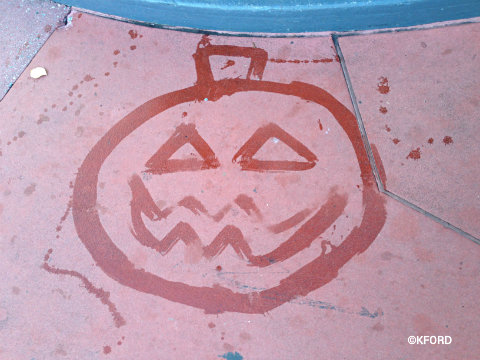 Mickey's Not-So-Scary Halloween Party requires a separate ticket. Prices vary, depending on date and possible discount. For a full breakdown, see the AllEars.Net resource page.
DISCLAIMER: I was a guest of Walt Disney World at its Mickey's Not-So-Scary Halloween Party. This did not affect my story; my opinions are my own.