The wait is finally over for Disney fans who also love Vera Bradley products! The Disney Collection by Vera Bradley, which was created exclusively for Disney Parks, debuted at Walt Disney World on Saturday and at Disneyland on Monday. I was among the lucky writers who got to preview the products at World of Disney on Friday.
The company introduced two patterns — "Just Mousing Around" with a pink background and "Midnight with Mickey" with a black background — on eight of its most popular products: Large Duffel ($99), Backpack ($99), Vera ($99), Hipster ($70), Mini Hipster ($60), Smartphone Wristlet ($55), Large Cosmetic ($35) and Zip ID Case ($15).
Backpack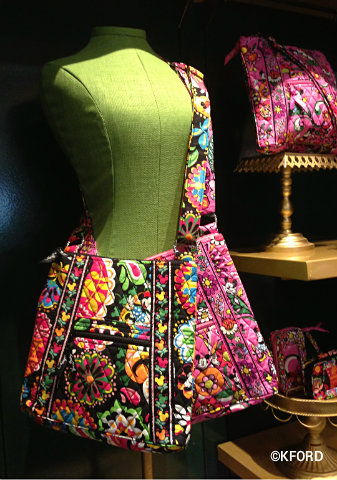 Hipster
Mini Hipster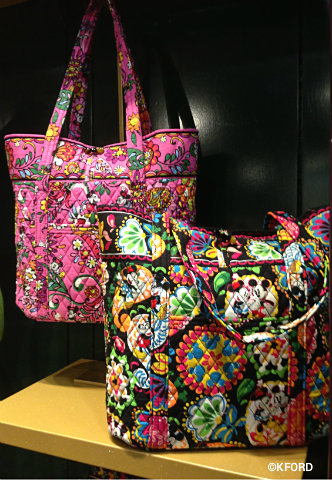 Vera
Large Cosmetic and Smartphone Wristlet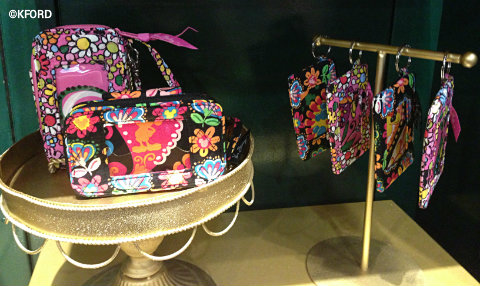 Smartphone Wristlet and Zip ID Case
I asked Barbara Bradley Baekgaard, co-founder of Vera Bradley and chief creative officer, about the significance of the two patterns.
"I think we knew we wanted two patterns. First of all, I have two daughters, and I know whenever I'd buy for them, I'd want to get two colors. You know, you want to get them each something without being twins," she explained. "So I think we felt strongly that there should be at least two colors. And I think one being the dark background is good, a little more sophisticated. And then the girly pink, because I think every little girl loves pink. So, we have the two different looks, but both equally as fun."
Of course, I had to ask which of the new Disney bags is Baekgaard's favorite.
"The duffel in 'Midnight with Mickey'," she said. "It's black, and I wear a lot of black. I think you could carry that and use it for travel. I look forward to walking through an airport and carrying my Disney bag. "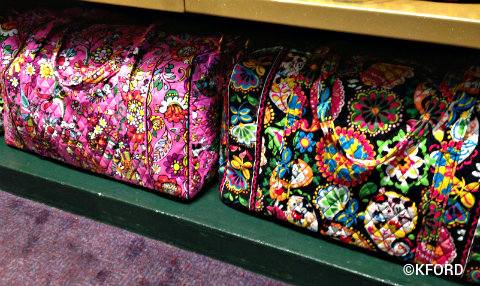 Large Duffel
The new Disney Collection by Vera Bradley is not the company's first collaboration with the Mouse. About 25 years ago, Baekgaard said, Vera Bradley created a Winnie the Pooh collection of baby products. (If you're curious what that line looks like, take a visual tour of eBay and you'll find some of the original pieces.) Vera Bradley introduced a new baby line this year, but it does not feature Disney characters.
Many fans have asked if Vera Bradley will introduce a separate pattern for Disney Cruise Line. Although that is not in the works right now, Baekgaard said, it hasn't been ruled out. The ships do sell existing Vera Bradley patterns, including "Go Wild," "Midnight Blues," "Plum Crazy" and "Jazzy Blooms."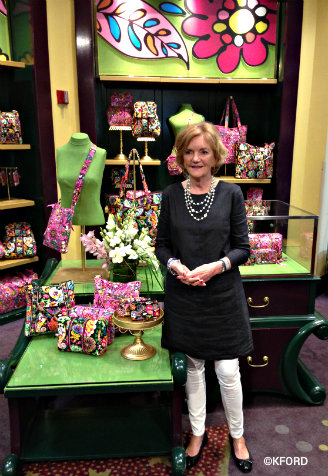 Barbara Bradley Baekgaard
Vera Bradley is the creation of Baekgaard and her friend Patricia Miller, who launched their company in 1982 with $500 and a lot of help from their friends and families.
"I did not go to design school or take art classes. I got married right out of college, had four children in five years, and so I really did not work," she said. "[When] my daughters were leaving for college, I realized we didn't have anything really that was exciting and fun for them [to take]."
"I told my mom we were going to start a company in our basement, and I'd like to name it after her. She said, 'What kind of company?' She wanted to make sure it was something she approved of!"
"When I started Vera Bradley, it was really fun because I had no expectations, no corporate baggage to bring with me. So, I right away asked my friends and family — luckily I was from a big family — to help out, which they did. That became our rep organization. I had friends who were schoolteachers and stay-at-home moms, and I said, "Can you go out and sell this stuff?" And they all jumped onboard and did."
Today, Baekgaard works in one of five Vera Bradley buildings in Fort Wayne, Ind., where the company is based. The growth and success of the company have allowed Baekgaard and Miller to pledge $20 million to breast cancer research, and they are close to fulfilling that promise, she said. They chose the cause to honor Baekgaard's Marymount College roommate, Mary Sloan, who died of breast cancer.
"We were dear friends. She lost her mother and grandmother to breast cancer, as well. We are losing three generations [at a time]. We hope to break the chain," Baekgaard said.
Perhaps knowing that sales of Vera Bradley bags contribute to the company's philanthropic goals will influence your decision whether to buy a bag at Disney Parks. Then again, maybe the aesthetic is enough.
"I will carry one of the Disney bags because I think they can be sophisticated AND put a smile on your face," said Baekgaard.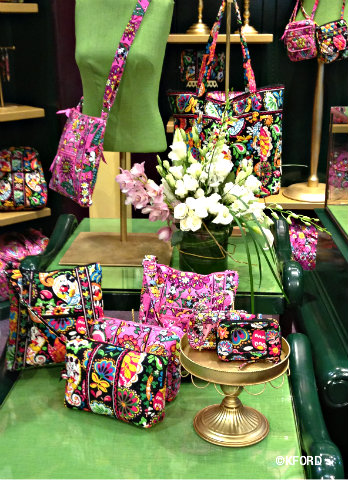 The Disney Collection by Vera Bradley is on sale at Walt Disney World's World of Disney store at Downtown Disney. At Disneyland, the bags can be purchased at World of Disney at Downtown Disney District, China Closet inside Disneyland park, Elias & Co. inside Disney California Adventure and Fantasia at the Disneyland Hotel. At the end of October, the collection will be for sale online at DisneyStore.com.