So here I am in Walt Disney World and I thought I'd share my trip experiences with you for the main purpose of helping you plan your next trip to Walt Disney World.
I'll reflect on some things that work for me that save me money, time, and stress. Call them tips if you like.
I'll also mention a few interesting things I have noticed on this trip that you may want to look for or experience on your next trip.
The Early Bird
Yes I am an early bird. I take the ealiest flight I can. Why? Well if I plan on taking a later flight there is a better chance of that flight being delayed simply because of the domino effect that occurs when flights are delayed.
Also, for some reason early morning flights seem to make better time than the later ones.
Join the Club
If you rent a car while in Orlando always try to join that car agencies club or whatever allows you to bypass the counter.
As we rolled along with our luggage Carol saw the line at the National Car counter and said, "Yikes! Look at that line!" She forgot i was an Emerald Aisle member. We went right up and grabbed our car and was off.
How much time did this save? Well we were rolling our luggage into our room at Pop Century approxiamately 75 minutes after our plane touched down in Orlando.
It is well worth it to do whatever you can to save time.
As an Annual Passholder (and I realize not everyone is) I always try to get AP rates for the room. This vacation has me spliting my time between Pop Century (I know…blasphemy…but Pop Century should not complain…i'm approaching my 100th night there) and Port Orleans French Quarter…both with AP rates.
Another AP advantage is the Disney Dining Experience card which offers me a 20% discount at most of the sit-down restaurants and also Everything Pop (Pop Century's foodcourt).
When we got to the TTC we took the Admiral Joe Fowler Ferry to The Magic Kingdom
Here's a few topiaries for you to look for on your next trip to the Magic Kingdom.
The Haunted Mansion
Now look at this photo…tells you that Haunted Mansion is really closed for refurbishing erh?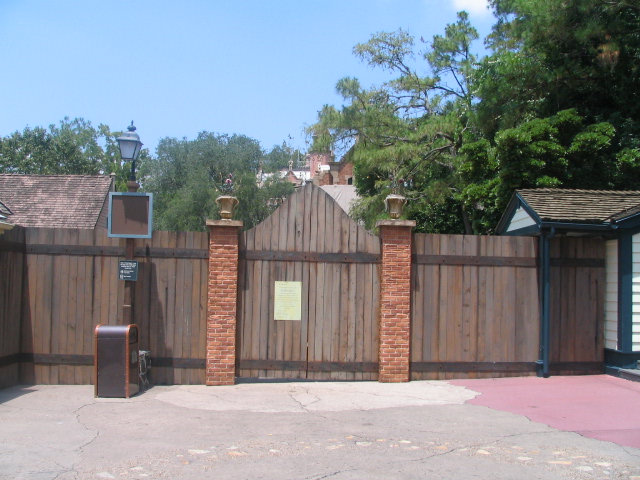 However, Master Gracey left us this note…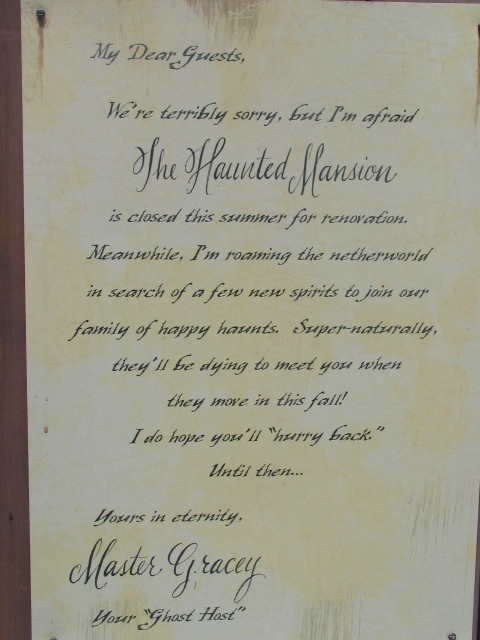 …which informs us that he's traveling the netherworld in search of new spirits.
Here's another picture of the Haunted Mansion "under wraps" and going through a face change.
Keep yer fingers crossed that this attraction will be up and running in 6-8 weeks.
Be on the Lookout for…
Here's something for you to look for the next time you ride the Magic Kingdom riverboat. Look for the dog standing in this boat and watching this fish jump out of the water…and I mean this fish does jump out of the water.
I have two other bits of information to share with you before I end this very long day.
The next time you visit the Carrousel of Progress you may want to check out each scene very carefully. One of them includes an image of Mickey as the Sorceror's Apprentice…but which one? And where in the scene is this image?
Finally, the next time you are in The Magic Kingdom and you see this sign in front of the City Hall…
…please take it with a grain of salt.
I suggest that you both call Disney Dining and also take a chance and walk up to the restaurant's podium and check for an opening. It actually works more often that you would think.
That's it for now. See you next time everyone.