WDW Chronicles: Roadside Florida Before Walt Disney World
by Jim Korkis
Disney Historian
Feature Article
This article appeared in the April 3, 2018 Issue #967 of ALL EARS® (ISSN: 1533-0753)
Editor's Note: This story/information was accurate when it was published. Please be sure to confirm all current rates, information and other details before planning your trip.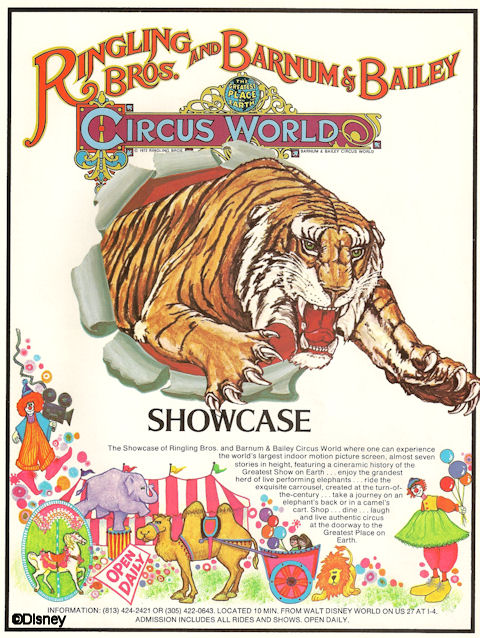 After World War II, tourists filled the many miles of open roads of the United States. Florida in particular was the home to historical landmarks, beautiful landscapes, small animal zoos, alligator farms, citrus stands near rows of orange groves, natural springs, Seminole Indian villages, and other attractions like beautiful beaches and majestic lighthouses just along the sides of the road that enticed visitors to stop.
In fact, that's one of the reasons Walt Disney selected Florida for the location of his "Florida Project" — it was already a popular tourist destination for millions of visitors every year.
Of course, after the opening of Walt Disney World in 1971, a flood of amusement enterprises appeared, like Circus World (1974-1986) operated by Ringling Brothers and Barnum and Bailey Circus, Boardwalk and Baseball (1987-1990), Splendid China (1993-2003) with its 75 acres filled with handcrafted miniature replicas of temples and many more entertainment venues including Universal Studios Orlando and SeaWorld Orlando.
Of course, many attractions that were announced with much fanfare and publicity — like Roy Rogers Western World, Vedaland, DestiNations Theme Park, Hurricane World, Interarama and Little England — never saw the light of day.
But before Walt Disney World forever changed Central Florida from an agricultural community to one devoted solely to the hospitality industry, there were many roadside amusements that still exist today, despite some changes.
Perhaps the oldest Florida roadside attraction is located in St. Augustine, the country's oldest city. (It was founded 55 years before the Pilgrims landed on Plymouth Rock, and 42 years before the establishment of Jamestown.) Ponce de Leon's Fountain of Youth still offers tourists an opportunity to take a drink from a spring discovered near a stone cross laid out with 15 rocks in one direction and 13 in the other, indicating the year of Ponce de Leon's arrival in Florida in 1513.
Luella "Diamond Lil" (who got her nickname from being a participant in the Yukon Gold Rush) McConnell opened up the location around 1868, the date of the first still-existing guest book at the attraction, where she sold the water at 10 cents a glass.
Florida may be a little too famous for its alligators, but they proved to be a fascination for out-of-state visitors. One of the first alligator attractions was the Tampa Alligator Farm (1919-1931) run by J.A. Stokes at Sulphur Springs Park. You could buy live or stuffed alligators along with other Florida souvenirs.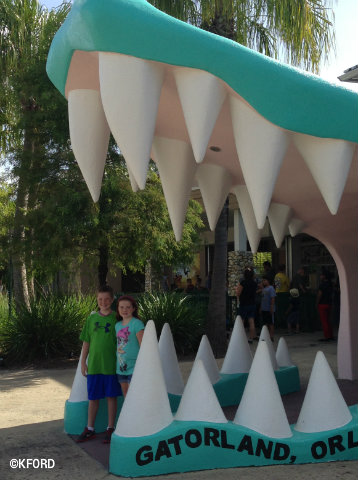 Gatorland was built by Owen Godwin Sr. in 1948 and featured Seminole Indian alligator wrestlers. It was one of just many of the reptile-themed attractions in Florida, but is sadly just one of the handful that still exist today. Guests enter through gigantic gaping (concrete and steel) gator jaws (designed by Godwin's son Frank in 1962) into the gift shop and then the attraction that still features wrestling along with the "jumparoo," where enormous alligators leap out of the water to snap food dangling on overhead wires.
Multiple alligator attractions (but not quite as long lived as Gatorland) filled the roadways. A different Gator-Land in Delray Beach existed from 1962-1966 and specialized in shipping live baby alligators to your friends back home. J.C. and Mary Lou Bowen ran the Everglades Gatorland in South Bay (1958-1994). Daytona Beach Alligator Farm (1934-1942) was run by "Alligator Joe" Campbell and the collection was later purchased by the St. Augustine Alligator Farm. David Kuhn ran Alligator Alley (1970-1985) in Kissimmee. Gatorama opened in 1957 near Fort Myers by Cecil Glemons. It featured several 13-foot or larger alligators and is still open today.
Just north of Tampa is Weeki Wachee Springs. On October 13, 1947, Newton Perry, an ex-Navy frogman who had owned the land for a year near the head of the springs, presented the first live underwater mermaid show. Believe it or not, the American Broadcasting Company (ABC) took over the operation in 1959 for 20 years and expanded and improved the show.
Guests in the theater sit roughly 15 feet below the surface of the springs and watch through gigantic plate glass windows as mermaids perform acrobatic stunts in elaborate productions and even eat and drink while replenishing their lungs with hoses of compressed air. The location was the site of the 1964 premiere of the Don Knott's movie The Incredible Mr. Limpet.
Marineland, the world's first "Oceanarium," located near St. Augustine and Daytona Beach, opened on June 23, 1938. It was the first opportunity that most people had to view aquatic life in an approximation of their natural habitat. An aquarium separates different fish, but an Oceanarium like Marineland had two large tanks holding more than 10,000 fish connected by a flume. Guests could use more than 200 portholes just below the surface of the water to view the activity.
Originally, the venue was meant to help film "underwater movies," but proved to be much more financially successful as a tourist attraction. It actually shut down to the public between 1942-1945 when the Coast Guard used the tanks for research projects including the development of shark repellents. When it reopened to the general public in 1946, it soon introduced the popular "educated porpoises" show in 1951. It inspired filmmaker Ivan Tors to open a studio in Miami where he produced the famous Flipper television series about the beloved and intelligent dolphin.
Marineland tried to keep its methods of operation top secret, even protecting some of them with patents, but soon other attractions like the Miami Seaquarium, the Gulfarium of Fort Walton Beach, Neptune's Garden (Marathon), Ocean World (Fort Lauderdale) and more discovered those methods, finally culminating with the opening of SeaWorld Orlando in 1973, which became the premiere sea life attraction.
Before Walt Disney World opened, the top three roadside tourist attractions in Florida in order were Cypress Gardens, Bok Tower and Silver Springs.
Dick Pope was inspired to create Cypress Gardens when his wife showed him a magazine article in a 1930s issue of Good Housekeeping magazine about a South Carolina banker charging people two dollars each to view the landscaped gardens around his mansion home. In three months, he had made $36,000.
Pope consulted with photographer Robert Dahlgren to make sure Cypress Gardens was laid out in such a way that no matter where a tourist pointed his camera, the view would be appealing.
Over the years, Cypress Gardens grew to include a Topiary Trail, a Butterfly Conservatory with more than 1,000 butterflies, the Biblical Garden that featured plants named in the Bible, a variety of wild animal shows, an elaborate model train layout, and much, much more that captured the gracious spirit of Old Florida and avoided a carnival atmosphere present at other Florida entertainment roadside venues.
Pope's tireless marketing efforts led to Cypress Gardens appearing on the covers of hundreds of magazines and in newspaper photographs across the country, often including top celebrities enjoying the park.
Roy O. Disney visited the park in the early 1950s and took notes before Disneyland was built. Later, when it was announced that Disney would build a vacation destination in Central Florida, Pope became one of the biggest supporters, even taking out a full-page advertisement in the local newspaper to welcome Disney. Pope realized that people coming to Walt Disney World might spend a day or two at Cypress Gardens as well. The park officially closed in 2009.
LEGOLAND Florida opened in the same location on October 15, 2011. One of its sections incorporates most of the historic botanical gardens and, in fact, that section is named "Cypress Gardens." Some of the topiaries and Southern belles gave way to LEGO brick structures of those items. Even the water ski shows now feature block characters. Yet, this odd combination has allowed one of Florida's most significant Florida tourism icons to survive.
The Bok "Singing" Tower opened February 1, 1929 near Lake Wales. The 200-foot tower on the summit of Iron Mountain, which is 324 feet high, was commissioned by Dutch immigrant Edward Bok as a gift to the people of America. It has been referred to as the Taj Mahal of America and is composed of Florida coquina rock and Georgia marble and houses one of the world's finest carillons of 70 bells ranging in weight from just a few pounds to 11 tons. Tourists visit not just for the unique musical performances but the 48 acres of beautifully landscaped grounds that surround the tower.
Silver Springs in Ocala is really a vast subterranean river lying 50 feet below the surface that goes through a cavern 65 feet wide and opens up to form the head of the springs. In 1878, Huliam Jones created the first glass-bottom boat by installing a window on the flat bottom of a dugout canoe.
The park is now famous for its glass bottom tours that provide a unique underwater glimpse. Walt Disney once considered having the submarine attraction at Disneyland use the same technique. It was a popular location for filmmakers because of the clarity of the water and was the site of the filming of six Tarzan movies as well as The Creature from the Black Lagoon (1954) and more than 100 episodes of the television series Sea Hunt starring Lloyd Bridges. Over the decades many additions were made to the park including a Reptile Institute and a deer park.
An entire book could be filled with tales of Tampa's Fairyland (1957-1980), which was a storybook park for children, Ocala's Florida Adventureland (1966-1974) that included an Indian Village, Old West Town, Swiss Village, music arena and amusement rides, as well as "Sam" the "world's largest bull," Clermont's Presidents Hall of Fame (1960-present) with life-sized wax figures of all the U.S. presidents, Panama City Beach's Jungle Land (1965-1978) with its giant concrete volcano that spewed billowing smoke, Treasure Island's Parakeet Village, or Panama City Beach's Petticoat Junction (1963-1984) with its Western-themed amusement area.
The Sunshine State was a pretty entertaining place before the Mouse opened up his house in 1971. All of these roadside attractions offered a different and fun experience for travelers. Especially in the mid-20th century when most people took trips in their cars rather than by airplane, Florida was a brief and often exotic escape from the travails of daily life and supplied unforgettable memories for children of all ages.
= = = = = = = = = = = = =
RELATED LINKS
= = = = = = = = = = = = =
Other features from the Walt Disney World Chronicles series by Jim Korkis can be found in the AllEars® Archives.
= = = = = = = = = = = = =
ABOUT THE AUTHOR
= = = = = = = = = = = = =
Disney Historian and regular AllEars® Columnist Jim Korkis has written hundreds of articles about all things Disney for more than three decades. As a former Walt Disney World cast member, Korkis has used his skills and historical knowledge with Disney Entertainment, Imagineering, Disney Design Group, Yellow Shoes Marketing, Disney Cruise Line, Disney Feature Animation Florida, Disney Institute, WDW Travel Company, Disney Vacation Club and many other departments.
He is the author of several books, including his newest, Secret Stories of Disneyland, available in both paperback and Kindle versions.
-o-o-o-o-o-o-o-o-o-o-o-
Editor's Note: This story/information was accurate when it was published. Please be sure to confirm all current rates, information and other details before planning your trip.