RADP Meet Cocktail Party – June 6, 1999

RADP Meet Cocktail Party
June 6, 1999

Left to Right – Barb gardenia, Aimee, Thomas, Sarah, Joe, Lane, Deb, Bruce, Marta, Mike, Mike, Kelly.
---
A Special Night – A "Grand One" For Sure June 6th, 1999

Click on the Photos for Larger Views

Michael A. Scibetta "Crazy Hakim", shares:
Way back on March 24th a post appeared on RADP inviting "any good-natured RADP readers over the age of 21" to a cocktail party aboard the GRAND ONE yacht on the Seven Seas Lagoon.

I replied, and was glad to hear that I was the first to reply and reserve my spot on the boat. Before you knew it, all 12 available spaces were filled and the date and time were set.
I am terrible with names, so I won't try to list the attendees, except for myself, Deb Wills and our host Lane Blanchard.
I arrived at the Grand Floridian around 7pm, and enjoyed walking around the property, while keeping a watchful eye on the Grand One, which was being prepped for the night's voyage.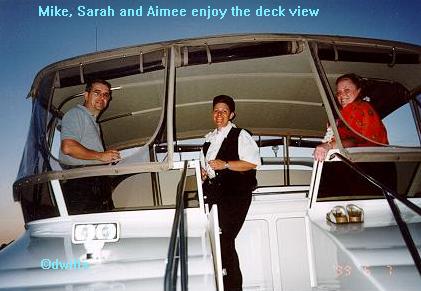 At around 7:45pm, I approached the boat and met Lane. He told me that we were meeting the rest of the group at the dock at the Poly and off we went. The Grand One is a beautiful, white and gold Sea Craft yacht. I believe it is around 42 feet. It has a flying bridge that can easily seat close to a dozen people in addition to the driver. Downstairs was a galley area, an indoor table the required facilities and a single bedroom in the forward area.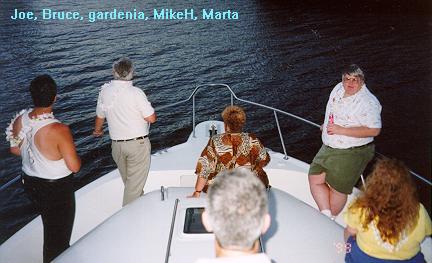 Ahead of the bridge, you can walk down to a seating area around the hull. The rest of the party was waiting at the dock as planned. They allow a total of 12 guests on a cruise. Disney provides a driver, a second-mate and one server.
Lane really knows how to throw a little party! There were drinks, food and music as were roamed around the Seven Seas Lagoon.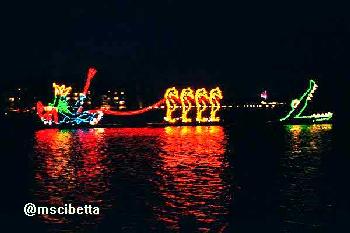 At one point they took us into the backstage area where the boats are dry-docked. We also cruised out by Discovery Island, and Fort Wilderness. The driver gave us a prime front row position for the Electric Water Parade. It was a beautiful night with a slight breeze in the air.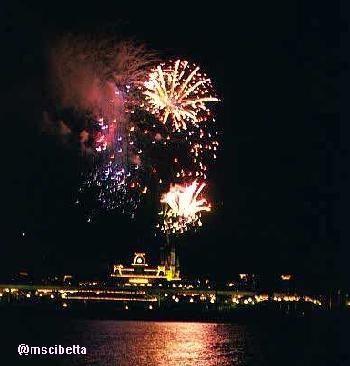 Before you knew it, it was almost time for the Fantasy in the Sky fireworks. Once again our driver positioned us directly in front of Main Street and the castle and we toasted with champagne as the fireworks lit up the night sky.
All of us felt a little like royalty as we passed outer water vehicles. Most times they waved to us as were drove by.

It is really hard to put into words how awesome this night was. We cruised until midnight before disembarking at the Poly dock again.
Deb promised to collect all of the photos, and she will put together a Web Page about our night.
This was a rare treat and I want to thank Lane for putting together this night and for being an unbelievable host to a group of perfect strangers! But, we all had one thing in common, Disney. Once again Disney becomes the catalyst in bringing a dozen of so strangers together and inside 4 hours depart as strangers no more!
Thanks Lane, it was an unforgettable night!
---

I, too, was one of the lucky ones to be invited onto the Grand One Yacht and wanted to share a couple other things that Mike left out of his post. (Btw, it was GREAT meeting you finally, Mike!)

This Yacht is *beautiful* and has *three* bedrooms and *two* bathrooms along with a dining room. While it was smooshy for me in the doorways, I did move around the boat okay, including climbing up the ladders/steps and walking/balancing down on the front of the boat. There was a cushy seat right at the front that I perched myself upon for most of the night.
Our wonderful host Lane had a bartender there to serve us and our glasses were never empty because of the great service Michael gave us. He works Private Dining at the Grand Floridian and said that all the Private Dining folks make a rotation out on the Yacht (and other cruises, too… a good location he said).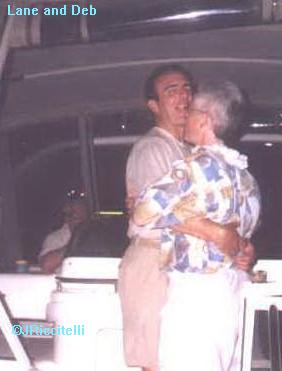 Lane had all of our favorite drinks on the Yacht (mine was amaretto… yum!) and did we ever imbibe! There were only a couple people staying off property and those folks only had a drink or two during the night. Luckily, I was staying on-site and didn't have to drive. 🙂

Lane had a tape of cool Disney tunes mixed with some disco and other songs ("Don't Rock the Boat," "La Vida Loca," and some new Cher) and we danced and sang our heads off. It was great!
While watching the Electrical Water Pageant was nice, sitting on the lagoon smack dab in front of the Castle and watching the fireworks was amazing! I've seen that firework show from about every possible angle and this ranks among the best. And no crowds (that was the best part!) when it was time to leave!
Meeting all the folks on the boat was great, too. We talked and innuendo'd throughout the cruise… laughing and smiling and
thoroughly relishing our luxurious experiences.

Thanks to Lane for providing such a wonderful night of pleasure! And thanks to everyone else on the cruise… it was GREAT!
---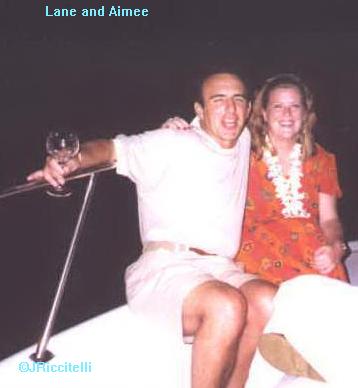 Aimee adds:

I'll have to third the comments from Michael and gardenia. I was a lucky lurker (and occasional poster) able to secure an invite to the RADP Cocktail Party on the Grand One. And Grand it was. Stepping off the dock onto the Yacht was like setting your foot onto Main St. USA. You just knew that untold adventures await you. Lane was a fantastic and generous host. Mike said it right when he wrote 'we all felt like royalty'. This is truly 'the' experience. Thank you Lane. Your generosity towards 12 strangers truly is overwhelming. Lane, Deb, gardenia, Sarah, Kelly, Michael, Michael, Joe, Bruce, Marta, It was really wonderful meeting you all. Hope we can do it again some time!
---

I have had some awesome experiences during my visits to WDW, but this one surpasses them all. To think that Lane graciously and publicly invited 12 persons (none of whom he knew) on this magnificent cruise is mind boggling in itself. Anyone who questions the existence of Disney Magic need only read about this incredible evening.

Everything was perfect, from the weather, to the boat, to the food and beverages, to the company, to the music and dancing, to the water pageant to the fireworks. The Champagne during the fireworks was a great touch. I have not been able to stop talking about this night!

Lane — I will remember our special evening for a long long time. You were a dear to accommodate my travel plans! Your charm, presence and generosity showed what a real gentleman you are! I hope our paths cross again sometime. Thank you ever so much!