Disney's Hollywood Studios Archives Osborne Family Spectacle of Dancing Lights Streets of America
November 6, 2015 – January 3, 2016
FINAL YEAR!
The 2015 holiday season marks the final presentation of The Osborne Family Spectacle of Dancing Lights. The display of lights has run at Disney's Hollywood Studios for 20 years, when it first appeared on the park's Residential Street. The Lights are going dark so that the theme park can prepare for the recently announced Toy Story Land and a Star Wars-themed land.
To celebrate the 20th anniversary, Disney World is offering two special events, both overlooking The Osborne Family Spectacle of Dancing Lights.
The Merry & Bright Dessert Party will be offered November 6-December 30. You can enjoy holiday-themed desserts while surrounded by the amazing light display.
New for 2015 is the Merry & Bright Dinner Reception, to be held January 1 – 3. The reception will feature a selection of small bites, plus wine, beer and specialty beverages. NOTE: This reception is SOLD OUT for January 2 and 3.
Reservations for these experiences can be made at 407-WDW-DINE.
Note: Osborne Lights was extended and the final night was January 6, 2016.
The Osborne Family Spectacle of Dancing Lights is THE primary Holiday Happening at Disney's Hollywood Studios.
The Osborne Family Spectacle of Lights sparkle with yuletide cheer. What began as a father's Christmas gift to his daughter has grown into a holiday tradition for many Walt Disney World guests with a dazzling display. Millions of brilliant bulbs blanket the backlot with dancing lights and animated displays synchronized to high-energy holiday tunes. Colorful wreaths, twirling carousels, flying angels and Santa and his reindeer bedazzle park-goers amid swirling snow flurries.
Just what *is* the Osborne Family Spectacle of Lights and how did it start?
Jennings Osborne, a Little Rock, Arkansas, businessman, began putting up lights nearly a decade ago, at the request of his young daughter. (Read our 2002 interview with the late Jennings Osborne HERE!) Each year, he added to the displays. When he ran out of room, Osborne bought the two houses on either side of his home so he could continue his creativity. Neighbors complained, however, and the Arkansas Supreme Court ruled in October 1994 that Osborne's house, when adorned with the 3 million lights, was a public nuisance. Although legally barred from causing a "spectacle", Osborne still lit the display three nights. He was found in contempt of court and fined $1,500. The court suspended a 10-day jail sentence, but ordered him to pay $7,000 in attorneys' fees. In 1995, the Walt Disney Company brought the Osborne Christmas lights to Walt Disney World!
It sounds very impressive — what exactly does the display entail?
The Spectacle of Lights includes:
— 5 million lights
— 32 miles of extension cables
— 66 snow machines
— 100 gallons of snow fluid a night
— 43 hidden Mickeys
In 2006, the spectacle was enhanced to include choreographed "dancing" lights that swirl and soar to an exhilarating medley of holiday music every 15 minutes, thanks to electronic wizardry featuring more than 400 dimmers. Every building facade, all the trees, wreaths, bells and holiday figures dance to classic tunes among "Florida snow" flurries. Also bringing the Disney's Hollywood Studios backlot to life are three-dimensional and motion-based displays – some originally created at the Osborne home in Arkansas by businessman Jennings Osborne as a holiday display for the delight of his daughter.
To see a variety of photos of the 2015 Osborne Lights, visit our Photo Gallery.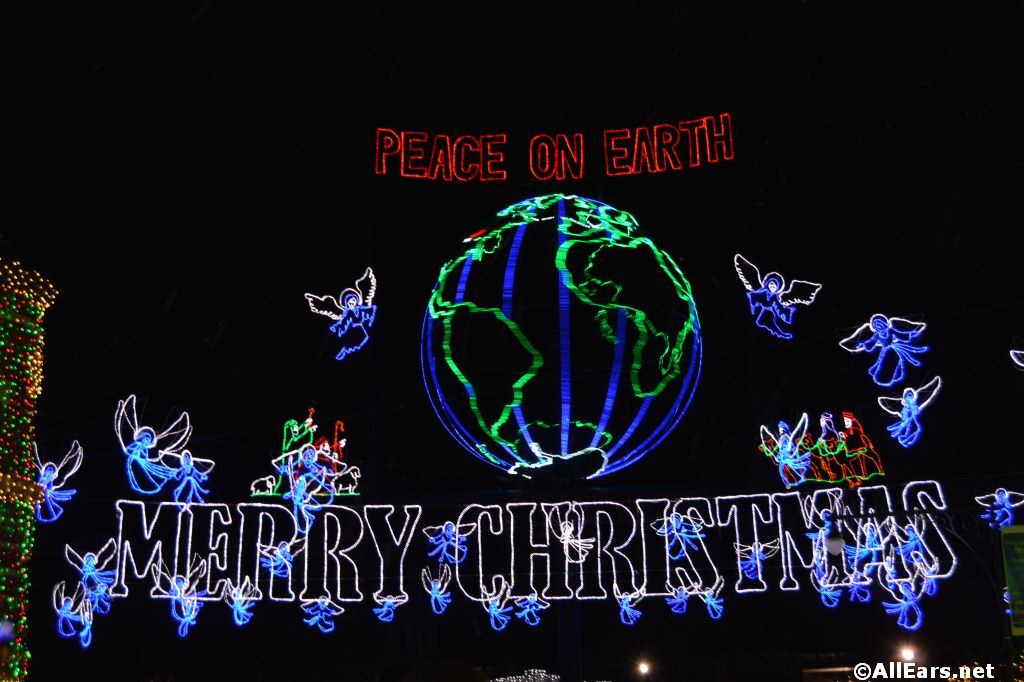 How much does it cost to view the Osborne Lights?
There is no extra admission charged for the Osborne Family Spectacle of Lights beyond admission to Disney's Hollywood Studios.

Where exactly are the Osborne Lights located?
The Lights used to start at the beginning of New York Street at the back of Disney's Hollywood Studios. Since 2004, they are located in the revamped "Streets of America" city backlots. Every night there is a brief lighting ceremony and guests are directed to walk down through the lights along the backlot area.
How long are the Osborne Lights on display? Are they shown every night during the holiday season?
The Osborne Lights usually have special previews before they are officially unveiled at the start of Disney's holiday season (which now kicks off in early November). They are displayed every night until the first week of the new year.
Are the Osborne Lights worth seeing?
Read what others have to say in our Reviews section HERE.
If you have comments or tips to share with others about touring the Osborne Family Spectacle of Dancing Lights at Disney's Hollywood Studios, please post them HERE.