Walt Disney World Chronicles: Old Key West and Olivia's
by Jim Korkis
Disney Historian
Feature Article
This article appeared in the December 1, 2015 Issue #845 of ALL EARS® (ISSN: 1533-0753)
Editor's Note: This story/information was accurate when it was published. Please be sure to confirm all current rates, information and other details before planning your trip.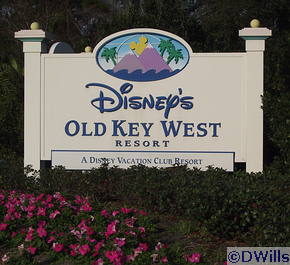 Once upon a time there was no Disney Vacation Club resort.
The very first DVC resort opened on December 20, 1991, was just known as Disney's Vacation Club Resort up until January 1996. It was renamed Disney's Old Key West Resort to distinguish it from the newer DVC resorts, Disney's Vero Beach Resort (October 1995) and Disney's Hilton Head Island Resort (March 1996).
The latter two DVC resorts were beautiful, if somewhat secluded, but Disney soon realized that its members were not as excited about different locations, as in the traditional timeshare format, but preferred ones directly connected to a Disney theme park.
Disney guests loved having exclusive access to on-property accommodations with multiple bedrooms, several pools, a general store, and various children's play areas that provided the larger units and flexibility they had been seeking for years and previously had found off property.
The theme of Disney's Old Key West Resort is the famous Florida Keys, a series of islands located off the southern tip of Florida beginning about 15 miles from Miami. Key West is the most famous and popular of these islands and is a mere 94 miles from Cuba.
Legend has it that author Ernest Hemingway wrote part of his novel "A Farewell to Arms" while living above the showroom of a Key West Ford car dealership awaiting delivery of a Ford Model A roadster. He was introduced to deep-sea fishing, got the nickname "Papa" and worked on other novels while living in Key West, including "For Whom the Bell Tolls," "To Have and Have Not" and "The Snows of Kilimanjaro."
Author Tennessee Williams was another famous resident. He supposedly wrote the first draft of "A Streetcar Named Desire" while living there in a modest bungalow. Many other famous people vacationed on the island, including several presidents of the United States. Singer Jimmy Buffet's song "Margaritaville" is closely associated with the location.
It seemed natural that the first DVC resort in Florida would try to capture the casual tropic feel of Key West in the early 1900s, with just a taste of the Caribbean.
Turtle Krawl is the location of the resort's main facilities. At the far end of Hospitality House is Papa's Den. This is a relatively quiet place where you can just grab a book and sit for awhile. Note the marlin over the fireplace mantel. This is all meant to call to mind "Papa" Hemingway and his love of deep-sea fishing and books without specifically mentioning the great author.
Old Key West is themed to be Conch Flats, a well-maintained part of Key West. Turtle Krawl's marina is located on Trumbo Canal which, in turn, connects to the Sassagoula River… the Disney man-made waterway that connects Port Orleans Riverside, Port Orleans French Quarter, Saratoga Springs Resort, and Downtown Disney.
There is a lighthouse by the pool that calls to mind the famous Key West lighthouse opened in 1848. In the years following, the lighthouse underwent a number of upgrades. In 1969, the U.S. Coast Guard decommissioned the Key West Lighthouse since there was no longer a need for a full-time keeper due to technological advancements. Today, the building is a museum dedicated to Key West's maritime heritage.
The resort's restaurant is Olivia's Cafe, a casual sit-down restaurant with some menu items that are related to the specialties of Key West. There are quick-serve eateries as well, including Good's Food To Go and the Turtle Shack. The Gurgling Suitcase bar also has some simple snacks.
For many, Olivia's Cafe is a "hidden treasure" at Walt Disney World, with its hospitable staff and tasty offerings that are suitable for the entire family. It is also a favorite location for many executive cast members who find the secluded location and good food a convenient place for a "working lunch" close to their offices.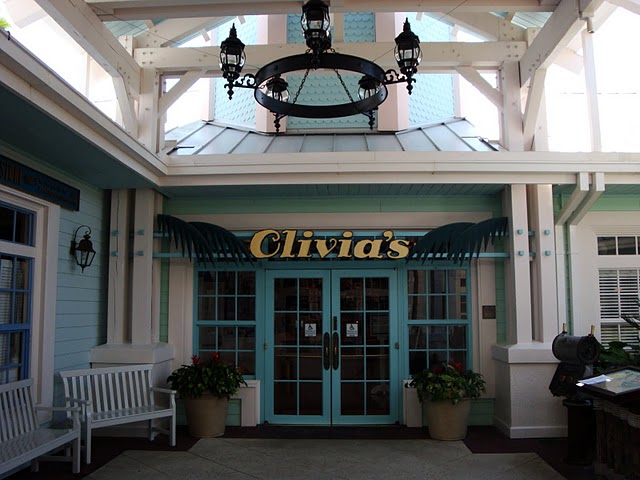 As you might suspect, the Imagineers came up with an elaborate back story for the restaurant. It is one that is fairly well-known by the cast members who work there, and they are quite willing to share it with guests.
The official website states: "A longtime resident of Conch Flats, Olivia welcomes diners with Island-inspired dishes. This nautical-themed eatery has the friendly, familiar feel of a neighborhood institution and is a perennial favorite of many a Guest."
Besides some more traditional offerings are Conch Flats items like conch fritters, conch chowder, Conch Republic omelet and more, including the beloved Key Lime tart dessert.
The story of Olivia, whose photo graced the menu, is much more involved, however.
Olivia Farnsworth lived in a small cottage along Turtle Krawl, upwind of the strip. She loved cooking, but did not have the money to open a restaurant of her own. She was very friendly and very proud of her cooking. Almost daily she would invite curious passers-by who smelled her cooking to come in to her dining room and pull up a chair to enjoy what she had prepared.
Soon, these visits became more and more frequent, both for the locals and for visiting out-of-towners as well. Olivia quickly ran out of room and everything else. People began bringing their own tables and chairs and even silverware, then left them there for their next visit. That's why the silverware and the chairs in the restaurant are mismatched and add to a homey, family-type atmosphere. This was not a restaurant that was built, but it was Olivia's small cottage home which transformed into a restaurant by necessity and has been operating successfully for quite some time.
Long-forgotten and perhaps lost are the original Imagineering descriptions. Here they are to help enhance the experience even more:
"Olivia Farnsworth is 60 going on 20. She arrived in Conch Flats longer ago than you'll get her to talk about. She moved into a small cottage along Turtle Krawl, turned on her stove, and changed everything around here for the better.
"Upwind from downtown, Olivia's cooking was a hard secret to keep. Dinner traffic boomed. Soon she began doubling recipes, then double doubling. Then triple doubling, until the math got ugly. She pulled up more chairs, added more tables, and sat people on the porch, until the floor plan got all cattywhumpus. Finally, to the town's great relief, Olivia made it official, cinched up her apron and hung out her shingle."
The Imagineers even included "A Little Note from Miss Olivia" herself:
"How I came to be here in Conch Flats is a whole other story. Besides that was more than a few home-cooked meals ago and I've got other fish to fry, if you know what I mean.
"The long and short of it is, I never intended to be any kind of big-time restaurant owner. I just happened to have this cozy cottage I called home and my kitchen just happened to be on the leeward side where aromas could wander out along Turtle Krawl. Seems like every time I turned on the stove, 'specially early in the morning, folks would drop by with a friendly smile and a healthy appetite. I didn't mind. I'd just pull another chair up to the table. Then one more chair, and one more chair…
" 'Fore long, I found myself setting a second kitchen table and practically inviting passers-by to 'come on in and sit down.' Whether it's for two or 20, I have it on pretty good authority that I can cook with the best of 'em, and I know you won't find better company to keep this side of the Dry Tortugas.
" 'Course, I admit I've sure had my share of helping hands from more than a few friends along the way. Miss Vickey, for instance, is my kind of people. She may not exactly fit into any proper pigeonhole, but she's been a true friend to me. In fact, I owe the whole look of Olivia's to Miss V's artistic eye for coordinated color combinations.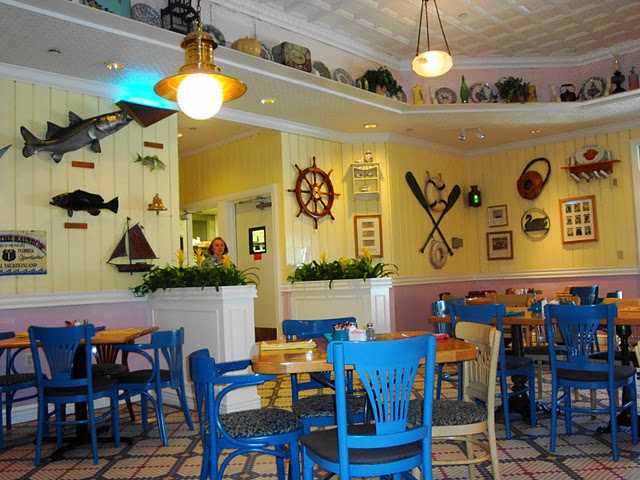 "Then there's Captain Wahoo. He often doesn't have a nickel to his name, but his fish tales have kept me laughing through some lean times, and he's always made sure I get first choice of the bounty his boat brings home to the Flats.
"There are lots of others who made Olivia's what it is — like Frenchie, who's sometimes a pest but always a pal, and Hank, and… well, I could go on, but I've a kitchen to keep up with and a passel of people to feed. So let me let you get on with your life with this closing thought — you're always welcome at Olivia's Cafe, where the food's always good and the atmosphere's always 100% Conch Flats."
Some of those references to certain people may seem a little confusing to recent patrons. When the restaurant first opened with the resort in 1991, there was a mannequin at the check-in podium that was dressed in a matronly outfit and was supposed to represent Miss Vickey, who was welcoming you to the restaurant because Olivia was busy in the kitchen and couldn't do it herself.
In the lobby that is now filled with photos of DVC members was a second mannequin of Captain Wahoo, who was dressed in a yellow rain slicker and cap and then moved to a rear booth in the restaurant where he was enjoying a cup of coffee. He was to represent the heritage of the sea, especially with the marina just outside the windows. As additional seating was needed for guests, he joined Miss Vickey at the check-in podium to welcome guests.
Both mannequins have been gone for quite some time.
And before I forget, the Gurgling Suitcase Bar has a story behind it as well. During Prohibition, people would come down to Key West to purchase illegal alcohol. They would pack it using their clothes to cushion the bottles so they wouldn't break in their suitcases. Law enforcement officers soon caught on to this practice and when they stopped people, they would pick up the luggage and shake it to see if it "gurgled," indicating that there was liquid inside.
While I love these back stories, I love going to Olivia's Cafe (often just referred to as Olivia's) for lunch even more. I have never been disappointed except for the fact that even my ever-expanding stomach can't eat more of the goodies.
Now, not even 25 years since Old Key West first opened, there are nine DVC resorts at Walt Disney World, the most popular destination for DVC members, and a total of 13 locations worldwide. DVC currently has more than 420,000 member families spanning all 50 states and 100 countries, making it one of Disney's great success stories.
= = = = = = = = = = = = =
RELATED LINKS
= = = = = = = = = = = = =
Old Key West Resort Fact Sheet
Old Key West Photo Gallery
Olivia's Cafe
Other features from the Walt Disney World Chronicles series by Jim Korkis can be found in the AllEars® Archives.
Jim also writes occasionally for the AllEars® Guest Blog, contributing entries under the heading of "Jim's Attic."
-=-=-=-=-=-=-=-=-=-=-
ABOUT THE AUTHOR:
Disney Historian and regular AllEars® Columnist Jim Korkis has written hundreds of articles about all things Disney for more than three decades. As a former Walt Disney World cast member, Korkis has used his skills and historical knowledge with Disney Entertainment, Imagineering, Disney Design Group, Yellow Shoes Marketing, Disney Cruise Line, Disney Feature Animation Florida, Disney Institute, WDW Travel Company, Disney Vacation Club and many other departments.
He is the author of several books, available in both paperback and Kindle versions. You can purchase them via our AllEars.Net Amazon.com store HERE.
-o-o-o-o-o-o-o-o-o-o-o-
Editor's Note: This story/information was accurate when it was published. Please be sure to confirm all current rates, information and other details before planning your trip.