Redwood Creek Challenge Trail Grizzly Peak Recreation Area Disney California Adventure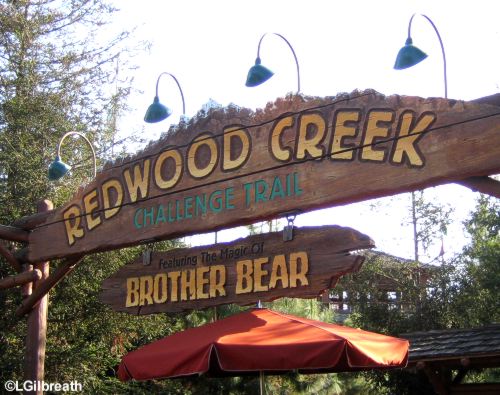 INTRODUCTION
This two-acre play area contains a variety of wilderness-themed adventure activities that both kids and adults will enjoy.
ATTRACTION
Redwood Creek Challenge Trail is located on the edge of Disney California Adventure in the Grizzly Peak Recreation area. This is a large area that includes lookout towers, bridges, and other wilderness-themed. There are multiple levels to explore. Guests can participate in a number of obstacle course-type activities at locations along the series of trails, including rock-climbing, traversing rope bridges, and exploring caves. There are slides, tunnels and even a zip-line-like cable swing to play on. Along the trails there are some educational opportunities as well, such as learning to identify animal footprints.
A map of the entire area is posted at the entrance. You can see a photo of it HERE.
Activities include:
Big Sir – walk-through redwood tree
Millennium Tree – cross-section of a tree that fell in a storm in 1937. Some of the rings of the tree are marked with the dates of significant events in California history.
Redwood Creek – bridge crosses a creek and small waterfall
Wawona Walk – signs along the path identify the footprints of the animals whose footprints can be seen in the path.
Mt. Whitney Lookout – climb the steps to the top of the tower, which connects via a suspended rope bridge to the Mt. Shasta Lookout.
Cliff Hanger Traverse Rock Climb – hone your rock-climbing skills as you use the foot and toe holds to traverse the rock wall.
Rock Slide – two slides down through the rocks
Boulder Bears – rocks shaped like bears
Kenai's Spirit Cave – place your hand in the glowing paw print and discover your inner animal.
Eagle's Ascent – climb a series of rope bridges to the top of the ranger lookout. Squirrel Scramble – bounce across this swaying suspension bridge
Mt. Lassen Lookout (Ranger Headquarters) – check out the rangers' equipment, including firefighting gear, ropes, and snowshoes.
Sequoia Smoke Jumpers Training Tower – hang onto the rope as you sit and swing zip-line style down an overhead cable. (Must be at least 42″ tall).
Hoot-n-Holler Logs – slide down through a tree log
Shake-a-Log – crawl through a swinging, bouncing log
Pine Peril Bridge – this narrow log bridge crosses a stream
Quail Trail – follow the tracks of California's state bird.
Ahwahnee Camp Circle – Site of the meet and greet with Dug and Russell from Up.
TOURING TIPS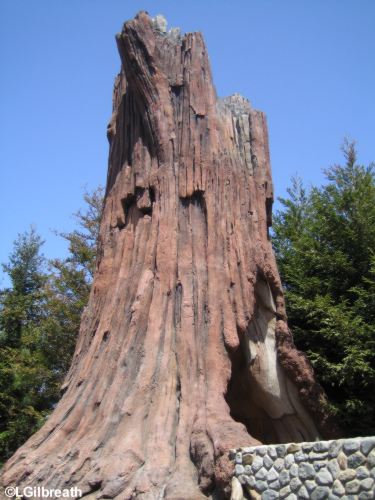 This is a wonderful interactive playground, particularly for kids who have excess energy to burn off. The wide range of activities has something to appeal to those of almost all ages and abilities, whether it's a peaceful walk along the trails while enjoying the plants and trees, or something more challenging like climbing a rock wall or scrambling across rope bridges.
The attraction is usually not crowded, but is busiest in the afternoon. There is often a short wait for the Sequoia Smokejumpers swing.
Many of the paths and trails are accessible by wheelchairs/ECVs, but the "challenges" require guests to be amublatory.
Some of the challenges, particularly Sequoia Smokejumpers, have height and/or weight restrictions.
While the paths are paved, the ground in the play areas is covered by a spongey recycled rubber surface.
Restrooms are located outside the attraction at the edge of the San Francisco street.
KIDS AND CHARACTERS
There are activities here which should appeal to kids of all ages and abilities. Young children should be accompanied by an adult.
Dug and Russell are sometimes available for meet and greets with guests.
DINING
Smokejumper's Grill, located near Soarin' Around the World, offers specialty burgers, sandwiches, and salads.
SHOPPING
Rushin' River Outfitters, next to Grizzly River Run, offers character plush and other souvenirs.
INTERESTING FACTS
Redwood Creek Challenge Trail opened with Disney California Adventure on February 8, 2001. A "Brother Bear" overlay opened in October 2003, and was replaced by the Wilderness Explorer Camp in 2011.
There's an excellent view of Grizzly Peak from the Ranger Station.
The Ahwahnee Story Circle is surrounded by a series of animal carvings inspired by native American legends.
There are several hidden mickeys on the map – the easiest to see is an arrangement of stumps in the Ahwahnee Camp Circle.
ADDITIONAL PHOTOS
Eagle's Ascent
Millennium Tree
Native Animal Tracks
Rock slide
Rope bridge between Mt. Whitney and Mt. Shasta Lookouts
Shake-a-Log
Squirrel Scramble
If you have comments or tips to share with others about touring Disney California Adventure, please email us. Thank you.