Playhouse Disney – Live on Stage! Hollywood Pictures Backlot Disney's California Adventure
VISIT THE ATTRACTION'S PHOTO GALLERYHERE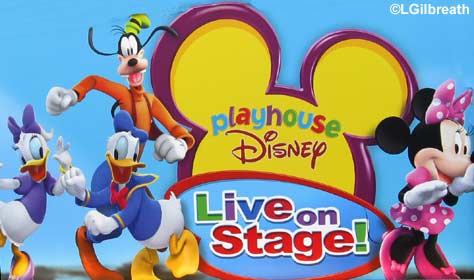 Introduction | Attraction | Touring Tips | Kids/Characters | Dining | Shopping | Interesting Facts
INTRODUCTION
Playhouse Disney – Live on Stage! brings the stars of the Disney Channel's Playhouse Disney television shows, popular with preschoolers, together to entertain guests with music, songs, and stories of friendship. The show features live performers, puppetry, revolving scenery, projections and special effects.
ATTRACTION
PLAYHOUSE DISNEY LIVE! features the stars of the Disney Channel's popular "Playhouse Disney" programs in this fun-filled stage show where life-like animated puppets interact with a live host. Geared to preschool audiences, the show encourages them to sing and dance and move along with the performers.
Following the rehab in early 2008, performers featured come from these shows: Handy Manny; My Friends Tigger and Pooh; Mickey Mouse Clubhouse; and Little Einsteins.
The 23-minute show begins as Casey, the host of "Playhouse Disney", and Mickey Mouse bring everyone to visit the Mickey Mouse Clubhouse. It's Minnie's birthday, and everyone gets involved in planning a surprise party for her. When Donald, Goofy, and Daisy find their tasks harder than they thought, Casey suggests drawing on ideas from favorite stories and the characters watch as Handy Manny, Little Einsteins and My Friends Tigger and Pooh use teamwork (and a little help from the audience) to accomplish their own tasks. Following their example, Donald, Goofy and Daisy are successful in making Minnie's party "the best birthday party ever."
TOURING TIPS
Lightning Lane access for Disney Junior Dance Party! is available with the purchase of Genie+.
Playhouse Disney – Live on Stage! is performed several times a day in the Playhouse Disney theater. Performance times are listed in the Daily Times Guide. The doors open about 10 minutes before show time, and the show is 23 minutes long.
Guests are seated on the floor during this show, although there is a line of benches at the very back of the theater.
To be seated near the stage, arrive at the theater at least 15 minutes prior to showtime.
At various times during the show bubbles, paper leaves, and confetti float down to the floor.
This attraction is wheelchair/ECV accessible.
Assistive Listening Devices from Guest Services can be used here.
KIDS AND CHARACTERS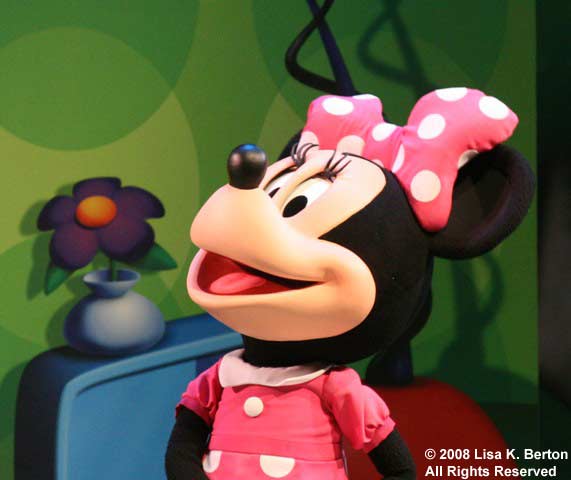 Playhouse Disney – Live on Stage! is definitely geared to the preschool set, although young school-age children (and their grown-up escorts) will find it a pleasant show.
The Playhouse Disney – Live on Stage! characters are not available for Meet and Greet opportunities, but there are other Character Meet and Greet opportunities around the nearby Animation Building. Check your daily Times Guide for times and locations.
DINING
Award Wieners – A variety of hot dogs, sausages, and beverages
Fairfax Market – Bottled soft drinks, fruit, and snacks
Schmoozies – Fruit smoothies and specialty coffees
Restaurants At A Glance
Menus From the Disneyland Resort
SHOPPING
Gone Hollywood, located across the street, offers kid's clothing and costumes, in addition to toys and souvenirs.
INTERESTING FACTS
The original Playhouse Disney stage show premiered in April 2003. The current version premiered on March 14, 2008.
The Playhouse Disney theater originally housed an interactive restaurant called The Soap Opera Bistro.
If you have comments or tips to share with others about touring Disney's California Adventure, please email us. Thank you.