Jumpin' Jellyfish Paradise Gardens Park Disney California Adventure
INTRODUCTION
Jumpin' Jellyfish is an adaptation of the classic parachute ride with an underwater theme where riders are suspended under a giant jellyfish and gently rise to the top of a huge kelp stalk, then float gently back down.
ATTRACTION
Jumpin' Jellyfish is located on the edge of Paradise Bay next to the Golden Zephyr. Its open queue meanders through rock formations like those found in tidepool areas.
There are two towers constructed to resemble giant stalks of kelp. Six colorful "jellyfish" vehicles are suspended from each tower, each seating two people. After the safety belts are fastened the jellyfish slowly rise 40′ into the air, and move gently up and down before descending back to the bottom. The ride lasts about a minute-and-a-half.
TOURING TIPS
Jumpin' Jellyfish rarely has much of a line, but it is a slow-loading attraction, and the line doesn't move very fast.
The up-and-down motion is very gentle and smooth. Still, those who are afraid of heights should probably not ride.
Riders must be 40″ tall and there is a weight limit of 350 pounds per vehicle.
Those in wheelchairs or ECVs should proceed through the regular queue, but must be able to transfer into the seat.
The closest restrooms are located next to Paradise Garden Grill.
KIDS AND CHARACTERS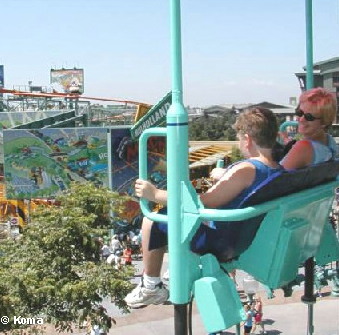 This attraction appeals largely to younger children who are too small to ride some of the other attractions.
Young children should be accompanied by an adult.
There are no characters associated with this attraction. Check the Daily Times guide for other Character Meet and Greet opportunities.
DINING
Corn Dog Castle – corn dogs and beverages
Paradise Garden Grill – Mediterranean skewers and seasonal specialties.
Boardwalk Pizza & Pizza – Pizza, salad, pasta.
SHOPPING
Seaside Souvenirs – Hats, accessories, and small souvenirs.
INTERESTING FACTS
Jumpin' Jellyfish opened with Disney California Adventure on February 8, 2001.
The Tokyo Disney Sea theme park has a similar attraction which opened in September, 2001.
If you have comments or tips to share with others about touring Disney California Adventure, please email us. Thank you.