Casey Jr. Circus Train Fantasyland Disneyland
Introduction | Attraction | Touring Tips | Kids/Characters | Dining | Shopping | Interesting Facts
INTRODUCTION
Casey Jr., the circus train from the Disney animated feature Dumbo, takes guests on a tour around Storybook Land.
ATTRACTION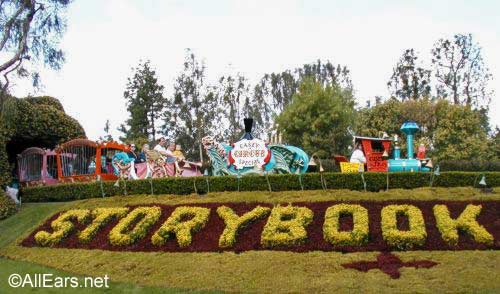 Casey Jr. Circus Train is located in the back of Fantasyland next to Dumbo. An unshaded queue switchbacks up to the boarding area, where guests can select which of the cars on the miniature circus train they wish to sit in. In addition to two open-air cars there are two "wild animal" cages with bars on them.
The train takes a short, approximately three-minute ride around the perimeter of Storybook Land. Storybook Land contains miniature scenes from many favorite Disney animated movies, such as the castle from Cinderella, the Seven Dwarfs cottage, and the palace of Agrabah. Notice the miniature plants, also — some very fine examples of the Japanese art of Bonsai.
TOURING TIPS
As with most Fantasyland attractions, the lines for Casey Jr. are shortest early in the day. The train doesn't hold very many guests, so the line moves slowly.
The scenes in Storybook Land, and all of the miniature gardens, are very nicely detailed — for a closer and better look, consider taking a ride on the Storybook Land Canal Boats.
There is no height requirement.
Wheelchair and ECV users proceed up the ramp that serves as the attraction's exit and transfer onto the train.
The closest restrooms are located next to the Red Rose Taverne, along the exit to Frontierland.
KIDS AND CHARACTERS
This ride is appropriate for guests of all ages — kids may especially enjoy riding in the cages for the "Wild Animals" or "Monkeys".
DINING
Red Rose Taverne in Fantasyland serves burgers, sandwiches, and flatbreads.
Disneyland Restaurants At a Glance
Disneyland Menus
SHOPPING
Bibbidi Bobbidi Boutique – Princess shop, featuring Princess clothing and accessories.
Mad Hatter sells a variety of character hats, including Mickey ears and Peter Pan hats with personalized embroidery.
Stromboli's Wagon – This cart sells snacks and candy.
INTERESTING FACTS
Casey Jr. is an original Disneyland attraction and opened in July 1955.
Casey Jr. says "I think I can, I think I can!" as he climbs the hills.
The open air "sleigh" type cars actually came from the King Arthur Carrousel — they were removed to make room for more horses, and converted to train cars for the Casey Jr. Circus Train.
If you have comments or tips to share with others about touring Disneyland, please email us. Thank you.