Continued Growth in Planning a Disney Vacation
by
John Petrolino III
Feature Article
This article appeared in the October 22, 2010 (#1048) edition of ALL EARS®
Editor's Note: This story/information was accurate when it was published. Please be sure to confirm all current rates, information and other details before planning your trip.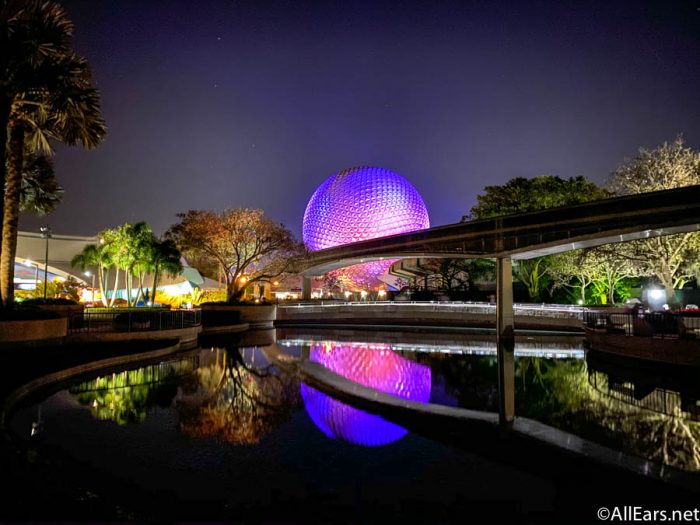 Continued Growth in Planning a Disney Vacation Part 1 and 2
by:
John J. Petrolino III
AllEars® Guest Columnist
Back in July, I recounted some of the lessons I learned on my previous trip(s) to Walt Disney World. In this edition of AllEars Newsletter, I'm going to dive into how my latest trip went in light of what I "learned." There was implementation and yet more lessons.
To recap, the previous articles: What I learned on My Latest Disney Trip, Part 1 and What I learned on My Latest Disney Trip, Part 2 – the following subjects were covered:
What did we get right? What did we implement? What else did we learn?
Discussed at length in the former articles was the financial viability of having an Annual Pass. We became Passholders because it made sense for us with the number of days we were visiting Walt Disney World, and the number of times in a 365-day period we'd be going. Having the Annual Pass completely washed away the stresses of cramming everything in as much as possible with all available time, and helped us achieve the appropriate amount of down time we need for our 2 and ½ year old.
The one day we didn't go to a Disney World park we went to Sea World, where we also have passes granting us unlimited access for the year. That's 9 days total of heading to the parks. The financial burdens were lodging, food, and a rental car – – not park tickets.
A curve ball…
Admittedly, I did have a four-page itinerary of things to do, but this was more to allow for plenty of slack time versus obsessively watching the clock. About 25 percent of our plans had to be scrapped and reimagineered because of a little thing called Hurricane Dorian.
Yup. We got to Orlando on August 30th, during a period of time when what Dorian was going to do and under what circumstance was unknown. We were not so worried about going there during the hurricane as we were going to be on Disney property and the properties are like fortresses. We had protein bars and snacks too! Disney goes out of its way to ensure guests are happy and entertained when events like this roll through. We figured that if we had to have a day or two of hotel time and pizza parties we would be OK with that.
What that did to our schedule though is move all the things that we wanted to make sure we got to do with our son towards the beginning of the trip. Pack it in then. Yet we still remained sentient to his needs of naps, bio breaks, and all the rest. When we got off the plane on Friday evening we did not pass go, we did not collect $200.00, we did not check into our hotel…we went straight to EPCOT for dinner. It was the EPCOT Food and Wine Festival, so why not? We had to eat (we LOVE to eat) and we did end up having many dinners there this trip simply because we could. We capitalized on going to EPCOT specifically for meals as much as possible without taking away from the Disney World experience for our son.
We made sure we got as much into that little EPCOT passport as possible. This not being a review of the 2019 EPCOT Food and Wine Festival, you can read about it HERE, HERE, HERE, and HERE.
That first evening turned into a little bonus unplanned time in Disney World, with us getting a chance to experience the Food and Wine Festival early, and allowed our son the ability to get on some rides as well. I feel blessed that he loves Spaceship Earth and I'm happy I got to nerd out on that ride around five or six times this trip! He loves that sleeping monk! His insistence on seeing the Carousel of Progress three times when we were in the Magic Kingdom also brought a small tear to my eye…I digress.
We made executive decisions when planning and said that our Magic Kingdom days would be played by ear, but they would probably not be park hopping days. If we were planning on going to the Magic Kingdom it was going to be for the long haul. Dragging a stroller and all our effects with us through the parking lot, ignoring the tram due to the stroller and stuff – thus hoofing it – then getting on the Monorail and so on and so forth was enough for us (me) to say the Magic Kingdom is not a casual place to visit.
If we had to retreat due to fatigue, etc., we would acquiesce to those needs. We lucked out – the two full Magic Kingdom days we had, our son take some epic naps in the middle of the day in his stroller while we holed up in a quick service and air-conditioned dining establishment. He snoozed and we sipped sodas and munched on chips at Pecos or wherever. We would charge our cellphones with our battery pack and discuss our next moves for when the sleeping giant would awake. It was a good ceasefire from the activities in the park for everyone. Because of these blessed breaks, we were able to be at the Magic Kingdom for rope drop and leave at around close. Kudos! for us, we evolved and learned! No meltdowns!
All the other days were not "full" days. We would visit a park and then go back to our hotel for a siesta. Some days we'd be getting out to the parks a little later than rope drop. On these days we park hopped. With our enlightened view on things, the park hopping days did allow for, if not sleep, rest for our son. The breaks allowed for us to regroup ourselves, get some laundry done, maybe some pool time, and perhaps a shower before evening activities depending on how briny we felt.
One of our park hopping days was a Mickey's No-So Scary Halloween Party evening. The Halloween and Christmas parties are very much worth it to attend. Passholders get a discount on tickets and conventionally ticketed guests need only purchase the pass for the party if you want to only attend the party on that particular day (and not use a park ticket).
The parties offer the fun seasonal stuff like trick-or-treating in the case of the Halloween party, or cookies and other refreshments for the Christmas party, along with season-centric parades, character meet-and-greets, and there is often a smaller crowd size as well. Even the most popular attractions like Seven Dwarfs Mine Train and Peter Pan's Flight have wait times that are around or lower than the hour mark. These special ticketed events are a great way to pack in some good rides and celebrate the seasonal offerings.
Due to Dorian and the potential of becoming tempest tossed, there really were not too many people visiting the parks overall. Yes, that was the opening weekend of Star Wars: Galaxy's Edge, but still the crowds were not that bad. It was also Labor Day Weekend, which we are learning is not a bad time to visit Orlando. School is just starting in most areas and not many people are traveling to Disney World the week of.
The only real Dorian-related issues we experienced were early closings on Tuesday, September 3rd. The Magic Kingdom, Hollywood Studios, and Animal Kingdom all closed at 2 p.m. or 3 p.m. that day, while EPCOT closed at 7 p.m. We were deluged that morning walking into the Contemporary for Chef Mickey's breakfast reservations, but other than that the weather was not that bad…just a little rain consistent with the season. On Wednesday of that week we went to Sea World, which had a delayed opening as did some of the Disney World parks.
We did make it to one of the Extra Magic Hours openings at Hollywood Studios at 6:20 a.m., a little after opening. Galaxy's Edge was already teeming with people and Smuggler's Run had a wait time around 60 minutes. With some child swap magic my wife and I both were able to experience this attraction. In fact, I did it twice – utilizing the Single Ride Line. I will note that the Single Rider Line was subject to being closed at different times due to capacity. Smuggler's Run was a great ride and you can find both accounts and reviews of it in these articles: Millennium Falcon: Smuggler's Run and All Ears Rides: Millennium Falcon: Smuggler's Run – with Tips On How You Can Be the Pilot!
Overall, we packed in 9 really good days of park experience and allowed for the needs of our wee one to be fulfilled, letting him have ample rest/naps. The other lessons learned about labeling personal items and being prepared were enforced. Luckily, we had what we needed and did not lose anything.
We also called up the 90s and broke some fanny packs out of the mothball fleet (we actually bought new trendy ones from LL Bean). Let me tell you, it was a dream and helped us keep our important stuff from getting misplaced. Just go with me on this one: in 2019 fanny packs are back! We had our ponchos, but did not use them (maybe we should have once or twice). We had our extra battery pack for our phones, which we did use. Tablet for entertainment, check. Labels on water bottles and cellphones, you bet.
I got two complements from security guards for the flashlight in my backpack that I brought to the parks, Kudos! I did have to use my multi-tool at the hotel to open a can of coffee, another win! If it was not tied down and was somewhat intrinsically important, it got a label. Including our kid…kinda.
At two and a half, our son is very mobile and Mr. Independent. He is generally very good about staying with us when we are in public. If he's not in his stroller, he is holding mommy or daddy's hand. Sure, there are the times when he could be freewheeling ahead of us, hands in his pockets al la Bob Dylan, but for the most part he is in constant contact.
What happens if you lose your kid? At best, if my kid is lost, he'd be able to say his first and last name to a cast member…which with some Disney Magic through their reservation and My Disney Experience they can perhaps look up a phone number for the missing adult(s) – I don't know, probably should find out though?!?!?
In any event, the capabilities of our kid stops with "hello my name is" and gives his name in full. Essentially this is a parlor trick at this age – especially with all those syllables in our last name, oy. On keeping your kid identifiable and safe there are a bunch of different products and ideas (philosophies which we can discuss forever – suitable for a whole other article/series) for handling this quandary. There are companies that make temporary tattoos that have your phone number on them or ones that you could write on. Good solutions. Some people argue you can write on your kid with a black marker and cover it with liquid Band-Aid. I guess you can do that. The thought of exposing my kid to whatever is in a marker, for him to absorb through the skin does not appeal to me. I would consider this off label use of a product something I would only do if absolutely needed (we expose ourselves to enough chemicals as it is). Just because people do it, does that mean we should do it (any of you medial types out there want to weigh in – I'd love an opinion on the subject)?
I opted with a more frustrating (in our case) option. Dog tags. GI Joe-style, not "woof woof" style. I had made up a dog tag with some simple information on it: my son's first name, male child, hair and eye color, and in case of emergency (ICE) phone numbers, both mine and my wife's cells (what 411 you should and should not put on something like this can be a subject of debate, but not for today). What a great idea!
I had some tags also made up with information to serve as luggage tags, which we attached to bags that could possibly go adrift in the parks. You can get these relatively cheap off the internet for about 5 bucks a set and if you're lucky the company will allow you to customize each tag in the set. They are metal, durable, and won't fade. If attached securely they won't fall off. For around 11 bucks, I was able to make four different tags saying whatever I wanted. Using an electrical zip tie I affixed the tags to articles and with the included chain, which I trimmed to length, I adorned my son with his new identification tag.
The problem? He would only wear the dog tag for a little time and then take it off. Our record may have been an hour of him wearing it…as my wife rolls her eyes at this statement, I will repeat MAY have been an hour. This off and on with the dog tag ceremonial routine was frustrating to 33% of the travel party. While in theory this was an excellent idea, obviously there is more conditioning needed for our little Mouseketeer.
Note, there are different ID Tag making machines through the Disney World theme parks and you can have custom tags made up with Disney characters on them while you are on vacation. Something to check out when you are strolling the properties. In the entrance of different big box, supermarket, and department stores may have machines to make tags too. What if you find a machine that makes an actual "woof woof" dog tag? If that's all you can get in short order and want to use it, so what? One reader wrote in that they get "woof woof" dog tags for their kids and have them laced into their sneaker's laces. Maybe your kid would wear a dog tag, maybe not. As for me, my kid is still in dog tag wearing boot camp.
In the end, our latest learning experiences at Disney World went well – what we implemented worked (for the most part), and new lessons were mostly observations vs those delivered with hard knocks. We did and saw a lot. We kept the prospects for meltdowns to an absolute minimum. We survived the non-event in the Orlando area of Hurricane Dorian. No one got lost and we came home with all the junk we left with.
With the proverbial dusting off of fanny packs, used in conjunction with our backpack, we kept our goods secure. We saved a good deal of money with our annual passes in the way of being able to go to the parks as much as we wanted. We also saved with the Passholder discounts for select food, the Halloween party tickets, and merchandise.
I hope that these lessons learned have brought some value to your trip planning or at least has made cause for you to contemplate a bit. Give some thought about debriefing your group after your epic adventures at Walt Disney World or anywhere you go in life.
Safe travels and Mouse on!
============
RELATED LINKS
============
Did You Know…? Fun Disney Trivia For Your Upcoming Trip
What I learned On My Latest Disney Trip – Part 1
What I learned On My Latest Disney Trip – Part 2
= = = = = = = = = = = = =
ABOUT THE AUTHOR
= = = = = = = = = = = = =
John Petrolino is a US Merchant Marine Officer, writer, and Disney fanatic. John visited Disney twice as a child with his family, but it was his wife Sarah who got him addicted to the House of the Mouse. John and Sarah have visited Walt Disney World annually since 2010 – – they even got engaged in Cinderella Castle in 2011. At the Magic Kingdom, one of John's favorite attractions is the Carousel of Progress, because it truly is a "Great Big, Beautiful Tomorrow!"