A Taste of the Parks at Disneyland's Downtown Disney
by Autumn Hilden
AllEars® Guest Columnist
Feature Article
This article appeared in the August 8, 2017 Issue #933 of ALL EARS® (ISSN: 1533-0753)
Editor's Note: This story/information was accurate when it was published. Please be sure to confirm all current rates, information and other details before planning your trip.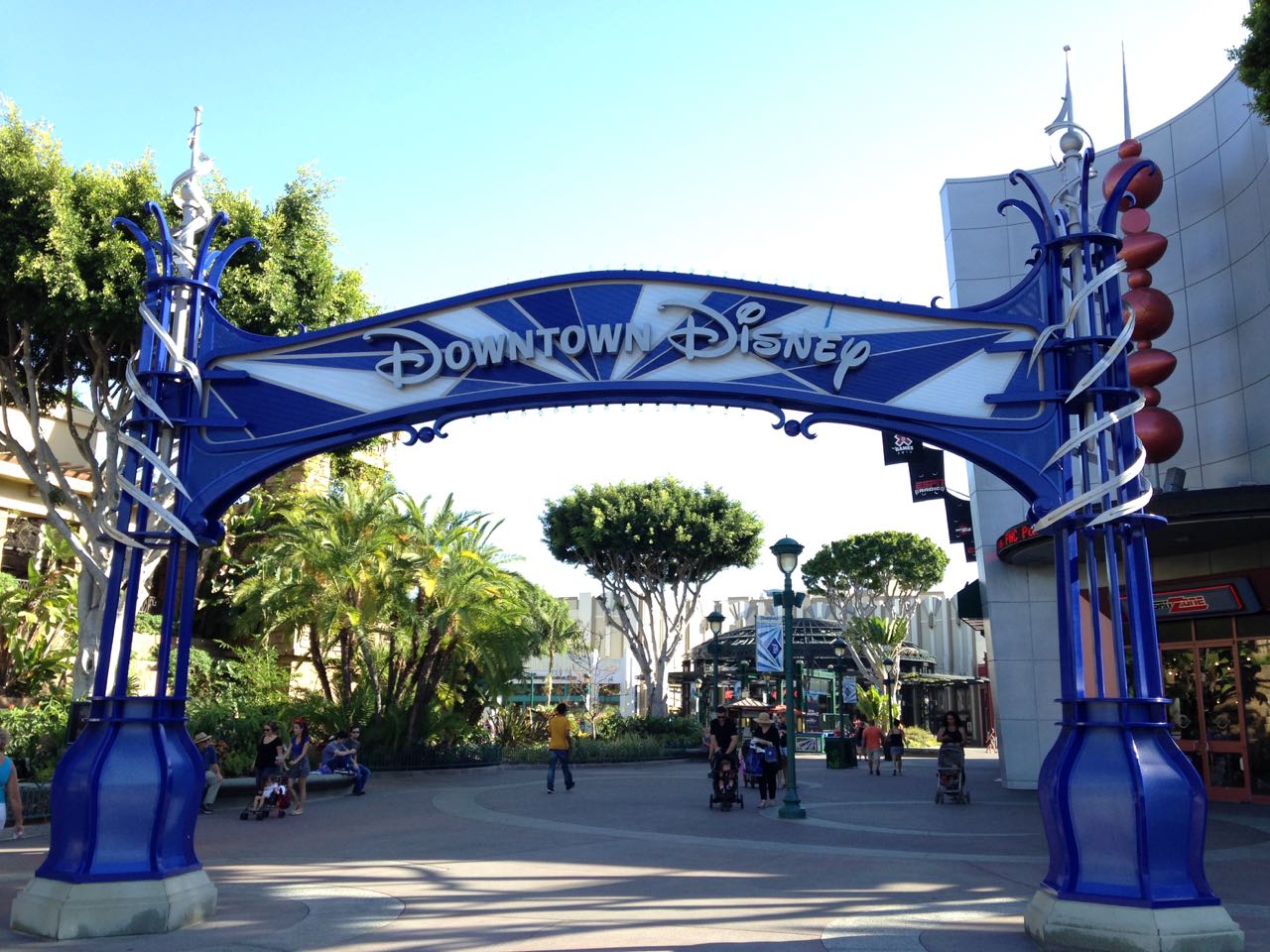 With Florida's Disney Springs already growing by leaps and bounds and Downtown Disney at the Disneyland Resort just celebrating its 16th birthday, the latter seems poised for its own transformation. Who knows what the future holds for the Southern California entertainment district, but for now, it shines as a one-stop-shop for special experiences that let you get a taste of the parks without buying a ticket.
Buy Your Way In
First and foremost, Disneyland's Downtown Disney is a place to shop. Any first-time visitors — or those who just want to scratch the Disney itch — should be sure to stop in at the sextet of Disney specialty stores. Of course hit up World of Disney for the best overall selection of Disney and Disney Parks merchandise. The best time to visit is during the day, while everyone else is in the parks. Stop in before 3 p.m. and you'll have the place to yourself.
Also check out Marceline Confectionary, which sells the treats and temptations you can only otherwise find inside Disney parks; it's not just the packaged goods from Goofy's Candy Co., but the delicious Disneyland fudge, marshmallow wands (Tigger Tails and the like), Mickey-shaped cookies, and more. Take full advantage! Once you're all powered up, step into Vault 28 and D-Street, purveyors of distinctly Disney yet decidedly modern clothing and accessories. The Vault focuses on young women's fare that balances edgy looks and feminine details, and D-Street is where you'll find all things Marvel and Star Wars for both men and women.
If you're shopping for kids, Anna and Elsa's Boutique is a must. It's dedicated to the ruling sisters of Arendelle in its decor, offerings, and special experiences. Similar to the in-park Bibbidi Bobbidi Boutiques, Anna and Elsa's offers a transformation salon where kids can be made up into Anna, Elsa, or Olaf. There's also a photo booth, TVs, and plenty of toys to have fun with even if you're not there for a makeover.
Finally, spend some time at the Wonderground Gallery. Wonderground is similar to Disneyland's Disneyana and Off the Page at Disney California Adventure (or to Art of Disney in Walt Disney World parks), but this gallery/store gives art appreciators and collectors more by offering a rotating collection of fresh pieces and by hosting in-store events with artists. The result is an atmosphere that is eclectic and kinetic, as something new is always on display or even being created while you shop. You'll also see projects in different mediums, such as cut paper, and you'll see non-Disney art from featured talent as well.
Taste and See
With all the changes and additions to Disney Springs, it's easy to see that Disneyland's DTD dining scene is in need of some updates, and perhaps the food options are where Downtown Disney is weakest. But that doesn't mean there aren't some hidden gems that will tickle your Disneyland tummy. Don't hesitate to get a bag of hot, fresh beignets from the Jazz Kitchen Express window adjacent to Ralph Brennan's. These beignets far out-do those buttermilk-biscuits-with-a-dash-of-powdered-sugar imitations in New Orleans square, and the line to get them is much shorter. Also note that Disney's premium ice cream delicacy, the Mickey Bar, is available at Whitewater Snacks at the Grand Californian Hotel & Spa and at small world Gifts & Sundries in the Disneyland Hotel. The Disneyland Hotel is also home to no-admission-fee-required Dole Whip! Find it at the Coffee House, where, as an added out-of-park bonus, you can get it with a splash of rum. Aloha!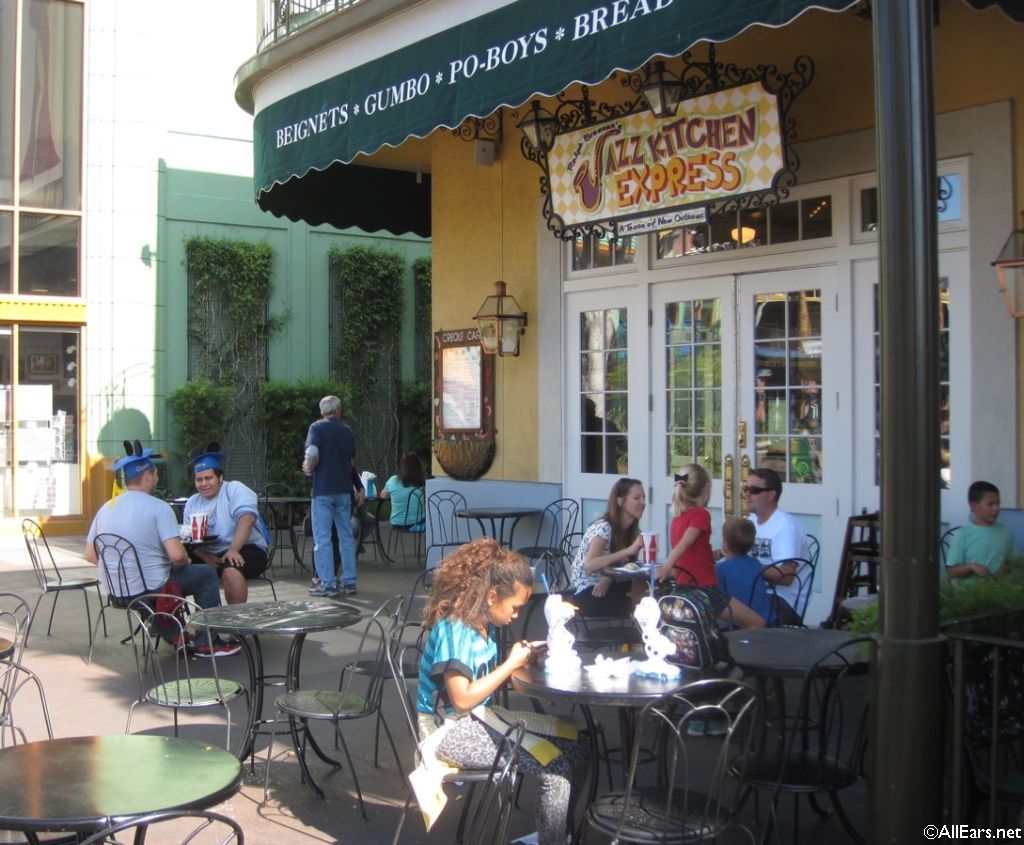 Stay with Friends
Possibly the best part of Disneyland's Downtown Disney is its connection to the hotels of the Disneyland Resort. Both the Grand Californian and the Disneyland Hotel have entrances through Downtown, and Paradise Pier is just a short walk away, which means even more Disney magic is waiting for you any time you visit DTD. One experience in particular will give you all the park feels without going through the turnstiles: you can enjoy character dining with your Disney pals at all three hotels. Make reservations to meet and greet your favorite characters over breakfast at the Grand Californian's Storytellers Cafe, Paradise Pier's PCH Grill, or the Disneyland Hotel's Goofy's Kitchen, and add the option of a dinner date with characters at Goofy's Kitchen. If you love Goofy, you'll also have a chance to meet him in the lobby of the Disneyland Hotel! He spends his afternoons there, saying hi to friends and making mischief.
If you have extra time and cash, make an overnight of your trip to Downtown Disney. The hotels are frequently running specials for weekdays, and when you stay on site, all you need to do is walk out your door and into the middle of Disney. You can even see into Disney California Adventure from many places at the Grand Californian, and it's easy to catch the parks' nightly fireworks from vantage points in the hotels too.
Play the Part
Even if you're just at Downtown Disney for the day, you'll find nearly as much to do as you would inside the park gates. During the day, keep an eye out for special guests, like visiting artists at Wonderground Gallery, book and art signings, product launches, and collectible trading (there's an unofficial gathering of traders outside of Wonderground on most days).
At night, the district comes to life with live musical performances. Throughout Downtown Disney you'll see musicians, from singer-songwriters to entire bands, making music. The ESPN Zone stage features larger acts and is a gathering place for dancers as well. The variety onstage is wide, and you'll find just as many types of dancing: swing, salsa, and country are always a hit with the crowds. And if nothing is floating your boat, you can always hit a movie at the theater. Between the endless Marvel releases, animated sequels, and live-action versions of classics, there's bound to be something from Disney playing there. Probably no new IP, though. See? Just like inside the parks!
Limited Time Magic
As with any park visit, your visit to Downtown Disney can be all the more memorable at holiday times. Always check for special and seasonal events before you leave or when you arrive, and you may find additional themed entertainment, menu items, and sales.
For example, this summer Dole is sponsoring a tropical summerfest that includes special pineapple dishes and weekly hula performances. Christmas brings carolers, cocoa, and even ice skating. The best people-watching of the year at Downtown Disney comes at Halloween, when guests are flooding through in costume for Mickey's Halloween Party. Spring is also fun, when area high schools host proms at the resort hotels and all the kids walk the district in formalwear.
Although Disneyland's Downtown Disney is smaller in scale and a little less modern in its viewpoint than its eastern cousin, it still offers supplemental fun for vacationers and a unique atmosphere for locals to get a taste of the parks without going in. And soon it will offer more. With Splitsville Luxury Lanes on its way and at least one new restaurant in the works, now may be the time to make a trip. You can say you knew Downtown Disney before it was famous.
EDITOR'S NOTE: Effective August 16, 2017, you can get two hours of free parking when you make a $20 minimum purchase and receive validation from any Downtown Disney location (including quick-service restaurants and kiosks), or up to four hours of free parking with validation from any Downtown Disney table-service restaurant or AMC Theatres movie experience. Each additional hour will cost $12, charged in 30-minute increments, with a minimum $6 charge after the initial 15-minute grace period. Additionally, the maximum daily parking and lost ticket fees will increase from $36 to $48.
= = = = = = = = = = = = =
RELATED LINKS
= = = = = = = = = = = = =
Downtown Disney Dining Locations
Downtown Disney Summer Celebration
Hyper-Reality Experience Star Wars: Secrets of the Empire Coming to Downtown Disney District
Disney Springs at Walt Disney World
Other AllEars® features by Autumn Hilden:
How to Beat the Heat at Disneyland
Disneyland's Best Themed Dining
How and Where to Shop at Walt Disney World
How to Customize Your Disneyland Christmas
Getting Your Disney Fix Between Park Visits
= = = = = = = = = = = = =
ABOUT THE AUTHOR
= = = = = = = = = = = = =
Autumn Hilden is a Los Angeles-based writer and editor. She has worked for Disney Publishing Worldwide and The Jim Henson Company and is currently writing books for young adults. Autumn grew up taking family photos in front of the waterfall pool at the Polynesian Village Resort and selecting "desert" for the final flight on Horizons. She now embraces Disneyland as her Happiest Place on Earth. You can follow her on Twitter here.
-o-o-o-o-o-o-o-o-o-o-o-
Editor's Note: This story/information was accurate when it was published. Please be sure to confirm all current rates, information and other details before planning your trip.