A LOT is going on at Universal Orlando, and we're so excited about all the new stuff to look forward to.
We're continuing to keep an eye on the construction of a brand NEW park called Epic Universe (and well, it does look like it will live up to the "epic" name). But we've also been checking out the new Minion Land coming to Universal Studios Florida, as well as the new Minion Cafe. Well, that cafe has officially soft-opened and we are THERE.
Let's go inside!
We have a closer look at Minion Cafe! Should we go inside and order EVERYTHING? It's a rhetorical question— we're already ON it! pic.twitter.com/FKM45tetZi

— AllEars.Net (@AllEarsNet) June 17, 2023
There are three themed areas in the restaurant designed after Minions Kevin, Stuart, Bob, and Otto. One is the Kitchen, where you enter the restaurant.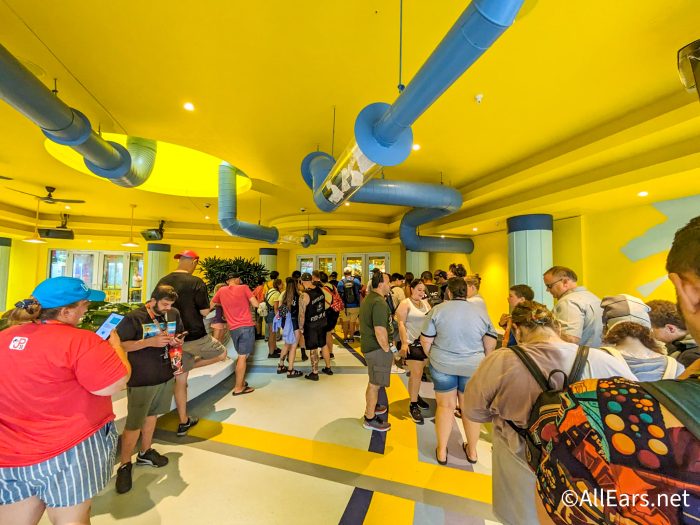 Here, you'll be able to catch a peek at "the equipment and gear the Minions have used to whip up the cafe's menu."
Heading into Minion Cafe, there are a TON of Minion-themed details to spot! Everything is painted Minion yellow, and are those…bananas in the vents?? 🍌💛 pic.twitter.com/Q6EvAwYs86

— AllEars.Net (@AllEarsNet) June 17, 2023
In we go!
BELLO!! We're making our way into Minion Cafe! pic.twitter.com/ImRTSYzDtI

— AllEars.Net (@AllEarsNet) June 17, 2023
You'll immediately notice all the Minion details — like these fun tables.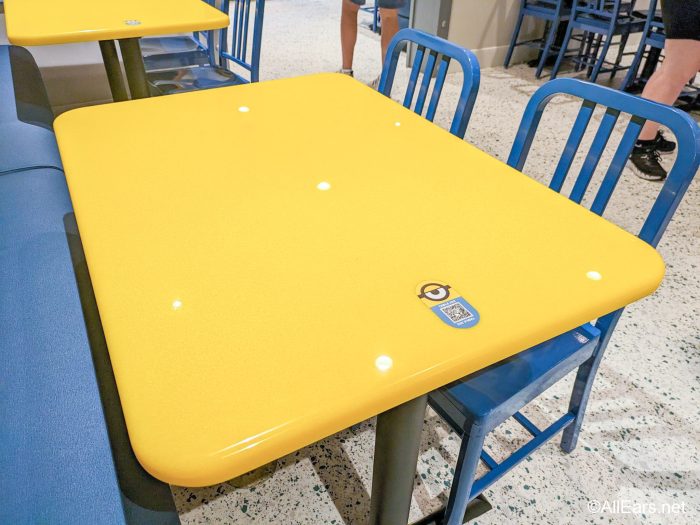 You can order food through the Universal app via mobile order.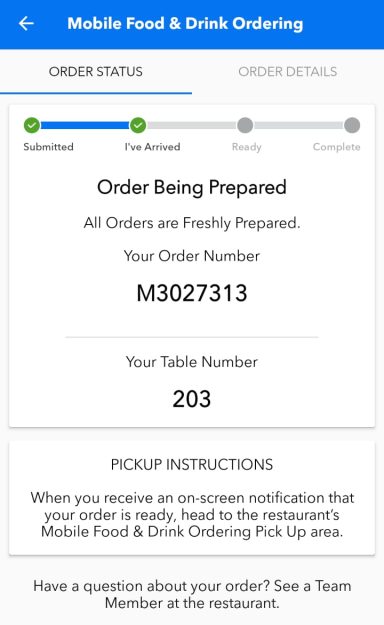 While you're waiting, be sure to check out all those details we previously mentioned, like these food preparation "machines."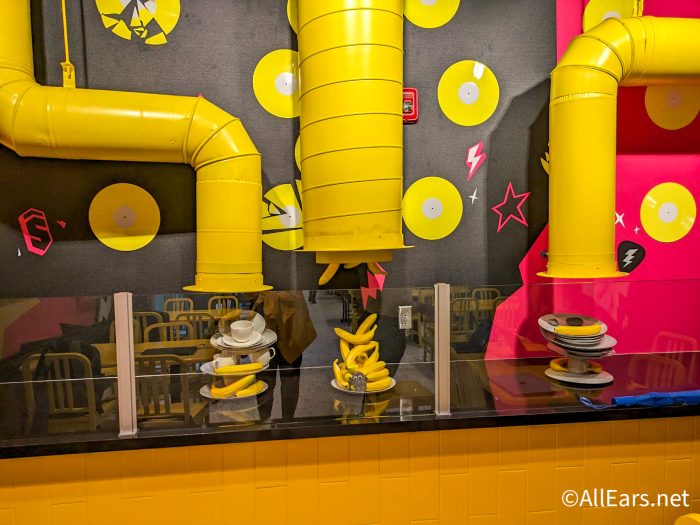 You'll also find Minion artwork on the walls.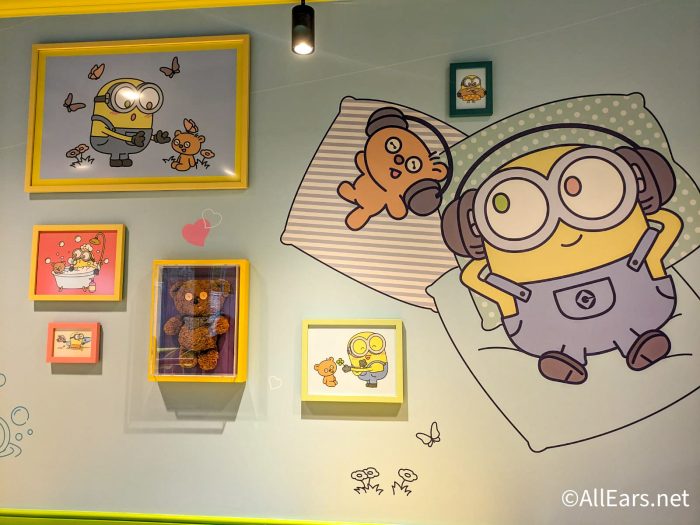 Also, if you love the Despicable Me and Minions movies, look for some Easter eggs.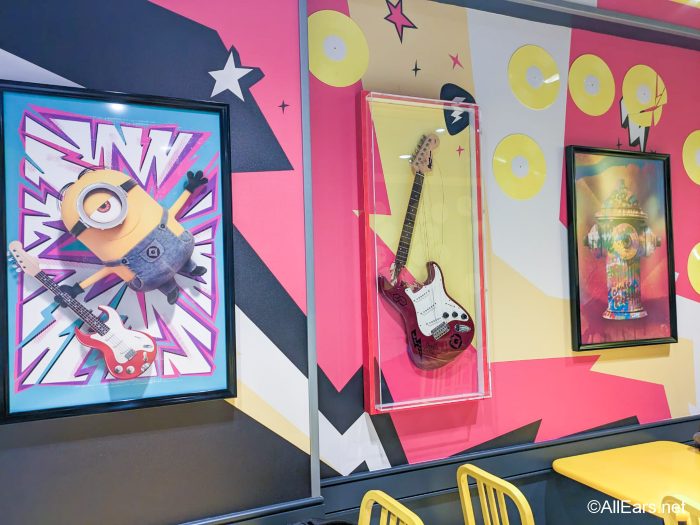 The restaurant can seat up to 400 people with tables and chairs, including some that can seat eight people at a time. You could end up in either the Minion break room or the Dining Room. There's also an outdoor patio.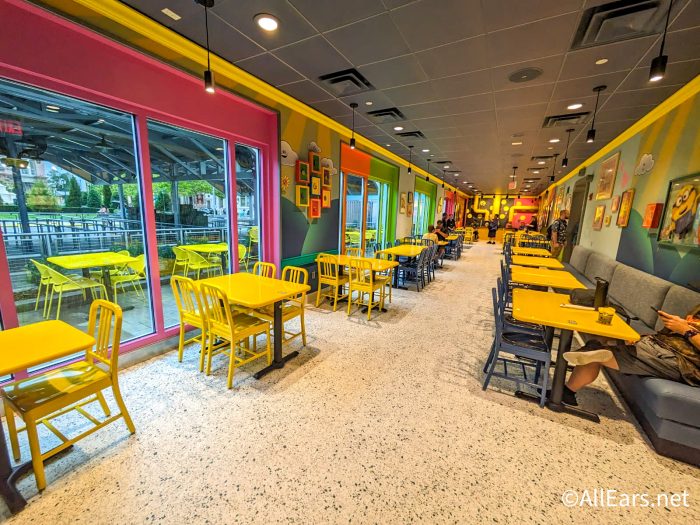 We decided to order drinks. We got The Antidote Punch and the PX-41 Punch. How fun are these cups, though?
These are some VERY interesting drinks.
We got our first treats from Minion Cafe! 💛Antidote: Banana flavored drink with Minion-colored topping and graham cracker crumbles! Tastes like a banana cream pie!
💜PX-41 Punch: Lemonade with bright flavors of strawberry and kiwi, with Evil Minion-colored topping and Pop Rocks! pic.twitter.com/GvJhQDLVjs

— AllEars.Net (@AllEarsNet) June 17, 2023
However, there are a TON of food options available here that Universal calls "inventive, family-friendly fare." There are nearly 20 items inspired by characters and more from the Minions films.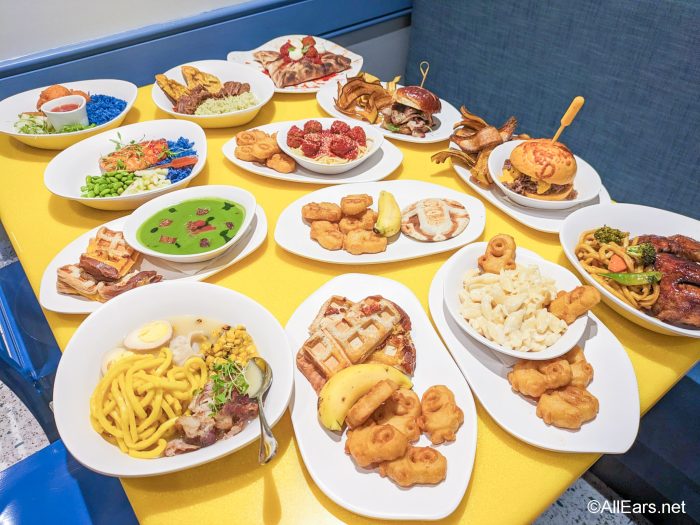 Yes, we ordered EVERYTHING.
When we say we're getting all the food, we mean we're getting ALL of that food! Here's a look at our (very large) lunch from Minion Cafe! pic.twitter.com/UsV04tk98O

— AllEars.Net (@AllEarsNet) June 17, 2023
While you're eating, you're immersed in the world of the Minions.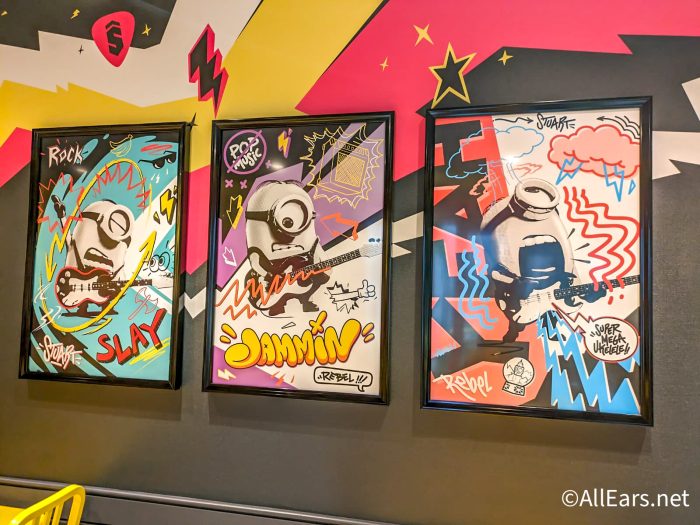 We'll be doing a full review of all that food soon, so be sure to check back with AllEars again later!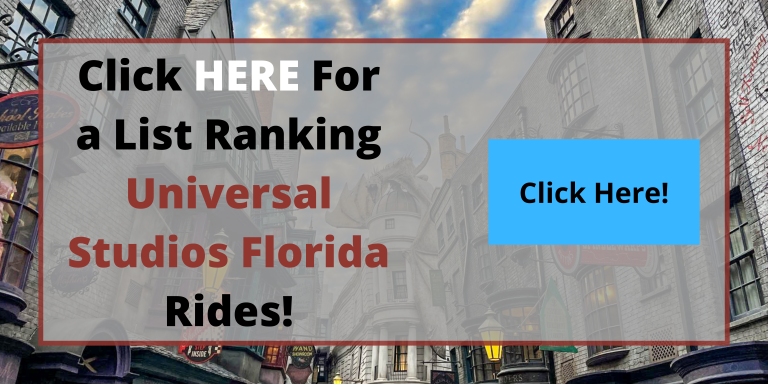 What do you think of the Minion Cafe? Let us know in the comments!